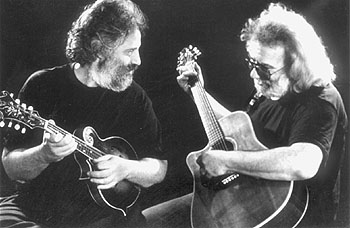 Pickin' Notes: David Grisman and Jerry Garcia made a great couple.

Dawg Days

A daughter's loving documentary smoothes over some missed notes from a legendary collaboration

By Richard von Busack

AT A BILL MONROE concert in Chester County, Penn., in 1964, a California bluegrass fancier named Jerry Garcia, late of the Asphalt Mountain Boys, and later of the Grateful Dead, encountered a sensational New Jersey mandolin-picker named David Grisman.

The two became long-time friends and partners up until Garcia's death in 1995. Together, they created a new-grass hybrid nicknamed "dawg music." Grateful Dawg, a documentary by Marin County-based filmmaker Gillian Grisman (David's daughter), celebrates the music of these "beards of a feather."

As fellow musician Jim Kerwin notes of the Garcia/Grisman project Old and in the Way--a band whose post-breakup album introduced thousands to bluegrass--it was fun to see Garcia in a situation where he was taking cues from the rest of the band. Certainly Grisman's splendid playing brought out the best in Garcia, keeping him focused and on track. Unfortunately, the Grisman/Garcia concert footage here is a throwback to the smudgy rock films of the 1960s.

Garcia is seen toward the end of his life, with his voice weary and cracked around the edges. During "Arabia," a long jam, the old familiar Dead-drowsiness sets in. (There's a joke about the African explorer being tormented by jungle drums. His native guide says, "It's worse if they stop, bwana, it's worse if they stop." Suddenly, the silence. "What now?" says the explorer, fearfully. "Now come bass solo." There is indeed a bass solo here.)

Gillian Grisman gets access to the shy and retiring Garcia--a smarter man than he let on--and it's certainly a celebration of two well-spent lives. Still, Gillian Grisman's overfondness makes this a documentary for dawg-music lovers only.
---
Grateful Dawg (PG-13; 81 min.), directed by Gillian Grisman and starring David Grisman, Jerry Garcia and Joe Craven, opens Friday at the Nickelodeon.
---
[ Santa Cruz | Metroactive Central | Archives ]