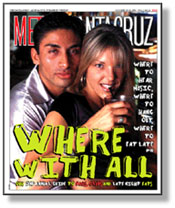 For the Week of
October 17-23
Cover: Where With All
Our second annual guide to bars, clubs and late-night eats. Where to hear music, where to hang out and where to eat late.
News: Rental Nightmare
While affordable rentals remain scarce, unscrupulous property owners can make life miserable for local renters--but some of those can turn out to be a landlord's 'Nightmare on Elm Street'



Cubist Stake: Anthony Hopkins refuses to sanctify modern-art monster in 'Surviving Picasso'.
Talking Pictures: Forensic researcher Sarah Lovett examines the voyeuristic nature of the classy medical thriller 'Extreme Measures.'



Monkeyshines: Local punk underground sees the light with new 'Santa Cruz Sucks!' indie CD.
Notes From the Underground: SC youth gets off its collective butt to get involved.



Tinseltown Terrorism: Playwright Ralph Peduto tackles the twin demons of Hollywood and domestic violence.