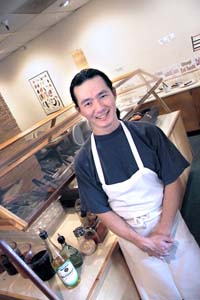 Taste of the Ocean: Sean Koay of Pacific Rim Buffet

Photograph by George Sakkestad





Rim to the Brim

Fresh seafood highlights offerings at the Pacific Rim Buffet in Aptos

By Janet Blaser

IF IT'S BEEN AWHILE since you've been to the Pacific Rim Buffet, you're in for a pleasant surprise. If, like me, you love Eriko and Sean Koay's concept (a literal smorgasbord of international flavors, laid out on seemingly inexhaustible buffet tables) and have grown to appreciate the couple's dedication to quality and value, you'll certainly be happy about the restaurant's newest additions: sushi, oysters, lobster and other fresh seafood.

These chef/owners have long listened to what their customers want--hence the buffet with good food, lots of it, fast. And that's also how the new menu came to be: customer requests. Stickler that he is, Sean insists on live Maine lobster--no frozen tails here--that he steams himself, instead of boiling, to maintain a sweeter flavor. Sushi is Eriko's specialty, and she keeps the buffet supplied with unagi, inari, California rolls, sashimi, salmon and spicy crab rolls and more, for both lunch and dinner. Crab appears in season, so keep watching those ads.

Besides the 12 years of experience running Pacific Rim, the two studied at the Cordon Bleu Cooking School in Paris (where they met) and then traveled all over Europe cooking in a variety of five-star restaurants. Those ethics and standards have remained with them, and that's the basis of what's made their restaurant so successful. The regular buffet includes entrees like Szechuan tofu, Katsu chicken, Indonesian beef curry, chicken satay, potstickers, vegetable curry, shrimp and calamari fritters and spring rolls. A variety of spicy sauces are right there, too, for dipping or mixing with any of the curries or rices (white, coconut or brown). There's a salad bar as well as several sashimi selections each night and, yes, those fresh oysters and mussels.

I truly consider Pacific Rim Buffet one of the county's best-kept secrets. Reservations are not accepted, so I'd advise avoiding peak hours for your best experience. Oh, and kids pay by height or age--so if you've got a finicky eater who survives on salad and rice, you're in luck. Otherwise, costs are a little tricky: Wednesday through Sunday, from 11am to 3pm, the lunch buffet is $9.95. Weeknight dinner buffet (Tuesday-Friday and Sunday) is $14.95 without lobster; and the weekend lobster buffet is $24.95 per person. The restaurant is closed Mondays. You'll find Pacific Rim at 8035 Soquel Dr., Aptos, right near the entrance to Nisene Marks State Park. Dinner begins at 5pm, with the last seating at 8:30pm, and the restaurant closes at 10pm. For more info or directions, call 688.5208.

On the Move

Several months ago, I wrote about the opening of Taqueria La Mission in the Metro bus station on Front Street. Well, when I wasn't looking, it skipped across the driveway to a much more spacious site facing Pacific Avenue. Still in the Metro, mind you--but now with a grand enclosed patio, a bakery counter and lots of indoor seating. The instantly successfully (and deservedly so) cocina mexicana's new home is the former Alfaro's Bakery, a difficult location that nonetheless should do just fine for these new owners. You'll still find the same authentic menu items that were pioneered at the original taqueria--across from Longs on Mission Street--and expanded from what was offered at the other downtown restaurant.

Note that besides a smorgasbord of lunch and dinner choices (burritos, tamales, nachos, tostadas, etc.), there are 10 combo plates, served with beans and rice, that for $3.99 are a real and delicious bargain. Those include chile relleno, ceviche tostada, chicken, beef or cheese enchilada, and lots more. Fresh-squeezed orange and carrot juice ($2-$3), horchata and Mexican sodas make the menu even more complete. Of course, everything is available to go, service is quick and the hours are long: weekdays from 8 to 11pm (until midnight Thursday-Friday, and weekends from 11am to 11pm). The actual address is 920 Pacific Ave., #4, directly across from Streetlight Records; call 469.0993 for info.
---
Got restaurant news or a food tip? Email Janet at [email protected].
---
[ Santa Cruz | MetroActive Central | Archives ]