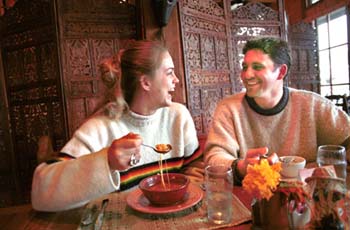 Photograph by George Sakkestad

Culinary Karma: Diners at the New Davenport Cash Store enjoy an innovative meal.

Coastal Cash Flow

Always a mecca for coastal adventurers and connoisseurs, the Cash Store cooks again with vivacious seasonal style

By Christina Waters

IT'S ALWAYS BEEN a favorite romantic hangout, the inimitable New Davenport Cash Store. Part import heaven, part California funque shrine, the Cash Store is also graced with an unbeatable view of the north coast. If the kitchen finesse has ebbed and flowed over the years, it has rarely been better than it is right now, with Chef Richard Shimizu in charge.

Now the kitchen cooks with practically psychic ability, reading the fortunes of the season and laying out culinary karma that most restaurants would kill for. Shimizu's approach to food approaches the visionary. In his hands, salads become lusty field haiku. Seafood sparkles. The chef's sauces can go innovative or impeccably classic.

Davenport's weathered wood barns glowed in the fading sunlight as we sampled the new chef's style on several recent occasions. Under the familiar gaze of those colorful Day of the Dead carvings, we let the ambience sink in. The bold decorating style specializes in the eclectic--crimson tapestries from Russia, rows of antique African masks and a few dazzling contemporary landscape paintings, punctuated by antique oak furniture and stoneware vases filled with wildflowers. It's all a haunting visual caravan, especially on foggy days.

A 1996 Trout Gulch Pinot Noir, a hard-to-find steal for $26, kept us company, along with a delicious new sour French loaf produced at the Cash Store's bakery. Butter for such fine bread, however, deserves better presentation than institutional metal cups. After all, the Cash Store practically invented coastal chic when it started serving its handmade foods on hand-thrown stoneware more than two decades ago.

Local goat cheese added tart contrast to an appetizer of tender field greens ($5.95). These were so lovely and moist they might have been picked moments earlier from a kitchen garden. Sweet, roasted onions and freshly harvested walnuts did the rest. We ate every bite of that spectacular salad, marveling at the impeccable balance of ingredients.

Another meal began with moist, piquant crab cakes ($8.50) good enough to break all stereotypes. Drizzled with red bell pepper puree, these plump beauties had a spicy deviled filling that was pure Chesapeake.

An entree of grilled pork medallions ($18) arrived effectively sauced with sun-dried tomatoes, roasted garlic cloves and capers in red wine. Joined by sensuous homemade mashed potatoes, it was a brilliant dish in every way.

Another entree of fresh local salmon was perfumed by a zest-intensive lemon beurre blanc and topped by delicious bay shrimp on a mound of long-grain rice. The sauce was inflected with the primal bite of tarragon and accompanied by fresh julienned vegetables. Everything was freshly created and handled with great skill, especially the delicate and very moist salmon.

Last week's entree of filet mignon ($22.95) delighted us with its confident presentation--on the rare side of medium-rare and fresh from the sauté pan. Juices flowing into a cushion of Roquefort potato galette, the gorgeous filet was punctuated by long spears of fresh asparagus. Visualize a perfect steak, the rich accent of Roquefort and the comfort of potatoes. And so it was--a bravura dish, made more so by a perfect Port demi-glacé and plummy sips of pinot noir (which deserved space to open in a larger goblet).

The Cash Store's homemade bread pudding ($3.95) tastes like an unholy alliance between French toast and an archetypal cinnamon bun. Brought to the table by our very skilled waitress, it was warm and exuded spice aromas like pleasant olfactory hallucinations. We made quick work of this dreamy dessert. "The great thing about bread pudding," Jack observed, licking his fork, "is that it can be light and rich at the same time." I let him have the last word. I had the last bite.
---
New Davenport Cash Store & Restaurant
Address: Highway 1, Davenport
Phone: 831.425.1818
Hours: Open daily, 8am-9pm, for breakfast, lunch and dinner
Chef: Richard Shimizu
Ambience: *** Imported artwork and old wood blend beautifully with a cozy coastal view
Service: **1/2 Often knowledgeable, sometimes excellent and always friendly--could be more consistent
Cuisine: ***1/2 Impeccable local ingredients and clear expertise power a noteworthy renaissance of this kitchen's reputation
Overall: Easily one of the top destinations on the Central Coast, the Cash Store Restaurant is a justified--and once again, delicious--landmark. Kudos to proprietors Bruce and Marcia McDougal.
---
[ Santa Cruz | MetroActive Central | Archives ]