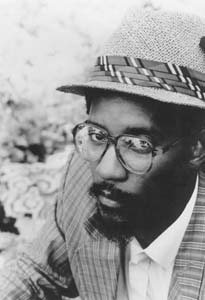 Rude Bwoy: With his fierce dubs and street poetry done over music one can dance to, Linton Kwesi Johnson founded much of what's happening on the current rave scene.





High Speed Dub

Reggae poet LKJ stares down a post-apocalyptic world and pleads for 'More Time'

By Rob Pratt

DESPITE FOUNDING, two decades ago, much of what's currently happening in pop and underground music, dub poet Linton Kwesi Johnson, "LKJ," is an artist out of his element. Once a leading general among the U.K.'s insurgent reggae scene of the '70s, LKJ disappeared for the latter half of the '80s and most of the '90s, only resurfacing two years ago as popular musical taste has come back around to dub reggae and his brand of poetry performed over beats you could dance to.

With his new album, More Time (LKJ Records Ltd.), a collection of deep dubs and strong poetic imagery done with collaborator Dennis Bovell and released last year, LKJ faces a world that has applied his groundbreaking sonic experiments to jungle and drum 'n' bass styles and taken his music-backed street poetry as a foundation of hip-hop. But it's a world almost entirely antithetical to the street-fighting London punk scene where his music evolved.

Instead, LKJ's style of dub reggae has found new fans among an American rave culture that values "peace, love, unity and respect" more than fighting for social justice. The booming scenes in jungle and drum 'n' bass--both U.K. phenomena that, like dub, rely on heavy bass, hypnotic beats and psychedelic echoes and effects--have revived the careers of old-school practitioners like Lee "Scratch" Perry and earned cult followings for a new breed of dub DJ like the Mad Professor.

Jungle, after all, earned its name when London reggae emcees rapped over frenetic sampled beats and terrifying synthesized bass temblors, sending props out to their kinsmen among Kingston's rough Tivoli Gardens neighborhood, a part of the Jamaican city known on the streets as "the jungle." While jungle draws inspiration from the studio trickery of dub (adding jazz influences as it evolved among U.K. pirate radio stations), drum 'n' bass makes the connection much more explicit. Its rhythmic structure comes directly from roots reggae's tension between half-time bass lines and single-time drums, adding an additional double-time layer either in programmed beats or tweaked-out, repetitive samples.

DUB POETS LIKE LKJ also influenced a generation of American rap artists, both in putting rhythmic spoken word over beats and in covering fiercely political themes amid a song structure aimed squarely at dance club and pop audiences. And Los Angeles rapper Ice-T's assertion that he viewed his role as a journalist of the street neatly mirrors LKJ's '80s turn toward print (as opposed to musical) journalism with the Race Today collective, which emerged out of Brixton's late '70s racial strife (which LKJ contemporaries the Clash popularized in "White Riot" on Clash and "Guns of Brixton" on London Calling).

But just as hip-hop is a uniquely American style (even admiring Brits admit that their accented English just doesn't have the right rhythmic feel and intonation), dub poetry could only come out of Brixton or Jamaica. It's in those places that the thick patois lines up with the "one-drop" drumbeat that undergirds most reggae, and it's in those two places--separated by the Atlantic Ocean but close from centuries of the British Commonwealth--that issues of nationalism and colonization became most acute during the late '70s.

Those racial tensions, though perhaps still intense, haven't flared up during the '90s the way they did during LKJ's hit-making heyday, the time of Prime Minister Margaret Thatcher. And occasionally on More Time, he seems adrift like a social critic without a compelling subject.

Ostensibly a contrast between turn-of-the-century labor movements agitating for the eight-hour workday and the techno-culture of the current moment, the title track comes off more like middle-class annoyance at the onslaught of the Wired Age. Like a suburbanite frustrated with his cell phone, LKJ drones about finding more time "for leisure" and "to recreate" amid a groove happy with major-key horn lines:

"We're marching out of the old toward the new century/Armed with the new technology/We're getting more and more productivity/Some say things looking up for prosperity/But if everyone going to share this time/One mentality must get left behind. ... We need more time/We need more time."

This is LKJ facing a world radically different than it was two decades ago. Like an artist who has pulled back from the brink of the apocalypse and now does expressionist landscapes instead of agitprop, he has come into a new phase, a time of deeper shadings than stark black-and-white. Then again, most of reggae veered away from doomsday iconography during the '80s, overthrowing the conscious roots vibe for "lovers' rock" and American chart respectability. LKJ, by contrast, certainly holds on to much of his youthful Old Testament fire, even if it's tempered by a world seemingly with little fuel for protest.

"I was wondering if I could shape this passion just as I wanted in solid fire/I was wondering if the strange combustion of my days/The tension of the world inside of me and the strength of the world were enough," he purrs on "Poems of Shape and Motion," easily the most powerful song on More Time. His current fire, though, isn't the bonfire of an approaching rapture. Instead, it's a simmering consciousness that, in a post-apocalyptic world, every day is Judgment Day.
---
Linton Kwesi Johnson plays Palookaville Friday (Oct. 22) at 9pm, all ages. $18 adv/$20 door. (454.0600)
---
[ Santa Cruz | MetroActive Central | Archives ]