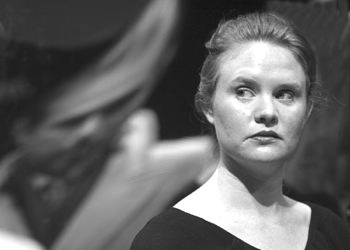 Nora Done: Stephanie Walsh takes on Ibsen's most famous character in 'A Doll's House.'

'House' Arresting

Western Stage gets all dolled up for Ibsen

By Cindy Campo

You may have heard of Nora's famous slam--no, you won't find it on the menu at Denny's. Nora Helmer is the main character of Henrik Ibsen's enduring realist play A Doll's House. When the theater piece came out over a century ago, critics were furious. Not at Ibsen, but at the actions of Nora at the end of the story.

What did this woman, a wife and mother of three, do that was so terrible? Did she drop the stew on the way to the dinner table--again? Perhaps she dared to talk back to her authoritarian husband who is constantly calling her his little squirrel, his helpless thing?

I don't want to give it away. But I will tell you this. Ibsen wrote a play exposing the inequality of the sexes back when male chauvinism was considered normal behavior. His work thrives as an accomplishment that is still applicable to the lives of men and women today.

A few years after writing it, Ibsen responded to the heavy criticism by saying, "I am not a member of the Women's League. Whatever I have written has been without conscious thought of propaganda ... My task has been the description of humanity." This carefully worded statement may have saved his career from obscurity. He's right, though. He wasn't trying to turn the male into a face of the enemy, he was just showing that being a wife meant having no status except as caretaker of her family and provider of sex for her husband. By the end of the play, Ibsen demonstrates that it's OK for women to say, "We're not gonna take it."

Critics at the time it came out commented that women's equality with men is a subject that lies outside of art. Which is, of course, ridiculous--countless worthy artists would have to be discounted if women's equality doesn't belong in art, because then neither would the subjects of racial discrimination, or oppression.

But as a realist writer, Ibsen believed that every scene should reflect what really goes on in life. The Western Stage production of A Doll's House is performed on the intimate, center-of-the-room stage in the studio theater at Hartnell College. The audience sits on three sides of the action, which is so close-up you really get a nearly participatory experience.

At first, it may seem that Stephanie Walsh's portrayal of Nora Helmer is too high-strung, but as the story unfolds it makes sense. Her talent as an actress comes through, rather chillingly, by the end. Jeffrey T. Heyer, who plays her husband, Torvald, is perfect in the role. He is the unquestioned head-of-the-home who never loses his cool as long as his position remains unchallenged.

Jeff McGrath plays the villainous Nils Krogstad very convincingly. If only he would stand up straight! (His often pronounced stoop distracted me from his great performance.) Jani Davis as an independent working woman shows a lot of nervous severity that feels unwarranted, but as she gets into the swing of things her skill comes through. The kids who play the Helmer's children are outstanding.

If you have never seen A Doll's House, you should definitely check it out. The story takes place over a couple of days during the holidays, which are coming up. The set and costumes have been updated to what looks like the late '50s. Yet despite its fun atmosphere, one can feel the gravity of the play's theme almost immediately. Critic H.L. Mencken once described it as "a terrifying glimpse through a keyhole." However you see it, you will recognize the pertinence of the theme more than 100 years after it was written.
---
A Doll's House will be performed through Nov. 2. Friday-Saturday 8pm, Sun 2pm. $14-$17. Western Stage Studio Theater, 156 Homestead Ave.,Hartnell College, Salinas. 831.755.6816.
---
[ Santa Cruz | Metroactive Central | Archives ]