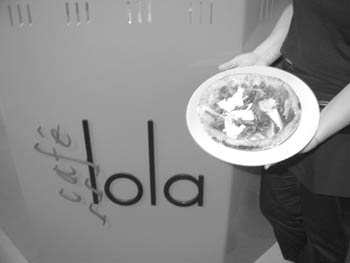 What You Want, Lola Gets: Elegant, high-concept cuisine is the specialty as Cafe Lola adds a dinner menu.

Run Lola Run

Café Lola shows off sophisticated culinary concept as it breaks into the dinner hour

By Christina Waters

OFFERING GASTRONOMIC AID and comfort in the form of breakfast and lunch for several months now, Café Lola recently unveiled its dinner ideas. As fans of the contemporary persimmon-hued décor of Lola, Ann and I looked forward to seeing what chef Benjamin Sims' kitchen could do when it really got fired up.

Taking control of an entire corner of the long banquette, Ann and I admired the gorgeous hardwood chairs and shimmering handblown drop-lights while pacing consumption of sourdough dipped into intensely fruity olive oil. Ann's glass of Salchetto Rossi di Montepulciano 2000 ($7.50) proved mono-dimensional, but my Green & Red Vineyard Zinfandel 2000 ($7.50) was both generous and elegantly structured--a thinking woman's zin.

Stoked by its wood ovens, the menu is laced with such specialties as wood oven-roasted calamari, crostini of roasted peppers, and roasted chicken, in addition to the popular brick oven pizzettes. How could I resist the rare opportunity to savor oven-roasted local sardines, sitting as I was within spitting distance of the Monterey Bay? Ann liked the sound of wood oven-roasted figs, especially when she saw (and tasted) the actual dish. Nano-sized pearl onions dotted a salad of tender greens, along with toasted walnuts and creamy goat cheese peeking out here and there.

The roasted figs were still juicy hot from the oven and everything was amplified by the brilliant bite of balsamic ($9.50). My starter plate of sardines offered an unusual julienne of celery root (not the advertised rémoulade), a fluff of notably delicious frisée and two large sardines perched in silvery splendor, aromatic with rosemary and lemon. I broke through the crisp skin--also delicious--to liberate several fabulous bites of succulent, intensely flavored meat from each. The micro-bones, as we all know, are to be ignored and chewed along with everything else. Calcium, baby, calcium.

Impressive Appetizers

Handsome and unusual, our impressive appetizer course worked especially well with the red wines and excellent bread. Each of our plates remained, however, unretrieved on the table long after we were finished, and I got the impression that our lukewarm entrees had been sitting for a while. Such happens in restaurant land, and 'tis usually a simple timing glitch, easily fine-tuned.

Edged with a tiny necklace of demi-glace, each plate was visually appealing. Ann's plump rack of lamb chops sat on a pillow of whole corn polenta ($21), accompanied by a perfect roasted carrot and a bouquet of overcooked broccoli. The lamb was fine, the polenta lacked flavor, but the portion size was on target.

On my beautiful plate, large sautéed scallops were perfectly moist and tender--exactly the way I would like to make them at home if I had the skill ($17.50). They arrived with a delicious corn relish and a side of stewed lentils--another unusual choice--as well as another of those impeccably roasted carrots. It was a completely satisfying, unpretentious dish, which didn't require lots of intellectual attention. Had the polenta offered a bit more chutzpah, and the broccoli a bit less, the rack of lamb entree would have been successful as well.

The only gap at Lola seems to be in the domain of desserts. Our server listed pineapple upside-down cake, strawberry shortcake (in October?) and a chocolate tart. We chose the former, neither of which was a classic, though the dry, biscuity shortcake did sport enough whipped cream for an orgy. The pineapple topping appeared to have been warmed, rather than actually baked--there were no oozing, caramelized juices to moisten the dry biscuity cake ($6.50 each).

All in all, enlightened appetizers and solid bistro entrees are enough to make Café Lola a West Side dinner destination.
---
Café Lola
Address: 1520 Mission St., Santa Cruz
Phone: 831.426.6322
Hours: Daily 7am-11:30am breakfast, 11:30am-2:30pm lunch, 5-10pm dinner; weekend brunch 11:30am-2:30pm
Ambience: *1/2 Urban views and intimate seating are enhanced by persimmon enamel grillwork and inventive light design.
Service: *1/2 Friendly staffers seem in need of training consistency and motivation.
Cuisine: *1/2 Innovative choices and lovely wood- oven techniques distinguish the local/seasonal menu.
Overall: Café Lola occupies a terrific location and appears to have almost everything in place to launch itself as a signature West Side eatery.
---
[ Santa Cruz | Metroactive Central | Archives ]