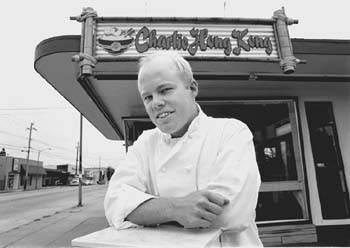 Still Dealing: Charlie Deal plots his latest culinary venture.

From the Mountains To the Sea

Changes in Felton and at Shoppers, harvest dining with winemakers, fish on the line, checking in with Chef Jozeph

By Janet Blaser

OK, OK, CHANGE IS GOOD. But no more Charlie Hong Kong in Felton? What's up with that? According to Da Man himself, that location just didn't have the volume needed to keep the all-organic, made-on-the-spot Asian cuisine a-comin'. Mr. Deal added that something else, something big, is on the horizon--exactly what, he wouldn't say, but he promised to tell me within a month. So, stay tuned.

Sharp-eyed readers may have already seen Steve Ball in his new role as "the wine guy" at Shoppers Corner. Perfectly at home managing the store's always well-stocked shelves, Steve can be counted on to direct you to that crisp pinot grigio, rich merlot or full-bodied zin that you're craving. Pearl Alley Bistro fans: never fear. Steve's still back there behind the bar a few evenings a week as well.

The splendid Bittersweet Bistro hosts the annual Winemaker's Harvest Dinner with the Santa Cruz Mountains Association, showcasing the fabulous wines of up to 40 vineyards from our local appellation. Upward of 30 of those winemakers will themselves be on hand to schmooze with diners, answer any questions and share tips about their favorite wines during half-hour tastings before you sit down to one of chef Thomas Vinolus' legendary multicourse dinners. Represented in this stellar lineup are Bonny Doon Vineyards, Cinnabar (scrumptious merlot), Hillcrest Vineyards, Thunder Mountain, Salamandre Wine Cellars, Silver Mountain Vineyards and Storr's--by no means a complete list of all the wines that will be on hand. And the date to pencil in? Nov. 13, coming up soon. Dinner seatings, which include a private 30-minute wine tasting, can be scheduled from 5:30 to 7:30pm. Cost is $100 per person, all included, and reservations are a must. Call Bittersweet at 662.9799 or Karen and John Hibble at the SCMWA at 479.9463.

Heartfelt condolences go out to friends and family of local chef John Bayona, who died tragically in a motorcycle accident last week. Loved by all who knew him, personally and professionally, Johnny B. most recently worked at Gabriella Cafe and was a familiar face at Clouds Downtown. Boulder Creek folks may remember him from Spanky's, where he began his cooking career.

Anyone else noticed the fish-and-sneaker assemblage hanging from the telephone wire across Laurel at the corner of Cedar Street? It's been there for almost a month now. I have two questions: What kind of a fish is it? And, of course, the obvious: Why?

The ebullient Jozeph Schultz of India Joze fame can be found on Thursday nights manning the line in the kitchen at the Pino Alto Dining Room at Cabrillo College. The cozy little restaurant is a showcase for the school's culinary arts students, who are graded on both their cooking and serving skills, guaranteeing a really good four- to five-course dinner experience for under $15. It's open for dinner Tuesday, Wednesday and Thursday evenings until Nov. 30, and reservations are recommended, as space in the gorgeous Sesnon House dining room is quite limited. Interested? Call 479.6524.
---
Got a food tip or restaurant news? Email [email protected] and tell Janet.
---
[ Santa Cruz | MetroActive Central | Archives ]