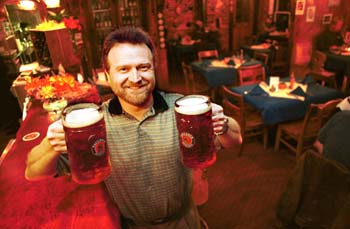 Photograph by George Sakkestad

Mug Shot: Tyrolean Inn owner Dieter Seider lofts a pair of ales.

Where The Wurst Is the Best

Happily ensconced in the redwood forests of Ben Lomond, Tyrolean Inn offers a tasty slice of Bavarian hospitality

By Christina Waters

THE ECHOES of a three-day Oktoberfest celebration could still be heard in the lilting tones of alpine yodeling. Tyrolean Inn knows how to provide a big, chalet-style welcome to its guests--host Dieter Seider came around to warmly greet each table.

Evenings spent with my Auntie Da and Uncle Harold are always loaded with juicy family memoirs. So I shouldn't have been shocked at the revelation that my Bavarian great-aunt Mariana (who'd married into the family by way of Uncle Doodle) had actually crocheted a lace version of The Last Supper. Besides, the old-world ambience of this inviting place, with its deep blue linens, copper kitsch and endless collection of beer steins, provided a cushion of comfort.

Jack had been fantasizing about the Tyrolean Inn's bratwurst all week. Seated at a round oak table near the fireplace and barraged by irresistible folk music, we ordered an accompanying bottle of Kenwood Pinot Noir 1998 Russian River ($22) plus a tall liter of Erdinger Hefeweizen alcoholfrei ($3.95). My adventurous aunt chose an evening special of cured veal loaf with brown onion sauce ($11.85), but it was wienerschnitzel ($16.75) and bratwurst ($11.85) for the rest of us.

An appetizer of smoked trout ($7.50) arrived along with a large basket of soft, seed-crusted bread. The succulent, intensely flavored trout was wonderful topped with horseradish-spiked sour cream. My aunt subscribes to cream in all of its forms. The Tyrolean Inn is generous with cream.

Meanwhile, Harold and I had gotten involved with our salads of lettuce, cucumbers, carrots and marinated cauliflower, shown off handsomely by a tangy dressing of sour cream and fresh dill. Jack's unfiltered, lemony wheat beer made sense with the smoked trout--but even more with the huge platter of bratwurst that soon arrived.

Inspired by all the Bavarian music, the soft red wine and a forkful of Jack's sauerkraut, Auntie Da revealed that bit of family lore about my great-aunt's crochet addiction. I had known that Mariana plied her way to needlework nirvana by crocheting bedspreads, tablecloths, pillowcases and curtains. But The Last Supper? It was a lot to digest.

When my breath returned, I inhaled another forkful of my textbook veal scallop, lightly breaded and squeezed with fresh lemon, as in Vienna. Jack gallantly offered me a taste of the coveted bratwurst, which arrived on his platter along with two small pork sausages (another bratwurst would have been even better), home fries and the sublime sauerkraut. Spicy, garlicky, bursting with voluptuous juiciness, the bratwurst was everything archetypal sausage should be. The sauerkraut, however, ran a close second.

"This isn't anything like the canned stuff," my aunt exclaimed, graciously accepting another sample.

Pungent, as in "sinus-clearing," and not too salty, it was the obvious match for the sweet, spicy bratwurst. Did I mention that we all loved absolutely everything on the table? Including the unusual spiced veal that tasted a bit like fresh ham.

When the carry-out containers were all squared away, we considered dessert. My family adores desserts, and Tyrolean Inn has no peer in the way of gooey, creamy, memorable Bavarian desserts.

Bypassing the excellent strudel, we ordered one wedge of an apricot and spice Linzer tart, and a dark chocolate cream pie filled with black cherries (both $4.50) and four forks. Auch du Lieber! as Mariana might have exclaimed after crocheting one of those really difficult three-dimensional roses. A quintessential spice cake, the tart was dense with autumn flavors and moist with a tender heart of apricot jam.

Meanwhile, my uncle made short work of the whipped cream-enhanced pie. It looked liked alpine frou-frou, but the barely sweetened chocolate custard was sheer elegance. There are no shy flavors at Tyrolean Inn. But there is, as my aunt noted happily, an abundance of cream.
---
Tyrolean Inn
Address: 9600 Highway 9, Ben Lomond
Phone: 831.336.5188
Hours: Tue-Sun, 5-10pm; lunch weekdays.
Service: *** Friendly and smart, with a skilled sense of timing
Ambience: *** Positively packed with alpine coziness and big-hearted welcome
Cuisine: **1/2 Hearty German classics receive their proper respect
Overall: Tyrolean Inn is as comforting as a chalet in a snowstorm and deserves its local landmark status
---
[ Santa Cruz | MetroActive Central | Archives ]