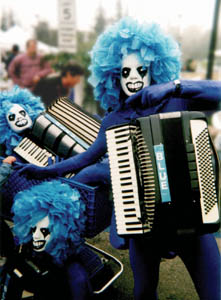 Halloween Horror 2: It's always the same dream: The Great Morgani presiding over a Hallowen children's choir. But what really, really terrifies me, doctor, is my fear that, someday, it's actually going to happen ...

Keeping the Weird Rolling

Ukulele Dick and an assembled cast of oddballs keep the surreal alive in Santa Cruz

By Peter Koht

Austin, Texas, had the original idea for celebrating its street culture through the production of bumper stickers, but the local Keep Santa Cruz Weird campaign has been a huge hit. Hundreds if not thousands of local residents have emblazoned their bumpers with the distinctive black stickers available at Bookshop Santa Cruz. While the rest of the world slides into Wal-Mart big box blandness, this coastal town ain't going out like that.

Following up on Neal Coonerty's initial idea, local musician, luthier and musician Ukulele Dick, nee Rick McKee, has organized the first-ever Keep Santa Cruz Weird concert at the Rio Theatre. Assembling both the best in local talent and those unfortunate acts who were shortsighted enough to owe him a favor, McKee has put together a vaudeville-style variety show whose composition is as odd as this town's geography.

Choosing one of Santa Cruz's most celebrated holidays, Halloween (the other major one being 420), McKee wanted to organize an event that would be "eclectic, but a palatable show so people can see a variety of acts. If you don't like what you are seeing, then hang on and another will be along in a minute."

While McKee would normally spend the Halloween weekend at home passing out candy and then quickly running down to the mall to "look at the freaks," this year he is corralling all the freaks together on Soquel Avenue. His show is a perfect solution for all those citizens who "don't want to spend Halloween in loud venues with lots of drunks."

In fact, Keep Santa Cruz Weird is supposed to be a family affair, with classical conductors singing songs accompanied by ukuleles, Paula Bliss and Pipa Pinon gurgling out arias and Fyodor Karamazov amazing the audience with gravity-defying manipulations of light. But fear not, fair family-minded citizens, none of Newton's principles of gravity will be shattered.

At the helm of this vaudevillian affair is none other than local luminary Sven Davis. The wielder of the dreaded hook, he is brushing up on his pronunciation and keeping an eye on his golden conductor's stopwatch to ensure that none of the nearly 20 participating acts display a "distorted concept of time."

Performers are encouraged to distort reality, however. Appearing in a costume to be named later, fabulously famous local accordionist and occasional intentional eyesore the Great Morgani will be ever present during the evening, playing his squeezebox both in the main room and in the Rio's lobby, where he will be presiding over a children's choir singing "Halloween carols."

The carols are Davis' fault. "What can adults do on Halloween?" Davis logically inquires. "We need a reason to go out and get candy, so I wrote some brief Halloween carols set to Christmas songs. That way we can go door to door to sing, 'Witches Roasting On An Open Fire.'"

Ukulele Dick will also jump into the festivities. In addition to producing the event, he will also mount the stage with several ukulele-based projects, including the UkeAholics, who will regale the crowd with oldies presented in a fractured but harmonious fashion.

All of these events raise the question: Is Santa Cruz still weird? Are we still on a par with Venice Beach or San Francisco for pure freakiness? Have we lost our oddly tinged edge? The answer is that we are still happy aberrations to the norm.

Take for instance the life story of the Great Morgani. A former three-piece-suit wearer, he has spent the last nine years collecting accordions, stitching costumes and playing Puccini arias to passers-by on Pacific Avenue.

"I have lived in Santa Cruz since 1947," he says with a chuckle. "I have seen all the changes and all the good and bad stuff. Everyone says, 'Wow! You lived through the '60s and the hallucinogenic generation,' but I was playing the stockbroker. I used to think, look at those weirdos, never thinking that one day I would be the one on the box in a ridiculous costume."

So support your local deviant, and indulge your own flair for the denial of normalcy by attending this showcase of local weirdness. It's guaranteed to be more fun than watching a drag queen get coaxed out of a tree by the police. There's an image that will convince your mom that you live in one odd town.
---
The Keep Santa Cruz Weird Concert will happen Saturday, Oct. 29, at 8:08pm sharp at the Rio Theatre, 1205 Soquel Ave., Santa Cruz; tickets $18. More information is available at www.riotheatre.com.
---
[ Santa Cruz | Metroactive Central | Archives ]