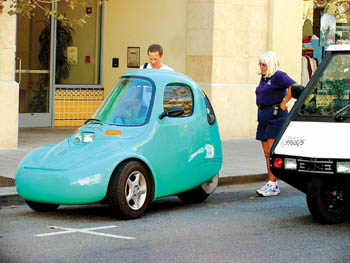 Photograph by Sarah Phelan

Wheels of Justice: Hey, meter maid, leave that car alone!

Nüz

Coastal Chaos

Freshman Assemblymember John Laird has been getting rave reviews in the 27th District this past year, so it's no surprise to Nüz that he's planning to run again in 2005.

Or as Laird, who's inviting everyone to come to the Cabrillo Horticultural Center on Nov. 1 to hear his political plans, puts it, "I'd doubt if I'd be doing that, unless it was to say, 'Here we go again.'"

Meanwhile, at a press conference Tuesday, termed-out state Sen. Bruce McPherson put to rest the question of whether he'd run against Laird, risk weekly jet lag by running for Congress against Democratic incumbent Sam Farr, or become chancellor for the community college system--by announcing he'll do none of the above.

Maintaining that he's tired of campaigning and can't accept any office or employment with the state until he's served out his time as a senator, he announced he has no plans to do anything but that.

Laird says the Brucester had been pressured to run for Assembly from an Arnie-emboldened GOP, but his recent refusal to budge on the no-tax pledge (to do so would have helped better fund schools) and his vote to abolish the California Coastal Commission didn't earn him Brownie points locally.

Likewise, McPherson would have had a hard time unseating Farr, who's now considered one of Washington's 10 most radical politicians, thanks to his increasingly ballsy positions on the Patriot Act, the war on Iraq, veterans' benefits, affordable housing, education, the environment, agriculture and Medicare--to name but a few pressing issues.

Laird had doubted that McPherson would accept any state offer, mainly because he'd have to resign his current seat, thereby triggering a special election along old district lines--a situation that wouldn't have favored a Republican candidate. Still, the Brucester wasn't saying he wouldn't work for Arnie come November 2004.

Meanwhile, Laird notes that when Arnie assumes control on Nov. 15, he can appoint four people to the California Coastal Commission.

"So we'll get an early reading on where he stands on the coast," says a clearly skeptical Laird.

According to Arnie's website, the governor-elect promises to "protect the integrity" of the commission, but whether that means protecting the commission's budget remains to be seen.

Then there's the question of what will happen if Congress passes its off-the-scale controversial provisions that would allow new exploration and drilling. Farr voted against such provisions, both of which were inexplicably included in a recent energy bill. But what would the Brucester have done? And how will Arnie respond when the federal pressure's on?

Laird will be at the Cabrillo Horticultural Center, Nov. 1. noon-1pm. Call 831.420.2704 to RSVP.

Sparrows and Jellybeans

Pressure to open up the coast seems suicidal to most coastal communities. But it's perfectly understandable--if you're a car. And with cars multiplying twice as fast as Americans (there are 150 million of them to 292 million Americans currently, if you're keeping score), wouldn't it be great if they consumed fewer resources and less room than your average pea-brained dinosaur?

Enter the Jellybean, a one-seater, three-wheeled electric vehicle (EV) that has the look and feel of a space pod, thanks to a space-saving design in which four Jellybeans can fill one average parking space.

Made by the Hollister-based Corbin Sparrow (yes, the same Corbin that makes motorcycle seats), the Jellybean zips along noiselessly, causing total strangers to shout, wave and whoop for joy, as Nüz discovered when we test-drove an aqua Jellybean downtown.

According to Joel McEwen, co-owner of Everything Under the Sun, which specializes in sustainable energy systems, Jellybeans can go 80 mph, get 320-346 mpg and go 40-50 miles before needing a recharge.

"Wouldn't it be great if UCSC allowed students to drive solar-powered EVs around campus?" McEwen opined, as he walked way from his Jellybean without feeding the meter last week, confident that electric vehicles can park for free in the Cruz.

Nope! Indeed, his Jellybean turned the head of a passing meter maid, who, in fact, can ticket EVs just like any other vehicle downtown.

Public Works transportation coordinator Mark Adato explains that the city did make meter parking downtown free for EVs for a year, "but that agreement ran out in February 2003."

The good news? EVs can still park in city garages for free, and there are four EV-charging stations in the Soquel Avenue parking garage.

Meanwhile, McEwen, who luckily was shown clemency by the meter maid this time around, says he's not afraid to drive his Jellybean on SUV-clogged freeways, despite his EV's minuscule dimensions.

"I have 5-6 feet on each side, and Jellybeans are so dense they passed the automobile crash test," he explains.

Noting that electric cars have only one moving part--the engine, which gets a million miles with zero maintenance--and batteries, which supply 90 percent energy return, McEwen points out that the Big Three automakers canceled their EV programs shortly before the Iraq war, even though it'll be seven to 10 years before hydrogen cars are a reality.

Not that he's a big fan of the latter, anyway.

"Hydrogen cars are completely clean-burning, but fossil fuel and nuclear energy are needed to make the energy, and you only get a 70 percent energy return," says McEwen. "So we're not getting there with sustainable technology, and every gas station will need a mini hydrogen plant. People still don't know the cost and the extent of changes needed to make that happen."

Requiem for Rent Control

"Any agreement is better than having the entire case end up in court," writes the Senile on the most recent chapter of rent control negotiations at De Anza Mobile Estates.

Nüz begs to differ.

What really happened is that a bunch of seniors, many of them single women, paid the price for the city's failure to police its own ordinance, a failure that mobile-home-park owner MHC ruthlessly zeroed in on by jamming its thumb on the city's panic button.

Indeed, left to the mercy of the city and the Senile, these seniors would have been forced to throw in the towel a month ago.

Instead, thanks to the 8,500-plus residents who signed their support for a referendum on rent control, the seniors negotiated last-minute concessions from MHC--even if these concessions were more like crumbs than a fair slice of the pie.

So, thanks, people of Santa Cruz. To the City Council, however, Nüz extends one of our always-at-the-ready Finger Awards. You decide which way it's pointing.
---
Nüz just loves juicy tips: Drop a line to 115 Cooper St, Santa Cruz, 95060, email us at , or call our hotline at 457.9000, ext 214.
---
[ Santa Cruz | Metroactive Central | Archives ]