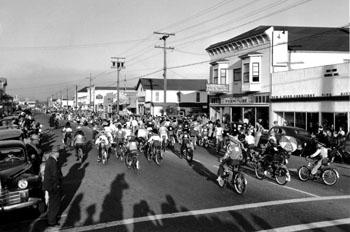 East Side Kids Santa Cruz Halloween Parade: This was taken circa Oct. 20, 1950. You can just barely make out the Rio Theatre down the street. Former Mayor Ernie Wicklund's photo store is on the right.

Bruce Bratton

DATELINE LONDON. I know that line's been used before, but this is the only chance I get to use it. London is 7,000,000 people strong, but not like New York or L.A., in case you hadn't heard. It's gridlocked, full of all the U.S.A.-type commercialized hype we're so used to, and yes, Halloween is a big deal here, too. They also push Christmas earlier than we do. They have a huge store and bottled-product here called FCUK. I found out yesterday it really means French Connection United Kingdom--whew. We're here taking an intensive course called Literary London. One entire day each is devoted to Chaucer, Shakespeare, Dickens and then more modern authors like Virginia Woolf: a half-day of lectures on-site, then touring the locations that are significant to each of those authors. Our lecturer is Kevin Flude, author and authority on London. It's all very amazing.

JUST A RUMOR? All I know is the occasional email for the last couple of weeks, but is it really true that Mike Schmidt is leaving Santa Cruz to take a job in Tracy? I mean, after he did so much to destroy Santa Cruz by pushing Measure P, he just leaves? Somebody should call Tracy and tell them. You've probably heard about this by now, but I wanted to make sure.

ABOUT SHAKESPEARE. I think the ether waves ate my first column from England three weeks ago. I wrote about seeing the Academy of the Royal Shakespeare Company do Pericles. It was an experience of a lifetime. I never cared much for Pericles, but how they performed it was near-miraculous. So, based on that night, I was very excited about seeing the RSC Academy perform King Lear. We went last night to the Young Vic Theatre, a great venue, to see Lear. It was terrible: professional--and yet still bad--acting, and the costumes ranged from Lear's knights in Blues Brothers outfits to everybody else in evening gowns or tuxedoes. Oh well ...

SHAKESPEARE'S GLOBE THEATRE. We toured the newly rebuilt Globe Theatre and found out that the Sam Wanamaker who headed the drive to rebuild the Globe was not from Wanamaker's Department Store. He was a method actor from Chicago, and you'd recognize him if you saw his photo. Being at the Globe and seeing the dimensions and shape of theater of that day helps you realize even more of what the great playwright had in mind. The Globe isn't really circular--it has 20 sides--and this is not its original location either. In Shakespeare's day, it held nearly 3,000 people. The London Fire Department will let in only 600 per show now. Contrary to what even the folks at the Globe say, there were winter performances, in the rain and all. Also, people back then would say they were going to hear a play, not see a play.

THE 20 SOMETHINGTH ANNUAL. Every year for more than two decades, the Hot Damn String Band has played at Bookshop Santa Cruz' birthday party. This year, we'll be there Nov. 9, at 7pm. Along with the usual pluckers, like Jim Reynolds on guitar and Annie Steinhart on fiddle, we'll have Karen Quick on string bass, Todd Kimball on mandolin, Dave Magram on banjo and your humble columnist on washboard. Besides all that, there's a hot damn sale on the books--and cake and ice cream.

THE VERY LOVELY BRATTON. There are about six towns or villages named Bratton in England. We went to the one near Stonehenge and Avebury. Nobody there named Bratton anymore, but they do have a Bratton Historical Society; and, no, they weren't interested in why I thought they owed me about one millennium's worth of back taxes. They made sure I promised to tell as much of the world or Santa Cruz that the chalk white horse on the mountainside is the Bratton horse and not the Westbury horse. More on this later.

LONDON, THE CITY. It's great fun to note the street names in London. There are hundreds dating back centuries, and they say so much: names like Bread Street, Cheapside, Stinking Lane, Bladder Street and good old Gropecunt Lane. I never knew that English was the third language spoken in England. First was Celtic, then Latin, then English and French. Maybe Britain was named after Brutus Kingdom, but maybe not, quien sabe? We learned the important difference between historians, storytellers and folklorists, and that's a bigger difference than we realize in Santa Cruz. The Lion King is a big deal musical here; there's talk about Leonardo DiCaprio and Tobey McGuire doing a play here this summer. Dames Judi Dench and Maggie Smith are together onstage for the first time, and the play gets bad reviews. But they say the dames are great, and that it will be coming to New York soon.

OUR ELECTIONS. Having zero news about Santa Cruz politics except for the Mike Schmidt item, I'm just going to ignore the whole thing. I'll be back in time to vote for Mardi Wormhoudt for county supervisor, Cece Pinheiro for school board and No on Q, the Convention and Tourist Board Unfair Funding Measure. I'm guessing that Leavitt and maybe even Aldo are looking like better candidates by now. I'll be back in Santa Cruz by the time you read this, and I'll meet you at the polls.
---
Bruce critiques films every other Thursday on KUSP-FM (88.9). Reach Bruce at [email protected]
---
[ Santa Cruz | Metroactive Central | Archives ]