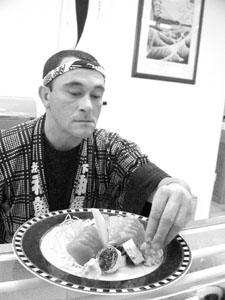 One Fish, Two Fish: Chef Anton Harpole arranges a sushi plate at the Red Lantern.

Photograph by Stephen Laufer





Raising the Red Lantern

New home for Asian cuisine colors diners impressed

By Janet Blaser

FLEDGLING RESTAURANTS are often a work in progress, and it's rare indeed to find a brand new dining spot in which the unique pleasure of a well-made meal served in a pleasing atmosphere can be properly pursued.

And yet such is the case with the Red Lantern, the latest--and if we're lucky, permanent--occupant of the Building Formerly Known as India Joze. Owned by the Leung family, who've operated Canton Restaurant on 41st Avenue in Capitola since 1984, Red Lantern encompasses a full range of Asian cuisine and echoes the warm and welcoming food that has fueled their family for generations.

Do judge this book by its cover--the extensive remodeling work is impressive. A custom-made sushi bar stretches to the left, next to the big fish tank, pointing the way toward what will be--in about a week when the liquor license comes through--a wine, beer and sake bar in a spacious lounge area. (Note to die-hard Joze fans: Dessert case, long-gone, still has not returned.) The trio of dining rooms is bright and spacious, with pale off-white walls, loads of natural light, Japanese-style wood accents and gorgeous tiled floors. Tables set with white linen, chopsticks folded into cloth napkins and small red candle lanterns are placed eclectically at sometimes odd angles, but the ambience is, more than anything else, as comfortable as someone's well-appointed and comfortable home.

Billed as Asian cuisine, Red Lantern offers a large but not dizzying array of menu selections. It's especially easy to get lost in the delightful swirl of the sushi menu--you'll either have to exercise extreme sushi discipline or plan multiple visits. Chef Anton (Mobo, Jammin' Fish) pulls special rolls--like the Big Beach, which is unagi topped with maguro and mango--as well as standards out of his magic bag of sushi. Determined to use the freshest he can find, he personally selects his fish every day at Stagnaro's.

The Small Plates ($3-$6.50) section of the dinner menu offers "standard" Asian appetizers (edamame, potstickers, spring rolls) as well as tantalizing portions of more entreelike selections. Try the Szechuan String Beans ($5) for their simplicity and aromatic, full-flavored taste--gently stir-fried with chile peppers and soy sauce, the thin, crispy beans are hands-down winners. The Small Plates can be ordered along with, or sometimes in place of, the Large Plates ($7.50-$12) with a side of rice, or with any of the noodle dishes ($5-8.50). You'll be satisfied, but not stuffed.

The dinner menu offers more than 20 vegetarian, beef, chicken, pork and seafood dishes. Drawn by the simple premise, I had to try Happy Family Scallops ($12, the most expensive dinner item offered). The light stir-fry of plump scallops, snap peas, onions and Napa cabbage is in a bare-as-can-be clear sauce whose only purpose seemed to be to provide a medium in which the simple flavors could merge. While there are no overwhelming flaws in this Happy Family, other dishes provide more bang for the buck. The seemingly basic Cantonese Style Tofu ($7.50), assorted seasonal veggies tossed with cubes of fried tofu, also includes some of the most plump and luscious shiitake mushrooms I have ever encountered. I have to admit my table mates and I scrambled to politely but firmly abscond with as many of these as possible.

While at one recent dinner we found the Teriyaki Salmon ($12) a bit dry and lackluster, we could have prevented that by requesting the fish to be seared rare. I'd suggest opting for more complex dishes, to give Chef Wei Jian a chance to really shine. Some, like the Sweet and Sour Pork, are family recipes from Mei and Henry Leung, founders of Canton Restaurant and parents of Jim, Sara and Konti Ken, who now run Red Lantern.

Speaking of the spotlight, the star of more than one meal was the Black Bean Eggplant ($8.50). Neither rubbery nor oil-laden, the thick chunks of Japanese eggplant are lightly sautéed with ginger in a flavorful and balanced black bean sauce. Is it possible for fried eggplant to be al dente? Whatever - the notoriously difficult-to-prepare vegetable is cooked superbly, and then dressed in a sauce that is also just right, possessing none of the unfortunate characteristics of quick-fix, Asian cornstarch-based sauces.

And that, in a nutshell, is what Red Lantern does so exceptionally. The food is light and invigorating, with fresh-as-can-be ingredients and sauces to match. Light stir-fry instead of deep fry, water-based sauces that highlight rather than overtake the natural flavors and textures, aromatic Jasmine rice that's sticky but not stuck--the light hand in the kitchen is obviously well-seasoned and in tune with Mother Nature and her bounty.

Already, dinner reservations are advised, especially for the private banquet room (plan those holiday parties now). The sushi bar, noodle bowls ($8-$10) and always-popular Bento Boxes ($8-$13) provide quick fixes for a short lunch hour, and takeout is available. Weekend dim sum brunch and late-night sushi bar coming soon.
---
Red Lantern
Address: 1001 Cedar St., Santa Cruz (in the Art Center Building)
Phone: 831.429.9080; www.rlantern.com
Hours: Daily, lunch 11:30-3pm, dinner 5-9:30pm
Ambience: ****1/2 Extensive remodel of a local restaurant icon is a change for the better. Contemporary Asian décor is expansive, illuminating and aesthetically pleasing, yet warm and welcoming.
Service: **** Experienced, efficient and friendly staff does the job well, with appreciable knowledge of how much, when and where.
Cuisine: **** Keywords: fresh, light and just enough/ingredients, portions and menu choices
Overall: Without pretense, Red Lantern is a welcome and needed addition to the downtown fabric of conscious, elegant eateries. Modern Asian cuisine and ambience, combined with kitchen sensibilities that reflect the community, are sure to stand the test of time.
---
[ Santa Cruz | Metroactive Central | Archives ]