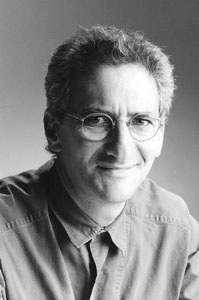 Mark Primack: In His Own Words
By Mark Primack
I GREW UP in a two-family house, in a working class neighborhood of mostly three-family houses. Each floor was a separate apartment. It was in what was then called a "mixed neighborhood"--Irish and Italian with a few Jews and Swedes. Many houses were multigeneration; parents lived in the apartments above their children and grandchildren. People didn't move much.
In my neighborhood I had at least four "moms,"and some of them were a lot tougher on me than mine was. Mine never learned to drive. We kids didn't need to be driven to visit our friends, and school was only four blocks away. My mother could always send one of us up to the corner store for milk. We often played in the street in those days, especially during long summer evenings. It was the safest neighborhood I've ever lived in.
I studied design and architecture in the town I was born in, and paid my way by working union construction. I learned from both experiences what it was that made my old neighborhood so livable.
First and foremost was love. People loved the place they lived in, and identified with it. And they loved their neighbors, or more precisely, they cherished their differences. You weren't just Italian in my neighborhood. You were Sicilian, or Milanese, and people knew it. Beyond that love there were certain basic ingredients--jobs and schools close to home and a critical mass of people that could support shops and services, buses to take us downtown, and friends and relations within walking distance. That's what made my neighborhood warm and alive and easy to live in.
I fell in love with Santa Cruz the first time I saw it, 27 years ago. Standing on the UCSC campus, looking out over Pogonip and across the bay to Monterey, I knew this was the place I wanted to make my home. Neighborhoods in Santa Cruz were fairly stable then, with lots of retired people and surfers, and the working people who kept our schools and city going. In the late '70s, my share of a two-bedroom apartment close to downtown was $100, which at the time was a third of my income. There were many creative people here for whom art and idealism and natural beauty were high priorities. Together we made Santa Cruz a vibrant and exciting place. We had room to maneuver--inconspicuous nooks and crannies of countercultural housing that afforded us the time to pursue our varied avocations.
We haven't had stable housing in Santa Cruz for a while now. Very few of us feel secure in our neighborhoods. Owners are often just as nervous as renters, because they have so much to lose. Some of the reasons for this are regional and national. But what I learned in architecture school, and through decades of practice, is that many of these problems are local and well within our control.
We learned to fight for local control 30 years ago. Back then, there were righteous battles against nuclear power plants and outside developers and speculators. I fought some of those battles myself, sometimes alone. I know the frustration of struggling against the political "done deal." And on occasion I've known the immense relief and exhilarating amazement when the giant actually gave up. I've fought the destruction of the Tree Circus, the Allegrini House, the Cooper House, the Yogi Temple, the Pogonip Clubhouse, and I've fought ill-conceived development on the Pogonip, the Bombay Property, the Terrace Point plan, the West Side Metrobase and the Factory Outlet, and countless other projects while on the Zoning Board. These were fights against loss of open space, local businesses and jobs, and our architectural heritage.
But I've seen fighting become an end in itself here in Santa Cruz. And we seem to be fighting ourselves now, warring incessantly against workforce housing and local businesses, against tourism, fishing, agriculture and the University, and against maintaining and upgrading our own infrastructure--our roads, water supply, and even our schools and parks. We fight against change.
Of course we've never been able to stop change, but we sure have tried. Our leaders told us we could stop people from coming to Santa Cruz if we didn't build for them. They reasoned that if we made it hard enough for people to find affordable housing here, they would go away, and the rest of us could then get back to how things were in the days when we ourselves first arrived. But we ("WE" are all relative newcomers here) came anyway. This mind-set has now brought us to the brink of becoming an elitist bedroom community, too costly for artists, surfers, teachers, retirees and working families.
That is why traffic has increased twice as fast as our population. The people who work in Santa Cruz can't afford to live here. And the people who live in Santa Cruz can't afford to work here, and have to commute over the hill to decent paying jobs. So many Santa Cruzans have been forced to commute and then ridiculed for 'choosing' gridlock. Our elected leaders have discouraged affordable housing and good jobs by prohibiting apartments and granny units and by snob zoning, and by turning their backs on local businesses.
We have our work cut out for us now, there's no doubt about it. But I have seen this community overcome divisiveness and fear before. I know we can do it again. We came together after the earthquake to plan a new downtown. We can come together now to plan for a sustainable, inclusive community.
In the decades that I've spent designing and advocating for affordable housing, livable neighborhoods and accessible open space, I've learned to listen intently to what people feel and need and want. For me, serving Santa Cruz means understanding all sides of an issue, never jumping to conclusions, and never jumping to take sides.
Visioning, planning, designing, resolving conflicts, helping people to see past the problems to innovative solutions--that's the calling that I have chosen in my life. My work as an architect and a leader in the community speaks to economy, practicality, and inclusivity. I'm not against building opportunity for those of us who struggle to stay here. I hope that on Nov. 5, you will follow your best instincts--not your worst fears--and elect a supervisor who will work with you to build a better future for Santa Cruz. Thank you.
[ Santa Cruz | Metroactive Central | Archives ]