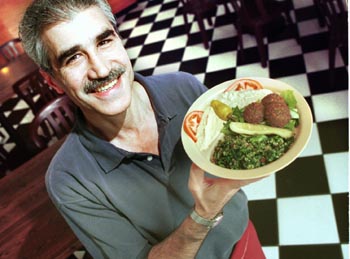 House Specialties: Michael Mounir of the Falafel House delivers Middle Eastern delights.

Lovely Pita

Michael Mounir conjures up Middle Eastern treats at the Falafel House

By Janet Blaser

YOU KNOW, even food writers can get into a rut. Spoiled by haute cuisine, palates refined against our will (oh, for a plain ol' cuppa coffee) and influenced enormously by our upbringing and heritage, we have to work hard to not pigeonhole our eating habits. So, for me, Middle Eastern food is kind of an exotic treat. I have my favorites locally, in a variety of categories (quick lunch, quiet coffee, ambient early dinner) and for no good reason have never ventured into the Falafel House downtown on Walnut Avenue.

What a pleasant surprise, though. Michael Mounir has created an oasis of healthy, fresh food prepared daily in a spanking clean establishment. In the three years he's been running his restaurant at this location, a loyal clientele has developed, enabling Mounir to offer daily specials as well as more than a dozen menu selections that represent the traditional foods of his native Syria. A 20-year resident of the U.S., he says that although he's tried other businesses, he always ends up in the kitchen. That's a good thing, as Mounir's grasp of the foods of his homeland gives us an authentic and delicious experience.

Falafel, also a "fast food" in the Middle East, is by far the most popular item. And Mounir uses his own combinations of spices and ingredients--"Everyone has his private recipe, I can't say," he laughed when I pressed for details--that guarantee a spicy, satisfying pita bread sandwich. For vegetarians (or anyone, really), it's perfect; the little falafel patties are full of protein from the garbanzo beans that are their main ingredient. Two vertical broilers cook boneless, skinless chicken and a piquant beef/lamb mixture for the ever-popular gyros and shawerma. By slicing from the outside as the meat cooks upright, this method yields tender, flavorful pieces that are stuffed into pita bread with lettuce, tomatoes, lots of parsley and onions, and a dollop of tahini or yogurt sauce to give the palate a refreshing break.

An assortment of salads rounds out the menu; and if you've been good, splurge and have baklava or some rice pudding--both made from scratch, again by Mounir. Head to the Falafel House, 113 Walnut Ave., Santa Cruz. Hours are 11am to 9:30pm, Sunday to Thursday, and till 10:30pm Friday and Saturday. To order ahead for yourself or a group, call 459.9770.

Birding Time

The holiday season is fully upon us, and it is time to start planning for seasonal get-togethers. It's only been a few years since organic turkeys have been available to consumers, and New Leaf Markets is not only offering them but also hosting a series of tastings so you can get a concrete understanding of how tasty and delicious these birds really are. I can remember doing a side-by-side taste test with organic and nonorganic turkeys--the difference is rather astounding, and I don't imagine you'll ever "go back" once you've made the switch. Definitely worth whatever extra cost there is, as far as I'm concerned--think quality, not quantity. All the local New Leaf Markets will be offering tastes not only of Diestel Ranch organic oven-roasted turkey but an entire Thanksgiving menu as well: herbed bread stuffing, harvest rice pilaf, roasted roots, triple cranberry sauce and Beckmann's Bakery's pumpkin cheesecake. For those who don't have the time, expertise or inclination to make these at home, everything can be ordered from New Leaf's deli departments. The schedule is as follows: downtown Santa Cruz at 1134 Pacific Ave., 4-7pm on Nov. 17; 1210 41st Ave., Capitola, 2-5pm on Nov. 18; and 2351 Mission St., 2-5pm on Nov. 19. Call 426.1306 for information.
---
Got restaurant news or a food tip? Email [email protected] and tell Janet.
---
[ Santa Cruz | MetroActive Central | Archives ]