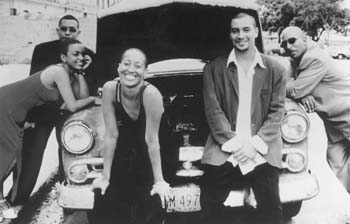 Photograph by Nicole Patterson

Streetwise: The sophisticated sounds of Havana nightclubs can be heard in the creative mix of Bamboleo.

Tall Timba

Bamboleo brings Cuba's latest musical marvel to the Cocoanut Grove

By Robin Davies

IN RECENT YEARS, the hottest genre in Latin music has been Timba. Timba comes fresh off the streets of Havana, created by young Cuban musicians as a new way of expressing their generation's voice and creating a stronger bond and connection with other young people internationally.

The form is a razor-sharp mix of salsa, jazz, traditional Cuban son, rap, rock, soul, funk and any other gyrating rhythm easily woven into its tight, multilayered street-smart compositions. Currently, Timba is the most requested dance music worldwide in nightclubs and on radio. There are hundreds of websites dedicated to providing hard-core Timbaros weekly concert dates, new club locations and the latest Timba fashion etiquette.

This Sunday (Nov. 5), Bamboleo, one of the best of the Timba bands, appears at the Cocoanut Grove (to be followed in two weeks at the same venue by the equally hot La Charanga Habanera). Bamboleo is "a class act," as a sweat-drenched, flush-faced, Cheshire cat-grinning fan exclaimed leaving one of their concerts. Visually, the group evokes an smoky, upscale, downtown Havana nightclub where the hip crowd hangs out to listen to Bamboleo's high-powered, eclectic, cutting-edge, hip-shaking sound.

The band was started in 1995, prior to a major jazz festival in Havana. "A record company from Spain wanted to re-create the '40s band La Mulatta de Fuego, and they asked me to work on the project," explains musical director Lazaro Valdes.

Valdes' keen sensibility and ultrasharp talent quickly catapulted Bamboleo into the top five Timba orquestras in Cuba and the world. A gifted pianist, violinist, arranger and composer, by age 16 Valdes was composing and arranging professionally. His outstanding musical abilities shadow that of a young Quincy Jones.

Bamboleo's latest CD, Ya No Hace Falta (There's No Need), gives the listener a glimpse into the development of this future musical icon. Each track is uniquely eloquent, carrying the air of improvised artistic freedom and a clear-metered knowledge of the right musical elements. "I did [arranged] this CD with a lot of patience, taking my time," Valdes tells me. "I think the listener likes to hear something different, something that portrays the musical colors they have filed away in their minds, something to feed their creative soul."

Throughout the CD, Valdes contorts and tweaks the foundation of this genre into areas most arrangers wouldn't dare, to search for an instrumental solo, jarring transition or vocal lick. Another added plus comes with the savory, mature choices in the lyrics. "I search for transparencies in lyrics--personal, emotive transparencies that can be worn by anyone. I look for lyrics where the idea behind the piece is the notion. I don't look for national topics, I search for universal ones," Valdes comments.

The orquestra consists of four singers and 10 musicians who perform and play all compositions from memory and by ear. Even in their rehearsals, nothing is written down, only memorized. One of the refreshing attractions Bamboleo has is the presence of female singers Vannia Borges and Yordamis Megret. They add a radiant aura of sophisticated, sensuous syncopated grace to the group's live performances with their charismatic, intoxicating singing and riveting, high-powered sexy dancing.
---
Bamboleo performs Sunday (Nov. 5) at 9pm at the Cocoanut Grove, 400 Beach St., Santa Cruz. 21+. Tickets are $16 adv/$19 dr. (423.2053)
---
[ Santa Cruz | MetroActive Central | Archives ]