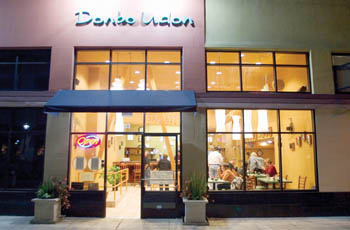 Photograph by Stephen Laufer

Garden of Udon: If steaming noodles and Bento boxes are on your list of comfort foods, downtown just got a little cozier..

Soba, So Good

Donbo Udon shows promise as downtown's latest entry into the realm of Asian cuisine

By Selene Latigo

It seems as though some new establishment pops up downtown every week. Unfortunately, many recent additions to our once mom-and-pop-oriented town belong to the influx of homogenized chains that enshroud our country's culinary landscape with fast, uninspired blandness and numbing familiarity. The same signs and storefronts we've grown used to seeing over the hill or down south are now commonplace here, pushing our bubble of individuality and weirdness further and further into memory. So I always welcome the sight of a new unique restaurant opening, a potential recurring dining destination that might bring some novel idea or cuisine into our local culinary scene. Upon spying the open sign at Donbo Udon downtown, I had to see if this could be such a place.

The butternut squash-colored walls, curved, open sushi bar, echoing front room and cavelike, private backroom create an industrial feeling to this simply decorated space. Most of the tables were filled when we arrived on Thursday, and the few waitstaff hurried about. We sat down at one of the tucked-away back tables and looked over the menu, which features Bento combinations, udon, donburi, tempura, regular maki rolls and a long list of higher-priced specialty rolls. These were described according to the ingredients inside and outside, such as the Donbo Roll ($15.95) with spicy tuna, cream cheese and asparagus wrapped up and layered with five different kinds of fish on the outside. None of these larger rolls dipped under $10, which led me to believe that they must be gigantic, especially after seeing the size of our regular California roll.

After a long wait with both of us trying to catch the eye of one of the two servers, the owner came over to take our order. We inquired about hot tea, since their liquor license will not go into effect for another couple of weeks and we couldn't indulge in our hankering for unfiltered sake. Big ceramic handleless mugs arrived filled with fragrant toasted green tea, and we sipped the soothing drink while waiting for our food. The neighboring table's conversation about the price and square footage of their homes further enhanced the urban sense of this renovated space.

I chose one of the simpler menu items, wanting to sample part of this restaurant's namesake with the Vegetable Udon ($8.95). A huge cone-shaped plastic bowl held a steaming tangle of plump udon noodles, broccoli, green beans, onion, carrot, mixed mushrooms and seaweed, all submerged in an extremely light broth. The presentation of this dish was absolutely beautiful, with the delicately placed and colorful vegetables standing out along with artfully sliced hardboiled egg designs. Although the noodles were a touch on the gummy side and I ended up adding a dash of soy sauce to the broth for flavor, this udon bowl was satisfyingly warm and as texturally complex as it was visually, feeling like a treasure hunt with every bite.

Dave's Deluxe Salmon Teriyaki Bento ($15.95) was composed of a number of receptacles. One large compartmentalized platter held five different items: one fat six-piece California roll with creamy chunks of avocado, three deep-fried and chewy pork gyoza, a small, sweet sesame-dressed salad, a pile of snow white rice and two strips of lightly sauced, jerk-style teriyaki salmon. There was also one tiny dish with seasoned rice vinegar and another with a smoky dipping sauce for the hot, fresh and crispy mixed tempura that arrived separately in an interesting triangular wooden rack. This wide array of little bites and flavors provided a fun sampling of menu items. There was supposed to be miso soup included, but none arrived; also absent were the wasabi and pickled ginger, which we had to ask for in order to continue enjoying the California roll.

We are always tempted by fried ice cream, but at $7.50 this one was priced a bit high. We skipped dessert and paid the check, feeling full and nourished. The disorganization and pace problems that we experienced at Donbo Udon are all fairly typical of brand new establishments. Hopefully, with some time, these will smooth out and we will all enjoy the fresh face on Lincoln Street.
---
Donbo Udon
Address: 103 Lincoln St., Santa Cruz
Phone: 831.423.8823
Hours: Lunch 11:30am-2:30pm Mon-Sat; dinner 5-9:30pm Mon-Thu, 5-10pm Fri-Sat
Price: $3-$17
Full Bar, ocean view
---
[ Santa Cruz | Metroactive Central | Archives ]