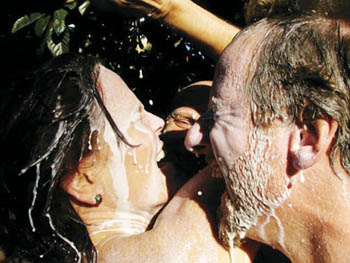 Cream Sh-Boogie Bop: Sara Wilbourne, Matthew Shyka and Ken Williams lactate together.

SoWat if They're Stars?

Local media celebs Chip and Kirby's master plan starts with the SCICA's festival of contemporary performance

By Mike Connor

These days everyone seems to be hatching a plan for the future of Santa Cruz, and all we can say is, It's about damn time. This town used to be an incubator for creative seeds, out of which grew enduring institutions like the Cabrillo Music Festival of Contemporary Music, the Kuumbwa Jazz Center and Shakespeare Santa Cruz.

While the old guard continues to explore the changing possibilities of what are now established traditions, newer groups like the Santa Cruz Institute for the Contemporary Arts are striving to create their own institutions--and not the mental kind, as SCICA directors Kirby Scudder and Chip might at first lead you to believe. They're like dueling jesters, but in the classical, calculating sense of the role, using humorous nonsense to make friends and influence people.

"It's all about shock and awe," says the singularly named Chip. "Kirby is 'Shock' and I'm 'Awe,' and once we establish that, then we're nowhere."

Capturing the gestalt of their upcoming festival of contemporary performance, SoWat Now!, might have been difficult given the fact they'll be featuring over 15 performers at six different venues over the course of three days. But after discussing the matter with the SCICA impresarios, we figured it out: This thing is actually about milk. Drinking it, showering in it, making love in it, synchronized swimming in it. Milk: it's what's shooting out of your nose, ears and throat.

OK, so it's also just the topic of one particular improvisational dance piece--The History of Milk--performed by Matthew Shyka, Sara Wilbourne and Ken Williams. Yes, it involves milk, but it's about history too--where we've come from and where we're going, which are exactly the themes that Chip and Kirby are dealing with on a cultural level.

Chip's been presenting performances in Santa Cruz for 10 years now, and describes in wistful tones the cross-pollinating and ripple effect performers have on each other--part of the reason the SCICA has recruited out-of-town performers like award-winning choreographer Scott Wells and Broadway veteran Ann Randolph.

Though we all stand around gawking at how the CabMu festival attracts world class musicians, simply by offering them the chance to do something wildly creative with their skills, no one's has successfully translated the model for the performing arts in Santa Cruz.

"The Cabrillo Music Festival is a really good model for Santa Cruz," says Chip. "Even for San Francisco artists that are already on the edge experimentally, you can do something in Santa Cruz and the Chronicle is not going see it. They can try it out with an audience who is sophisticated, but it's not their hometown. There's a lot we can do to develop that crossroads between here and San Francisco--we can create an experimental incubator for the arts here in Santa Cruz, which is kind of the long term mission of the [SC]ICA."

Being a festival of "contemporary" performance, it includes workshops and discussions about keeping contemporary performance relevant, engaging the audience and using art as activism--subjects that are reflected in the themes of the performances. Karl Frost's piece, Axolotl, is a two-hour piece in which the audience is blindfolded, forcing the them to experience the participatory performance by listening and touching. Sarah Day and Dan Bear Davis' piece, The Accounted: A Mourning Song, symbolically explores the reality of war and the challenge of forgiveness.

The festival will also include art installations at the Mill, the old Yellow Cab building on 131 Front St. There you'll find Jason Guy's politically loaded piece that cleverly nudges us--as citizens of this great nation--to consider our role in our country's often lethal adventures abroad. Or check out the encore installation of Scudder's Blue Maquette, his 1/12 scale model of downtown. Get a God's-eye view of Santa Cruz and answer us this: So what's next?
---
SoWat Now! Contemporary Performance Festival runs Nov. 4-6 at six downtown venues. Tickets are $5-$10 per show; festival passes are $55. For detailed information and tickets, visit www.scica.org or stop by the Attic, 931 Pacific Ave.; 831.460.1800.
---
[ Santa Cruz | Metroactive Central | Archives ]