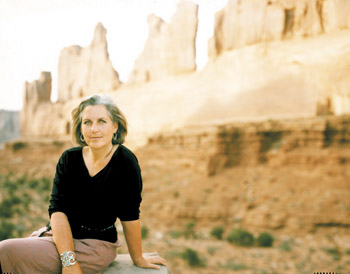 Tempest Fugit: A keen observer of nature -- human and otherwise -- Williams will speak of her experiences in Rwanda and elsewhere as part of UCSC's Arts & Lectures Series.

From the Pit of Despair, a Voice of Hope

Author and activist Terry Tempest Williams returns from Rwanda with a vision of despair and a message of hope

By Rick Kleffel

'I anticipated the terror. I did not anticipate the joy." Terry Tempest Williams is still trying to bring into her own mind the enormity of her experience traveling to Rwanda. The author of, most recently, The Open Space of Democracy (Orion Society; 107 pages; $8 paper) and a high-profile environmental activist, Williams went to the war-ravaged country as part of the Barefoot Artists, a group started by Lily Yeh. She told Metro Santa Cruz that Yeh's mission was "to help design, in this genocide survivor's village, [and] build a memorial to house the bones of the dead. As a writer, my job was to be the scribe. To listen to the people's stories, document how the site was being built, and I came home with seven journals."

The contents of those journals are chilling. "To be honest, I don't know what it is. For the first time in my life, I have no words to match the experience," she told us. "There were times where the village invited us to witness one of the mass graves with 25,000"--she halts, searching for the words--"individuals. You know, you look down at your foot at this disturbed ground, and there's the rib of a child. What do you do with that?"

The author of Refuge: An Unnatural History of Family and Place, a now-classic work of nonfiction journalism about Williams' family history of cancer in the wake of the nuclear tests of the 1950s and 1960s, is relentlessly passionate and amazingly articulate--even when she says she has no words. "It was absolutely the full range of emotions," she says of her trip. "I did not understand what unspeakable horrors meant until I was in Rwanda. I also did not understand unspeakable joy.

"Where we were working there were 500 orphans that were constantly surrounding us, and the children, you cannot rob them of their joy. It was the singing, it was the dancing, it was their hunger to be taught, to be held. It was overwhelming."

Expect to be overwhelmed by Williams herself in her upcoming appearance for UCSC's Arts & Lectures Series. There's a stony commitment in her every word, not one of which is wasted. "All I did is listen and bear witness, and that's what I would love to share in Santa Cruz. I can tell you, I know nothing, and I came home knowing less, but there was such a deep sharing between individuals. That's what I mean when I say it was life-changing."

Williams goes on to explain that it's a matter of scale. "I know the loss of family members," she says. "My brother just died of lymphoma in January. But I don't understand the loss of whole communities, whole families. An entire country." Yet when Williams speaks, the rest of us begin to understand as well. Her voice is a razor blade, a siren. She commands your attention.

Williams is not here simply to offer listeners a tour of the depths of despair. "I have never felt more hopeful in terms of the democratic process," she says. "And I have great faith in the power of the people. But I think what that demands of us is that we question, stand, speak and act."

"I count on places like Northern California," she emphasizes, "to show me the way. My debts to Santa Cruz are deep. I brought my father to Capitola because I wanted him to see what a community that's committed to values of environmental protection looks like."

Williams' compliment to our community carries a heft that cannot be denied. This is clearly someone who has seen and done more than most of us. She's willing and able to communicate her experiences. You may anticipate the joy. But Williams will not forget the terror. Nor will you.
---
Terry Tempest Williams speaks Monday, Nov. 7, at 8pm at the Rio Theatre, 1205 Soquel Ave., Santa Cruz. Tickets $12-$30. For information, call the UCSC Ticket Office at 831.459.2159 or visit http://events.ucsc.edu/tickets.
---
[ Santa Cruz | Metroactive Central | Archives ]