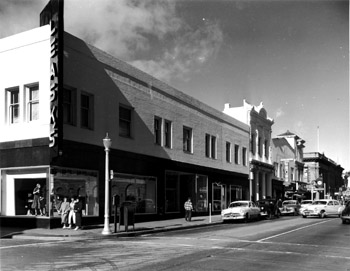 Corner of Pacific and Church, January 1952: This great old department store was a Santa Cruz landmark for generations. Sam Leask, last of the store's owners, sold it just before the 1989 earthquake. It's now the site of Cinema 9, which has to tell you something.

Bruce Bratton

BEWARE INTERNET CAFES. I used three Internet cafes on my England trip to send columns. The first one in Bristol was cheap at £1 ($1.65) per hour, but--and here's the warning--they lost it. The second cafe was in Romsey, and its machines were so slow I couldn't afford to download the emails, which by then had increased to more than 450. The cafe charged $9.90 per hour, and its computers had "little glitches," which meant extra hours online. The last and best Internet cafe was in London. It was a chain operation called Internet Lounge--it charges $1.65 per hour, but its staff and machines work beautifully, just like yours do at home. If you're going to England, contact the chain at [email protected] and find out where its other cafes are located.

WHAT ELECTION? I'm writing this long before election day, and as I crustily mentioned before, having been away for three weeks and having been supplied with no information as to anything going on in the campaigns, I'm even more in the dark than usual. If the United States likes Bush's war plans and his war on civil rights and the poor, then we'll have more Republicans in office today. And, no, I didn't vote for McPherson.

THE REAL SHERLOCK HOLMES. Whilst in London, I had to visit Sherlock Holmes and Dr. Watson's apartment at 221B Baker St. I was amazed to learn that nowhere is it stated that Sherlock Holmes ever wore one of those deerstalker hats we always see him in. He also never smoked a calabash or meerschaum pipe. He did smoke a brier, a cherry wood and a clay pipe, but not that pipe we associate with him. More than that, he never wore a cape! That stuff is all theatrical invention from the stage and films. He did, however, use cocaine, which you must have known. The staff and documentation at Holmes' place are quick to point out that cocaine was not then declared a narcotic and that James Joyce, Ibsen, Zola, Robert Louis Stevenson and Sigmund Freud also used cocaine. By the bye, the London Beatles store is about three doors away on Baker Street and so is the Elvis London Headquarters, but they're just record stores with video loops playing constantly--don't go.

KINGDOM OF SHADOWS. Some friends were really divided over Bloody Sunday, so I saw it before it left. I agree with the San Francisco Chronicle's weekly consensus of 40 major critics; they place it at No. 2, right after Spirited Away. Bloody Sunday is a marvel of filmmaking, hope you got to see it. Salma Hayek's Frida is a very arty film. It's beautiful, sweet, touching--did I mention arty?--and never lets you know much about the eternally interesting Frida Kahlo. I'll bet Madonna's version of Frida would have been better. Then there's Tim Blake Nelson's The Grey Zone. This is a film based on a play about the only armed revolt by the Jews in Auschwitz, but it's also about what humans will do to survive. It's done in an almost abstract, Beckett style, which fits the subject matter very well. It's excellent, challenging and unforgettable, go see it.

GWENDOLYN MOK RETURNS. Gwendolyn Mok will be playing the second of her all Ravel concerts on Wednesday (Nov. 13) at 8pm at UCSC's Music Center Recital Hall. Gwendolyn is one of the world's leading experts on Ravel and has just recorded a two-CD set of his works, Ravel Revealed. She'll positively delight you with her ideas about Ravel and with the way she plays his works on a restored 1875 Erard grand piano just like the one he himself owned. A special guest will read poems that inspired an Impressionist painter who inspired Ravel. Get tickets now by calling UCSC's music department at 459.2159.

WRITERS ROUNDTABLE. The Santa Cruz Writers Roundtable, the National Writers Union and Santa Cruz Friends of the Library are presenting Mary Altier talking about "Enhancing Your Writing With Photos" at the Main Library Reading Room upstairs on Thursday (Nov. 7) at 6pm. This is about how to take and use photos with your stories so editors will be impressed. Mary will discuss composition, selection, which photos for which magazines and things like that. It's free, so call Don Monkerud at 724.2059 for more info.

AN EVENING OF BECKETT. We rarely get to see any of Beckett's works performed, so don't miss this last chance to see six in one night. UCSC Theater Arts Department is doing them as directed by assistant professor of theater arts Kimberly Jannarone Friday-Saturday at 8pm and Sunday at 7pm in the new Experimental Theater. These six are some of Beckett's lesser-known works, because folks think they're hard to perform and hard to understand. Jannarone disagrees and has worked hard with the students to make his simplicity more obvious. There's also a Q and A after with the director and cast. Call 459.2159 for tickets, and I'll save you a seat.

MORE ENGLAND MATERIAL. I said in the missing column, "You have to love a country that names its towns such great names as Chipping Sodbury, Cheddar, West Harptree, Ponty Pool, Upper Slaughter, Lower Slaughter, Lower Swell and, my favorite, Chewing Magna. Old street names in Bristol such as Widescreen Walk and Gas Pump Lane also show a definite sense of humor."
---
Bruce critiques films every other Thursday on KUSP-FM (88.9). Reach Bruce at [email protected]
---
[ Santa Cruz | Metroactive Central | Archives ]