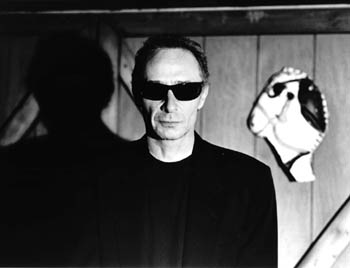 What's Up, Chuckles? Parker is, as this photo proves, the life of the party.

Mad Dogs and Nice Englishmen

Graham Parker may be the last angry man, but he won't bite. C'mere and give him a hug!

By Mike Connor

YOU'D THINK Graham Parker was Sid Vicious or G.G. Allin, the way people badmouth his attitude. A simple search of the web turns up a few key words over and over: angry; snide; sarcastic; acerbic.

So right before calling him at his home in upstate New York, I braced myself for a verbal spanking, which is hard because you can't just pull the old "book down the back of the pants" trick. But come hell or high water, I was ready to get it all down for the record, to poke the beast and record the results for your edification and amusement. Kind of like Johnny Knoxville, except without all the broken bones.

Not that he'd want to break my bones or anything--despite his fiery rep, Parker is recognized for his art, not his antics. He was the angry young darling of the British critics back in the mid-'70s, gaining notoriety for his razor-sharp songwriting and for his gritty but complex Motown-infused arrangements (think Van Morrison meets the Stones). Parker exploded out of the pub-rock scene with his acclaimed debut, Howlin' Wind, which had the British critics singing the praises of the man they believed would be the next big thing.

It never happened. Some rock historians speculate that Parker's career was overshadowed by another English pub-rocker--Elvis Costello--whose poppier sound and slightly more dangerous persona swayed the fickle masses. Although he never blew up (so to speak, but makes for an interesting visual, no?) like a lot of people thought he would, Parker continued cranking out critically acclaimed albums throughout the '70s and early '80s, gathering a loyal cult following along the way.

Anger Management

With undiminished fearlessness, Parker writes songs about everything from abortion ("You Can't Be Too Strong") to imperialism ("Syphilis and Religion"--"Two things you could probably do without"). These days he's writing fiction, touring solo, hating commercial radio, and being very nice to reporters from Metro Santa Cruz. I checked out his book of short stories, Carp Fishing on Valium, and found the two stories I read sweet, patient and brimming with sentimentality made palatable by Parker's wit. I told him how sweet I found them both of the stories I read, but Parker assures me that my perception is skewed.

"Those are two of the milder stories. There is grittier, nastier stuff. Brian [the protagonist] murders somebody," Parker says in his cheerful, charming British accent. "But I did find that the more I wrote, the more I went back to my youth and childhood."

See? He's a softie! Except for the murder thing.

Now he's got a second novel in the works--his first was published before he even had a record deal, back when he was 21. He claims that the brilliantly titled The Great Trouser Mystery is not very well written, but his description of it as "Monty Python meets Clockwork Orange ... in space" made me instantly jealous that I hadn't thought of that first. And his equally brilliant covers of "Cream," "No Woman, No Cry," and "I Want You Back" pretty much explode the prickly-persona pigeonhole.

For all I know, he may have just gotten laid when I talked to him, but I'm going to stick to my guns here and forecast a sunny and warm show, with a scattered showers of biting humor throughout.

"I don't just sit there and come over like a serious artist, you know, with a sign that says 'Serious Artist' hanging around my neck," Parker says dryly. "It's a fun show. The main thing about performing solo is that you're not stuck with a set list. I've got a floating set list, and I like to get the audience going with a few jokes ... as long as there's an audience to get some atmosphere going."
---
Graham Parker performs at Moe's Alley on Wednesday, Nov. 13, at 7:30pm. Darden Smith opens. Tickets are $18-$20, available at Moe's Alley, or call 831.479.1854 for more info.
---
[ Santa Cruz | Metroactive Central | Archives ]