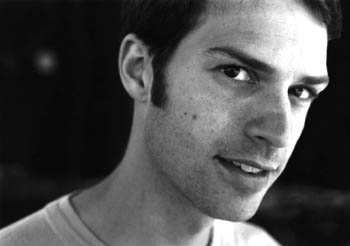 Got Out of Dodge: Back from a 12-week tour, Salzman plays the 418 Project Saturday.

To There And Back

How local singer/songwriter Eli Salzman broke out of the local scene and lived to tell about it

By Rebecca Patt

WENDY IS FINALLY BACK from Never-Never Land, and so is Eli Salzman. After years of playing small gigs around town, Santa Cruz singer/songwriter Salzman finally decided to follow his bliss this summer, laying down his new album, Baby Flame, in the studio before taking his act on a 12-city sidewalk and coffeehouse tour.

That meant leaving his job as volunteer director at the Santa Cruz AIDS Project and spending a lot of time with Wendy, the Toyota minivan he named after the Peter Pan character.

"In terms of my development as a singer and songwriter after about 10 years of doing it seriously locally, this was a very powerful and right new step," says Salzman, who is back to regale the hometown audience with a CD release concert this Saturday at the 418 Project. "It was obviously what I was supposed to do. I put all caution to the wind and dove in."

Encouraged by producer and bassist Andy Zenczak in this latest endeavor, Salzman gave the new CD a full sound. He shows his skill on several instruments including guitar, organ and keyboard and gets a handful of local guest musicians and backup singers involved. He will also be backed up with a full band at his CD release concert.

How the Beatles Taught Him to Play

For Salzman, the path to dedicated singer/songwriter began as a young boy living at the end of a lonesome dirt road in northern Vermont. He spent lots of time plunking at the piano with Beatles sheet music in front of him and soaking in the classic rock station coming out of Montreal. His groove intensified at an all-boys boarding school in Massachusetts, where he got into crazy antics and played in cover bands. He's been a fixture in Santa Cruz for years now, singing and strumming his heart out in the background at places like Mobo Sushi, the Alley Bazaar at Squid Row, and the old What is Art, where his first album was recorded.

Salzman's songs tend toward moody, introspective folk-rock narratives that are melodic and lingering. Most of the lyrics of "Baby Flame" are images portraying Salzman's inner emotional world.

"People write best about what they know, and I know that I tend to be a very self-absorbed person," he says with a laugh. "What a surprise, a musician who is self-absorbed."

Salzman's says the new CD is influenced by Radiohead and his special reverence for Stevie Wonder and Peter Gabriel. One song is in memorial to Jeff Buckley, another of his greatest influences.

The local angle of the album comes in at some strange places, including a song inspired by his experience working at Santa Cruz's annual Labyrinth Haunted House, where he once played a ghost perpetually doomed to turn huge gears.

Salzman cultivates a certain cute-sensitive-rock-guy thing, but he says he's not in this for sex, fame or money. He'd rather talk about music and the sense of glee and adventure he finds in it.

"You can go into music for the wrong reasons if you're motivated by sex or fame or any of the classic stereotypical reasons," he says. "If you do it because it's the only way you can feel beauty or grace in the world, or if you start thinking that music is the source of beauty, and the only way to feel satisfaction is with the world responding to it, then you just have to keep going deeper into why are you doing this."

His explorations of how any of us can struggle with the temptation to take shortcuts to love, happiness and truth become the rich fodder for his evocative songs, most of which are written while he's sitting alone in the sunshine atop the upper deck of his house looking over the rooftops of West Side Santa Cruz.

"The most profound moments in my music are when I'm just digging into a tune and it feels fresh," he says. "It reminds me of the times when I was in boarding school and we would get stoned and take the boombox full of fresh batteries and just trip out into the wilderness ... there was this feeling that you don't know what's going to happen in the next moment or what's around the next corner. You're just following your muse."

His national tour 2002 was a "totally flying by the seat of my pants, get-out-of-Dodge-just-to-get-out-of-Dodge adventure" where he sometimes raised his performance significantly by playing on stilts.

"I like to think that I can break through the barriers between people when I'm onstage, like I can loosen things up and make people feel comfortable," he says. "There is something in me that is able to cut through all the nervous bullshit and say, hey, we're here, and let's get into this and let's enjoy this."
---
The Eli Salzman Band plays Saturday, Nov. 9, 8:30pm, at the 418 Project, 418 Front St. Tickets are $8-$10. All ages welcome. For info call 831.460.1467 or visit www.elisalzman.com.
---
[ Santa Cruz | Metroactive Central | Archives ]