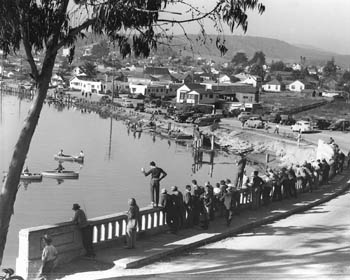 Covello & Covello Historical Photo Collection.

Steelhead Season, Dec. 8, 1940: Note the lack of levees on East Cliff Drive and, again, note the fedoras on all the older guys. There is one motel visible, and you can barely make out the feeble attempt at using riprap where the mighty San Lorenzo River makes this very sharp corner.

Bruce Bratton

ASTROLOGY AND WAR. I wrote last week that a local psychic predicted President Bush would either be assassinated or would get us into a war in the month of September. It amazed me that any forecaster got that close. Well, it wasn't true--again. In the first place, Albert Stevens isn't a psychic but an astrologer, and that's not what he said; it was what one of his fans thought he said. I had coffee with Albert too late to correct last week's statements, but our talk was interesting anyway because of Nov. 7 and next March. Albert said in the Sentinel on Jan. 6, 2001, that extremely violent periods would likely occur from late July through the end of September and those could affect our financial recovery. That's it: no assassinations, no attack, no war predictions. However, Albert did tell me on Oct. 30, 2001, that between that date and Nov. 7 we'd have a big surprise! He saw terrorists and airlines and possibly attacks on power stations. He based that on Mars and Uranus things. Then he went into more detail on March 2002. He said that both Osama bin Laden and Dick Cheney had big pressure times in their charts, maybe both would be assassinated. Bin Laden will have a bad November and last three weeks of December. President Bush will be in office in March 2002 when Jupiter and Saturn are in an earth sign. That happens every 20 years and that's when presidents are assassinated or attempts are made on their lives. I know that you being so rational and logical and practical don't believe any of this stuff, and of course, I don't either, being a Gemini. But I figured just in case something does happen like that on or before today, or during next March, astrologer Albert Stephens could just be humble and not bother saying, I told you so. You can call him for more details at 420.1640.

DARK PLEASURES. Even though F. Murray Abraham tries to outdo Vincent Price, he doesn't save 13 Ghosts from being a disaster of a film. The only ingredient in this mess worth mentioning is the mechanical house, and it, too, is wasted. The ghosts are silly, the acting and actors are ridiculous, and--yes--any of us could have written a better script--don't go. I went with martial arts aficionado Robert Easley to see Jet Li's newest release, The One. I don't know what he thought about it yet, but since there were only 10 seconds of hand-to-hand combat I can guess. It has to do with parallel universes, and you know what trouble they can be--forget it. Va Savoir is that 2-1/2-hour-long French talkathon about relationships. It is mildly interesting for the first half hour, but after that, you can't make any more sense out of it than the characters do. Focus, starring William H. Macy and Laura Dern, is based on Arthur Miller's first novel. It takes place in the World War II years in Brooklyn (it was filmed in Toronto) and is about Macy and Dern being mistaken for Jews. It's subtle and frustrating, and it has a multilayered plot--go for it.

FLUORIDE AND OSTEOPOROSIS. Dr. Craig D. Rubin of the University of Texas Southwestern Medical Center in Dallas announced some great news about fluoride and osteoporosis. Fluoride, in combination with calcium and vitamin D, increases bone mass and lowers the risk of backbone fractures associated with osteoporosis. In their study, Rubin and his associates found women treated with fluoride saw a 68 percent reduction of new or repeat fractures compared with women who did not receive fluoride. It was reported in the Oct. 22 issue of the Archives of Internal Medicine. No ill effects from the higher doses of fluoride were seen in these patients, the investigators pointed out. In answer to the folks who continue to send me anti-fluoride material: Yes, I do read it! Actually, I read it more than 30 years ago, so just send me new and reputable material, no undocumented photos, no old aluminum byproducts junk--that material was disproven about the same time as the Communist fluoride plot was laughed out of existence. Thanks.

HOWARD ZINN AT THE CIVIC. By now, everybody should know that Howard Zinn will be here Wednesday (Nov. 14 at the Santa Cruz Civic Auditorium. They sold out all the space at the Rio Theatre, and due to a last-minute cancellation, the Resource Center for Nonviolence was able to move the event to the Civic. The Los Angeles Times wrote a fine and even fair article on the growing amount of international resistance to Bush's war and called Zinn the "eminence grise" of the discontented. (that means eminent gray-haired person). It quoted Zinn as saying he now has more speaking engagements that he could ever handle. So we're lucky he'll be here. A limited number of tickets are available at Bookshop Santa Cruz and at the Resource Center from noon to 5pm daily and at the Civic Box Office, but don't call the Civic Box Office at the number on the official box-office sign, it's no longer in service. Try 420.5260 and be very patient.

THE RETURN OF HOT DAMN. It's that time of the year again when Bookshop Santa Cruz has its biggest sale of the year and when our humble Hot Damn String Band reunites for the annual recital of music to buy books by. Authors Jim Houston and Annie Steinhart will be on string bass and fiddle, attorney Hugh Johnson on mandolin, Jim Reynolds on guitar, Dick Hough on banjo and yours truly on washboard and humpbacked Zayante horn. The party takes place Saturday (Nov. 10) at 7:30pm; the sale runs all day long. It's Bookshop's 35th birthday party, and it's the 20th year we've played for the party. It's called tradition, and it's also 20 percent off everything in the store.

MOLLY IVINS AND MONTEREY. Chris Watson of the Sentinel talked to Molly Ivins and confirmed that contrary to UCSC promotional materials, Molly really was born in Monterey. Chris quoted her as saying, "Mom dropped me in Monterey." Her military folks moved from Monterey when she was 1, and Ivins doesn't regard her Monterey past as being too significant, to put it mildly. As of Monday morning, there were still a few tickets left at the Civic Box Office for her lecture/reading Friday (Nov. 9) at 8pm at the Civic. Again, try calling 420.5260.

RIOT AT THE HYATT. 12 Sports Productions impresario Jerry Hoffman called in with an update on the world-class boxing matches in Monterey's Hyatt Regency on Nov. 24 at 7:30. Jose Celya will fight Ruben Minoz from Sonora, Mexico. Marilyn Salcido will fight Mary Duron from Anaheim. Jesus Rodriguez will fight Ramon Valle. Probably all reserved seats are gone by now, but call 688.1604 to see what's left. Remember that headliner Jose Celya spars with World Welterweight Champion Sugar Shane Mosely, who fought here in Santa Cruz when it was still OK.

ABOUT AMERICAN FLAGS. Former Santa Cruz Mayor Celia Scott had a great idea: Why not display a One World flag next to the American flag on the Santa Cruz Civic Auditorium? The combination would be a much more meaningful message than just the American flag. The Los Angeles Times reported that the flag companies in China can't even supply their regular Chinese flags because the United States demand for American flags is so overwhelming. Son-in-law Martin Kloiber asked me why, if our economy is so stressed and so many people feel the need to fly American flags at this time, aren't there United States flag companies to keep the product local? If there was ever a product, or need for a product, to be made in America, you'd think it would be our flag, wouldn't you?
---
Bruce critiques films every other Thursday on KUSP-FM (88.9). Reach Bruce at [email protected] or at 457.5814, ext.400.
---
[ Santa Cruz | Metroactive Home | Archives ]