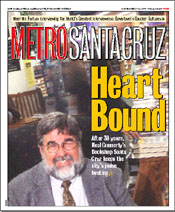 For the Week of
November 7-13
Cover: Heart Bound
After 30 years, Neal Connerty's Bookshop Santa Cruz keeps the city's pulse beating.
Hometown:
Question Authority: Interviewing the world's greatest interviewer, Terry Gross of NPR's 'Fresh Air.'
Meet Mr. Fixit: Flying in the face of a disposable society, Doug Keith has been repairing folks' doodads for decades.



Talking Pictures: Karen Salmansohn, author of a new book for women in business, discusses the gender-bending big-biz flick 'The Associate.'
Script Doctor: Hollywood veteran Dan Bessie has a prescription for screenwriting success.



Notes From the Underground: Halloween binge keeps music fans very, very busy.