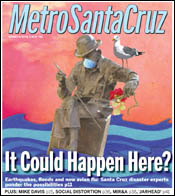 For the Week of
November 9-16, 2005
Cover Story: It Could Happen Here?:
Earthquakes, floods and now avian flu: Santa Cruz disaster experts ponder the possibilities.
Nüz: Nüz Goes to Washington; I Am Sam; We Are the Champions; Workers of the World.



Rev: Nice Plates: It takes three prisoners to make one plate—one to unfurl the aluminum spool, another to place the film on the plate and a third to do the stamping.



Knotty Questions: 'Place of No Escape' uses ropes and tires to explore creative solutions to gang violence.



Burning Men: Jake Gyllenhaal stars as neither an officer nor a gentleman in 'Jarhead,' a story about the Gulf War.
Defective Story: Shane Black pays ingratiating homage to Raymond Chandler in 'Kiss Kiss, Bang Bang.'



Distort Yourself: Carrying on after the death of a lifelong friend and band mate, Social Distortion's Mike Ness discovers another state of mind.
Not Your Mama's Marching Band: Even after 10 years together, Drums and Tuba is still striving to perfect its sound. Results thus far have been inspiring.
The Rock Show: Mos Def; Lacy J. Dalton; Tom Brosseau.



In Praise of Lunch: Whether you're escaping work or bringing it with you, Rebecca's is a treat for daytime dining.



Please don't forget to write! Metro Santa Cruz welcomes letters. Like any great work of art, they should be originals -- not copies of letters sent elsewhere. Include address and daytime phone (for verification purposes only). Letters may be edited for length and clarity or to correct factual inaccuracies known to us. Postal: Metro Santa Cruz Letters, 115 Cooper St., Santa Cruz, CA 95060. Fax: 831/457-5828. Emailers, please include name, city of residence and phone number. Letters printed will list email address unless otherwise specified. Letters to the editor are not currently published in the online version of this paper.
Copyright © Metro Publishing Inc. Maintained by Boulevards New Media.