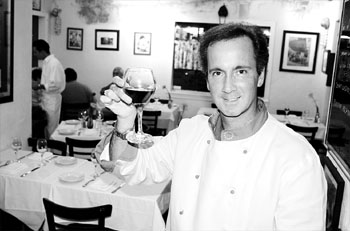 Photograph by Stephen Laufer

Salute!: Gaetano Balsamo of Bella Napoli Caffe offers a toast to your health.

Now, That's Italian!

When Bella Napoli Caffe does authentic Italian food, they don't fool around. Capisce?

By Christina Waters

Vintage photographs of the Bay of Naples, atmospherically sepia-toned, set a mood of nostalgia in the two tiny dining rooms of Bella Napoli Caffe. The romantic images, as well as the wall mural of the folkloric puncinello clowns, infuse the restaurant with the owners' pride in heritage. You'll hear plenty of Italian spoken in both the kitchen and the dining rooms.

The menu sends an even more delicious message from the southern Italian homeland, filled with earthy rigatoni and ravioli dishes, steamed clams and eggplant stews. We've never left a meal here without being struck by the uncompromising attitude of this kitchen. "This isn't Italian-style cooking," Jack has commented more than once. "This is Italian cooking." Having lived in Rome, he's allowed to be taken seriously.

The wine list at Bella Napoli cuts directly to the chase by offering a spare grouping of chiantis and Tuscan all-stars. (I love the sly addition of a bottle of Chateau Petrus for $600 to this otherwise reasonably priced lineup!) A half bottle of Chianti Classico Riserva San Felipe il Grigio ($20) beckoned. Poured into generously proportioned balloon goblets, it opened to the right degree of velvet during our dinner.

An Italian extended family occupied a central table, spreading joy and laughter throughout the restaurant last week. Their high spirits were infectious. We stopped inhaling the soft francese the minute our antipasti della casa arrived ($14). Making a clear nonvegetarian statement, the beautiful lineup of specialty cured meats included examples of mortadella, salami, ham, prosciutto and bresaola, each offering varying tones and accents of curing, drying and aging. The large platter also provided two fat, buttery green olives the size of limes. Strips of mozzarella cheese, a few anchovies and cornichons turned the platter into a minor feast. A rich and luxurious alternative to a green salad, the antipasti revved us up for the main courses.

Jack has a thing for Bella Napoli's way with veal scaloppine. Naturally he ordered the scaloppine all trilussa, which featured sun-dried tomatoes and baby artichoke hearts atop plush veal scallops ($18.95). Bella Napoli's current menu is clearly organized. Appetizers fill one side of the menu, while pastas and risottos fill the other side. The dozen or so meat and fish entrees are listed as "specials." In the mood for pasta, I chose a voluptuous and simple dish of ricotta-stuffed ravioli smothered with peas and ham in a very light cream sauce ($16.95)--fior di latte, or flower of the milk. In Italy, that would actually be the milk pressed from fresh buffalo mozzarella, but in this case was ricotta-enhanced cream. Delicious in either case.

Jack's veal, bathed in reduced pan juices, was, I must admit, absolutely right on. The flavor was undeniably "like in Italy." And the accompanying vegetables, as well. Italian cookery isn't as famous for its way with vegetables as it should be. On this plate, roasted potatoes and cauliflower shared space with sautéed carrots and zucchini, a slice of eggplant covered with marinara and a nest of red bell peppers. It was a heroic meal, abundant with flavor and every imaginable food group. My oversized ravioli were succulent and creamy. A pea here, some ham there--every bite made me happy.

Dessert? D'accordo! A large square of house-made tiramisu ($5) had its way with us, joined by cups of espresso. Charmingly cross-hatched with chocolate sauce, the layers of coffee-drenched génoise, mascarpone, whipped cream and chocolate shavings were somehow opulent and yet barely sweet. Authentic.

Bella Napoli doesn't trifle with "Mediterranean" designer touches--it's strictly and truly Italian. For many food lovers, that's the highest possible praise. For me, it means another memorable dinner.
---
Bella Napoli Caffe
Address: 503 Water Street St., Santa Cruz
Phone: 831.426.7401
Hours: Dinner nightly from 5pm; lunch weekdays
Ambience: *** Intimate cafe setting, warm and uncluttered
Service: **1/2 Charming and correct
Cuisine: *** Italian classics cooked with Italian expertise. Lovely pastas and sensitive secondi.
Overall: A tiny oasis of authentic Italian cookery, affordable and accessible. What's not to like?
---
[ Santa Cruz | Metroactive Central | Archives ]