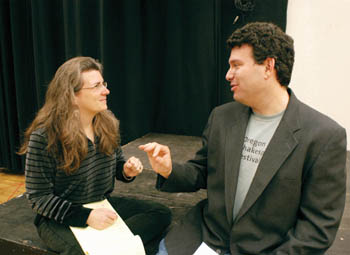 Photograph by Steve DiBartolomeo

Comes Through in a Pinch: Shakespeare Santa Cruz interim director Risa Brainin and star Irwin Attel discuss 'The Emperor's New Clothes.'

The Naked Truth

SSC's holiday show 'The Emperor's New Clothes' is suddenly more relevant than even the man who wrote it could have predicted

By Sarah Phelan

Brad Carroll has been thinking of writing a letter to Sen. Robert Byrd, thanking him what he calls the "free publicity" the good senator inadvertently gave Shakespeare Santa Cruz's upcoming winter holiday show.

Carroll, the California-based playwright and composer who adapted Hans Christian Andersen's The Emperor's New Clothes for SSC's seventh winter season, explains that Byrd delivered his "The Emperor Has No Clothes" speech last month as his fellow senators debated whether to sink more money into Bush's "Iraqmire." Byrd castigated "Emperor" Bush for proclaiming major combat over from the deck of an aircraft carrier, dressed in his very own set of new clothes--a flight suit.

Publicity value aside, the incident also reinforced for Carroll that, though Andersen's fairy tale was written in 1837, "it'll remain timely and timeless" as long as governments and politicians exist.

"The Emperor is a riff on every politician who's come through town in the last 20 years," says Carroll.

As it turns out, he didn't even have to make up half the words that spill out of his Emperor's mouth.

"I looked at books of stupid things various politicians have said, and the Emperor became Mr. Malaprop," he says.

Asked if, by any chance, that particular inspiration came from President Flight Suit himself, Carroll chuckles.

"Oh my, yes," he says. "Another theater asked me if I would soften some of the more obvious references and I said, 'I'd rather not.' The play is more timely than I could ever have hoped, and should get people thinking. We even manage to address freedom of speech, which in this particular kingdom has come to mean saying what the Emperor wants to hear--if you don't, you're in big trouble."

Fairy Tale Ending

Despite all the political allegory, the way this particular fairy tale came to be adapted for SSC's winter season sounds more like a scene from Goldilocks and the Three Bears than from a Molly Ivins book. That would be interim SSC director Risa Brainin as Goldilocks and three fairy tales as the famous bowls of porridge.

As Carroll, who's known Brainin for almost 20 years, but never worked together with her before, explains, "Risa was aware of a musical piece titled Robin Hood that I had written, but it required too big a cast. Next, she saw a comic operetta I'd written titled The Three Pigs, but it was too short. Then she went into Bookshop Santa Cruz and The Emperor's New Clothes leapt out at her."

Once the pair got into studying the tale, it, it turned out to be way more appropriate than they could possibly have imagined, even though they did have to lengthen the original story, which weighed in at four pages long--about 20 minutes of stage time.

The solution was to expand it through the two scam-artist characters, one of whom, in Carroll's version of events, has nothing but good intentions, while the other is seeking revenge for false imprisonment, like a latter-day Count of Monte Cristo.

'"Like Abbott and Costello, these two opposites turned out to be a lot of fun," says Carroll, who created the piece to work in other venues, but admits some of the ideas are particularly well suited to Cruzer sensibilities, such as when the Emperor is building a mall full of chain stores and planning on tearing out a forest.

Carroll is the first to admit that the whole challenge of theater for kids is to make it appealing to kids of all ages. To that end, he has leaned heavily on cartoons for his inspiration, especially Bugs Bunny and Daffy Duck, while making sure to include lots of pageantry, costumes, sets, comedy shticks and slapstick.

"And the grownups will get the jokes," he adds.

Brainin, who is finishing up her two-year term as interim director, recalls how she was asked by SSC's board if, per chance, this season's winter production was going to be, er, political?

"Since it wasn't even written at the time, I said, 'I don't know,' but of course, it is extremely political. You can't do The Emperor's New Clothes at this time and not have it have tons of resonance."

Noting that she cast SSC favorite Irwin Appel as the Emperor before Carroll had even begun to write the play, Brainin credits Appel with having a great sense of dramaturgy that was very helpful in shaping the material.

"A lot of creativity goes into shaping a new work, when you're hearing the words for the first time," she says of the piece that has its world premiere on Nov. 21.

"The style of this production is still emerging, but it's extremely lively and colorful," says Brainin. The show is a collaboration between SSC and the UCSC theater arts department, and she says she's pleased with the results.

"I love this story," she says. "It makes me laugh. In our most insecure moments, we can all relate to the fear of looking foolish. Ironically, our extreme attempts to cover that fear only reveal to others the 'naked' truth."
---
The Emperor's New Clothes runs Nov. 21-Dec. 14. For ticket and showtimes, visit www.shakespearesantacruz.org or call the UCSC ticket office at 831.459.2159.
---
[ Santa Cruz | Metroactive Central | Archives ]