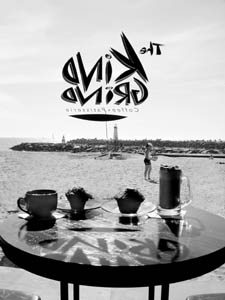 View to a Chill: If you were at the Kind Grind, you'd be seeing this by now.





Some Grind Of Wonderful

The Kind Grind serves up cups and cakes with a stunning view of harbor happenings

By Janet Blaser

IF LOCATION IS EVERYTHING, the Kind Grind has it made. Literally two--OK, maybe three--steps from the sand at Harbor Beach, this little coffee and pastry shop is fast winning over the caffeine-hungry hearts and minds of the local population. And the icing on the cake (yes, pun intended) is the on-site bakery, a bonus offering most coffee shops simply can't match.

Included with the very reasonable price of a cup of coffee, your favorite espresso drink or a warm, fresh-made pastry are postcard-perfect views of the jetty and the revamped lighthouse, the rows of catamarans lined up quietly just beyond the water's reach and, of course, the sparkling Pacific. Some days, volleyball players are at the big net set up next door behind O'Neill--and armchair critiques, as long as they're discreet, are requisite.

A series of other ventures have failed to make it here, though, and the space has changed hands many times over the years. Idyllic as the location seems, included in the package were a trio of steep challenges: it's a destination location with paid and limited parking; it had no kitchen of its own, and surviving the lull of our long, gray winters after the crush of the tourist-filled summers is notoriously difficult in Santa Cruz.

Fast forward to March 2001. Along come Heather Liner and Jack Perry--optimistic, enthusiastic and hard-working, looking for a place of their own, preferably by the beach. With her CCA degree tucked into her belt and years of experience as the pastry chef and cook at the Ritz-Carlton in San Fran, as well as San Jose's 840 North First, Heather was itching for her own kitchen and business. After all, her dad's dream had been for her to open a pastry shop, and it was high time she made it come true.

Jack and Heather went to work. For several months, she baked at home while the kitchen was being built, determined to keep the place open, and what regulars there were were happy, well-fed and caffeinated. The finished shop--part bakery, part espresso bar, part dining room--is clean, comfy and amiable.

It's a genial atmosphere that reeks of contentment. One corner holds two big velvet couches separated by a coffee table, where discussions of everything from the day's newest muffin to the qualifications of City Council candidates (or lack thereof) can be heard. The 10 or so tables are mixed cocktail and standard heights, all dark wood and black metal, and all with that fabulous ocean view. There's a door that leads to more seating outside, where plastic tables and chairs stuck in the sand at often rakish angles wait for their next occupant. The sun-fearing, high heel wearing or dog wary might be happier sitting inside.

The long pastry case sparkles, and it's placed unfairly front and center so there's no way to avoid it. On any given day, it's filled with 20 or more fresh-baked, sometimes still-warm-from-the-oven muffins, croissants, snails, Danish, turnovers, scones, sticky buns, cookies, cakes, cinnamon rolls--and the list goes on. All are priced surprisingly low ($1 for a minimuffin or cookie, $2.25 for a giant, flaky apple turnover, $3.25 for trams). The scones, all varieties, are exceptional, as is anything made with Heather's layered croissant dough, a light and flaky delight.

After her first year in business, Heather is firmly in her element, baking in the wee hours each morning and turning out tray after tray of flaky croissants, assorted (and gigantic) cookies, pastries and muffins. Lots and lots of muffins--Banana Walnut, Carrot Cake Streusel, Pumpkin Cranberry--and they all have what's known in the biz as "mouth-feel," which means just that. Real, unadulterated ingredients and a gentle hand in the kitchen make these muffins large and shapely, with a perfect crumb and oh-so-right spicing. (While day-olds are sometimes available, the real treat is in those baked fresh each day.)

And while customers seem to choose muffins as their overall favorite, one of Heather's recipes holds a special place in her heart as well as her palate. Seems that her Chocolate Bombe--hazelnut sponge cake filled with chocolate mousse and vanilla crème brûlée--was the clincher in making sure that a certain someone wouldn't forget her. That was several years ago, he hasn't yet, and they're still together. You can get a mini-Bombe ($3.25) and try the same thing on your sweetie.

The effervescent Heather says many of the recipes come about because she gets bored doing the same thing day after day, so she starts experimenting. Before you know it, out of the kitchen comes something new.

"Most recipes are mutated," she says.

She's just started making decadent individual desserts and cakes, like the Chocolate-Sin-O-Licious, available by the slice. Pies and whole cakes can be ordered for the holidays, too. Indeed, you may have already tasted Heather's baking: The Kind Grind's wholesale accounts include Java Junction, Chill-Out and the Aptos Coffee Roasting Company.
---
Kind Grind
Address: 2222 East Cliff Dr., Santa Cruz (at Yacht Harbor)
Phone: 831.476.9136, www.kindgrind.com
Hours: 7am to 5pm daily. Parking free till 11am.
Ambience: ***1/2 At this time of year, the quiet beachfront spot is simply beautiful and relaxing, conducive to solitary reflection or friendly tête-à-têtes--and chowing down on a decadent smorgasbord of fresh-baked goodies. Messy storage shelves behind the pastry case need a new--or neater--home.
Service: **** Experienced, efficient and friendly staff does the job well, with appreciable knowledge of how much, when and where.
Cuisine: **** Rich French pastries, muffins, cakes and cookies made the old-fashioned way with classic ingredients, paired with Santa Cruz Roasting Company Coffees, make for a delightful, satisfying breakfast, snack or special treat. Adding more non-sweet or savory baked goods would balance the menu.
Overall: Charming, clean and peaceful atmosphere inside this small coffee and pastry shop echoes the tranquility of its ocean neighbor. Like an alcohol-free Cheers, a place for locals to gather where everyone knows your name and favorite cookie, Deputy Don.
---
[ Santa Cruz | Metroactive Central | Archives ]