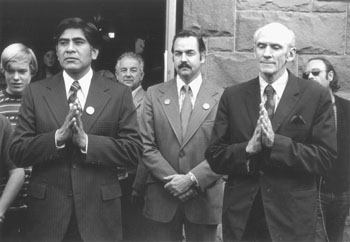 Covello & Covello Historical Photo Collection.

Democrat Politics in Santa Cruz, 1972: This was taken early in the morning at the front door of the original Cooper House. That's Julian Camacho on the left; he was running for state Senate. In the middle is Henry Faitz, a local attorney who ran for state Assembly against incumbent Frank Murphy. Next is Alan Cranston, who ran for state controller. Right behind Cranston is old friend and near-legendary late jazz musician Phil Yost, who was there to play with Don McCaslin's new group, premiering that day: Warmth. (Full disclosure: I ran Faitz's campaign against Murphy; we lost.)

Bruce Bratton

COUNTY SUPERVISOR KICKOFF AND AUCTION PARTY. County Supervisor Mardi Wormhoudt is having her campaign kickoff party this Saturday (Nov. 17), beginning at 1pm at the Harvey West Clubhouse. You should get there early, because a lot is happening. It's free, and there'll be plenty of hors d'oeuvres and catering from Pearl Alley Bistro. Assemblyman Fred Keeley will be the emcee, and John Laird will auction art donated by such luminaries as Tom Killion, Renee Flower, Anna Oneglia and even Tim Eagan. There'll be gift certificates for dinners at Clouds, Riva Fish House, Gabriella's and Restaurant Azur. You can win lunches with Sam Farr or Fred Keeley. Gift certificates from Annieglass, Bookshop Santa Cruz, O'Neill's Capitola Book Cafe will be auctioned too. Books signed by Adrienne Rich and John Dizikes will be up for bid. Sandy Brown is Mardi's campaign coordinator; Tim Jenkins is the chair; Sue MacClean is her treasurer. Mike Rotkin, Kathy Bisbee, Connie Croker, Jeff Dunn, Cliff Tillman, Denise Holbert, Matt Farrell, Naomi Brauner, Cathy Calfo, Bruce Van Allen, Nora Hochman, Andy Schiffrin, John Leopold, Deborah Taylor and others are all on the Wormhoudt team. Mardi's been endorsed by the Central Labor Council, the SEIU and the State Operating Engineers, who represent law enforcement folks. Last, but far from least, the highlight of the event will be a rare talk and reading by national award-winning poet/writer Adrienne Rich. As I mentioned, get there early, because the program will start right after 1pm. Call 458.3109 for more details.

DARK PLEASURES. Somehow, I forgot to say a few weeks ago that Jeff Bridges does a great job in K-PAX, and Kevin Spacey must be going for the Robin Williams award for cute and quirky--wait and rent it. Shallow Hal features Gwyneth Paltrow, as you undoubtedly know. This film has about one iota more plot than you think it does and would be fine to rent, especially now that the rain is here. It co-stars a guy with spina bifida who has to walk on all fours, and you don't see that every day. John Travolta's fine in Domestic Disturbance, but the film goes exactly nowhere downhill after the first 30 minutes. Save your money. David Mamet's The Heist, featuring Gene Hackman, Danny DeVito and Delroy Lindo, is great fun. It's an intelligent, taut film with more twists and turns than the City Council, and it has better direction than the City Council too--go see it. Pixar's Monsters, Inc. isn't all that great, because it lacks an identifiable plot, but go see it anyway, just to hear John Goodman do his character. Waking Life is like being sentenced to live forever in a college coffee house. Its real contribution is the animated art process used to get the dreamlike story line across--go see it. Albert Brooks and Leelee Sobieski, despite their age difference, become close friends in My First Mister. It doesn't hold together, and it's almost impossible to believe this very thin plot, so rent it later. Life As a House is another Hallmark feel-good-type film. Kevin Kline and Kristin Scott Thomas are OK, but it ends up being another Hollywood production. Anybody figure exactly where it was filmed? Maybe up the coast from Malibu, but where? Steve Martin, Helena Bonham Carter and Laura Dern are all in Novocaine. It feels like it was directed by Steve Martin--because it's a funny drug/murder plot--but it wasn't. I liked it. In case you wonder, yes, I saw all of them last week, except for K-PAX.

DOCTOR-ASSISTED SUICIDE. If you want to stop Bush's administration from neutralizing Oregon's physician-assisted suicide law, which permits doctors to help terminally ill patients who want to end their lives, you can go online at www.thepetitionsite.com and see and sign it. It's under health and is called "Protect End of Life Choice." You can read more about this issue at the Hemlock Society's website: www.hemlock.org. It's about whether you want to allow professional assistance in hastening death to remain a state issue or turn it over to the federal government.

HAPPY ANNIVERSARY?? Fred Geiger called to remind us that this is the third anniversary of Tim Fitzmaurice, Christopher Krohn and Keith Sugars being elected to our City Council. Which means it's nearly time to resolve the tidelands issue over who owns that parking lot by the railroad bridge that the Seaside Corporation has made a fortune from.

THE RIVER STREET SIGN. I definitely agree with all of you who say "to hell with redesigning the sign; first tear this one down." I disagree with Scott Kennedy, who says we should live with it. It's an ugly mistake that was snuck in by another City Council over objections from their own staff at the time, and why should we put up with it.? Take it down, move it into Harvey West playground and let the kids play on it or make it into a planter. Leaving it up is a terrible message about Santa Cruz to everyone who drives by. Would you turn off Highway 1 to shop in a city that has a sign like that??

SCOS'S 25TH ANNIVERSARY PARTY. Soprano Kathleen Nitz and pianist Molly Deisch will hold forth this Saturday from noon to 3pm at the Seascape Golf Club. It's a big celebration of the Santa Cruz Opera Society's 25 years of promoting interest in opera in our county. Miriam Ellis and Lilli Hunter have been the divas of the organization and have been putting their hearts and humor into keeping the group so active. Call 423.2290 to see if there's still room for you.

HALLOWEEN 2002. Halloween in downtown Santa Cruz grows in size and importance every year. No matter who our new mayor is, we need to get the police, the Downtown Association and a volunteer group together to get a real official celebration of Halloween really happening. We need Pacific Avenue closed off from midafternoon to probably midnight. We need an official judging stand with prizes that'll happen early for the kids and later for grownups of all ages. We need to convince the downtown merchants and the police that it won't be the end of the world. As Bruce Engelhardt noted, it's almost as happy and successful as First Night is, and it's all been completely spontaneous. It's a genuine community-run event that shows Santa Cruz's unique spirit. If you want to get involved or have some great ideas for Halloween 2002, call 423.8823.

FINALMENTE O POR FIN. Scott MacClelland emailed these almost winning quotes and definitions. He probably gave up trying to use them in music reviews. Por Ejemplo: My husband gave me a permanent wave, and I haven't seen him since. Shotgun Wedding: a case of wife or death. Did Noah keep his bees in archives? A pessimist's blood type is always B-negative. If life gives you llamas, make llamanade. A good pun is its own reword. Dijon vu--the same mustard as before. I fired my masseuse today--she just rubbed me the wrong way. A Freudian slip is when you say one thing but mean your mother. Does the name Pavlov ring a bell? Some old favorites: She criticized my apartment, so I knocked her flat. Times flies like an arrow; fruit flies like a banana. Condoms should be worn on every conceivable occasion. Reading whilst sunbathing makes you well-red. When two egoists meet, it's an I for an I. At that point, I had to stop him; otherwise he'd have gone on forever.
---
Bruce critiques films every other Thursday on KUSP-FM (88.9). Reach Bruce at [email protected] or at 457.5814, ext. 400.
---
[ Santa Cruz | Metroactive Home | Archives ]