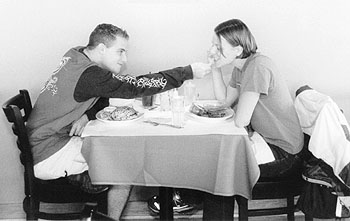 Grill of My Dreams: Lunch patrons enjoy Almar's lunch specials.

Giving Good Grill

Diner vibes and eclectic menu give Almar Grill a growing following

By Christina Waters

Like a great diplomat, Almar Grill--the sunny spot in the corner of the busy Almar shopping area--seeks to be all things to all people. Open daily for nothing less than breakfast, lunch and dinner, the Grill extends a welcome to those who like serious specialties with multiethnic flavor accents.

Save for bright blue table linens and a few potted bamboo plants, the décor is spartan. The sunny golden walls might prosper with a splash of larger, brighter artwork, and carpeting would make a nice dent in the noise level. The menus are welcoming--world fusion at its most upbeat--and families with children are made welcome.

The lunch and dinner menus blend lots of Moroccan and Mediterranean flavors, punctuated with Asian influences, along with items such as burgers, Cobb salads and grilled chicken plates. Breakfasts are hearty and run the gamut from hotcakes and classic eggs to myriad bold and inventively organized omelettes.

Jack and I enjoyed a morning meal recently at Almar of our favorite egg dishes. His Greek scramble ($7.50) arrived piping hot and generously packed with spinach, tomatoes, olives and feta cheese. The perfume of oregano set the whole thing off nicely. The scrambled eggs, obviously mere moments out of the pan, came with a huge side of home fries and his favorite rye toast. Too bad they don't have grapefruit juice, Jack complained.

My two eggs arrived close to my desired "over-medium" specs, along with buttered toast and home fries ($4.75). Just right with mugs of good, fresh coffee.

Lunch specialties showcase the Almar Grill's kitchen, and while I wish the plates were round, rather than oval, I have to admit there are some attention-getting dishes here. A cut above even contemporary diner fare.

Last week, Lelani and I started out lunch with tall cool glasses of hibiscus cooler and bitter lemonade ($1.95 each). Crisp and bracing, they were both delicious partners with the interesting foods to come.

Armed with big appetites, we decided to sample some big entrees. I chose a Viet-style grilled chicken sandwich ($8.50) that came on a soft, delicious onion roll slathered with aioli. The chicken had been marinated in spicy garlic glaze and then grilled--thick, juicy slabs of chicken to which I added some of the zippy chile sauce that had been provided. Cilantro pickles came on the side, and lots of lettuce and sprouts romanced the chicken. It was a knockout sandwich and a very filling and satisfying meal unto itself.

Lelani had chosen Moroccan prawn kebabs ($12.95) of two skewers laden with succulent, perfectly grilled prawns in a delicious cumin and lemon rub. A bed of saffron rice held down the center of the oval plate, while a field of sautéed zucchini adorned one side, and a spice-laden, roasted onion and tomato relish, the other. It was another tasty, nicely balanced presentation.

This prawn entree, like the huge, delicious sandwich, was a major meal for the money. How nice to find freshly made, intelligently spiced dishes that don't break your budget. A godsend these days, from where I sit.

Another thing about Almar Grill--dessert includes a wicked, densely hugely intensely chocolate coconut cheesecake ($4.25). Actually more of a chocolate coconut cheese pie, the dark chocolate housemade creation is served in a wedge and redundantly festooned with lots of chocolate sauce. Essentially this dish exists to present your taste buds with a major dose of very satisfying, creamy chocolate with just a hint (perhaps not enough of a hint?) of coconut. Well, we loved it and we're not even card-carrying chocoholics. Almar Grill isn't a designer palace or food temple. It's a good solid grill with prices to make you very happy. And it's open all day long!
---
Almar Grill
Address: 841-A Almar Ave, Santa Cruz
Phone: 420.0114
Hours: Breakfast 8am-noon; lunch 11:30am-5pm; dinner 5-9pm
Atmosphere: * Low-key décor, very spare and uncluttered
Service: ** Friendly and helpful
Cuisine: **1/2 Excellent menu items make up for blurred identity
Overall: With some décor and presentation fine-tuning Almar Grill's atmosphere will be a match for its freshly made dishes
---
[ Santa Cruz | Metroactive Home | Archives ]