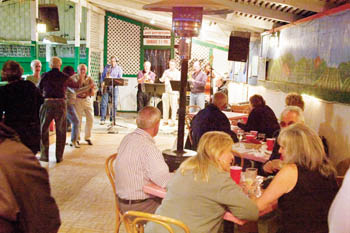 Photograph by Stephen Laufer

Swing Set: Revelers throw down and chow down at Bocci's Sunday jam.

Belle of the Ball

More than just a restaurant, Bocci's Cellar is a joyous celebration with food

By Selene Latigo

There are some restaurants I go to solely for the food, places where the caliber of ingredients and technique coalesce into consistently excellent dishes. If I'm lucky, some of these culinary destinations have an equal level of ambience, creating a well-rounded dining experience. On the other hand, there are times when the environment of a restaurant takes precedence over the food, when the entertainment is more important than every flavor and nuance of the meal. Bocci's Cellar is such a place.

On Sunday night, Dave and I went out with a friend to revel in the popular weekly sounds of the Santa Cruz Jazz Society. Performing in the back barn of this historic building on Encinal Street, this jazz group, along with many other live musicians throughout the week, draws crowds into an industrial area with no nightlife, where the gem of the neighborhood is Costco. Walking up the dark and empty road, the only indication that there was life this side of River Street was the lighted Bocci's sign and the line of deserted cars crowding the street. As we got closer, music wafted toward us, and moments later we found ourselves immersed in the deafeningly joyous Sunday night jam, packed at 6pm.

Peeking into the regular dining room, I saw that it was empty, with everyone preferring the casual dirt floor and heat lamps of the barn to sip drinks at stageside tables. We waited a bit to join them once a table opened up.

From the basic and affordable wine list featuring standards from Italy, Chile, Australia and Sonoma, we chose a bottle of the 2003 Antinori Sangiovese ($19), a good table wine that could go with just about any meal. Finding it difficult to focus on anything other than the skilled musicians, we bopped our heads and munched on the francese bread with balsamic and garlic dipping oil that our server quickly brought out, happy to take our time and enjoy our rustic surroundings.

After a few more songs, we ordered from the Italian-influenced, meat-heavy menu with items such as pork scaloppini and ravioli with sausage. Dave decided on the classic spaghetti with meatballs ($13.95), which came with soup or salad. His selection, the chicken seaweed soup, was an interesting Asian take on chicken soup, with a salty ocean flavor akin to miso. His al dente fettuccine contained a mix of vegetables and several small, firm pork and beef meatballs. He proclaimed this heaping dish to be exactly as expected and said his parents in Utica, N.Y., would "love this place."

Aubrey chose one of the two Sunday night specials, both only $5. Her barbecued chicken thigh was golden brown and served with a side of rice and vegetables. Although the dark meat was tender and flavorful, it was more like roasted chicken with a thin layer of sauce, but for $5, who's complaining? She also ordered the house salad ($3.95) with gorgonzola dressing--a small plate of fresh greens, grated carrots and cucumber, lightly tossed in the dressing with tiny cubed croutons and a generous amount of crumbled bleu cheese.

I opted for the other special, the penne pomodoro ($5, regularly $9.95) and a Caesar salad ($6.95). My salad, unlike Aubrey's, was wilted and heavily dressed, and the portion was quite small for the price. The penne, however, was piled onto a large oval-shaped platter. Although the tomato, carrot, zucchini, celery and onion marinara that topped my pasta was not what "pomodoro" means to me, it was zesty, savory and flavorful.

We also ordered an appetizer, which didn't arrive until we were close to the end of our entrees. The garlic cheese bread ($6.95) was the same francese toasted and doused in butter, garlic, gooey mozzarella, basil and chopped tomatoes. I picked off the pale, watery tomatoes and guiltily devoured two pieces of the decadent snack that became our dessert.

The band packed up around 7:30 and most of the crowd departed either into the main bar or to the cozy outdoor patio with tucked-away tables and a roaring fire pit. Inside, there was romantic lighting, gleaming wood and a welcoming energy. At Bocci's Cellar, drinks flow, the music booms and everyone has a good time. The food is standard fare, but the ambience is the reason to return time after time.
---
Bocci's Cellar
Address: 140 Encinal St., Santa Cruz
Phone: 831.427.1795
Hours: Monday-Saturday, lunch 11am-4:30pm, dinner 5pm-9:30pm Sunday, 3pm-9pm.
Price: $4-$20
---
[ Santa Cruz | Metroactive Central | Archives ]