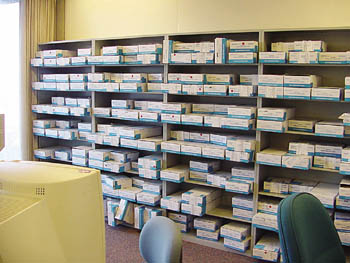 Putting the 'Count' in Santa Cruz County Supervisor: Closer inspection revealed boxes marked 'Mardi Wormhoudt,' 'Mark Primack' and 'Al Gore 2000, Property of Dade County.'

Nüz

Instant Karma

Last Friday brought some degree of closure to a fraught and ofttimes ugly county supes race, as officials tallied up the absentee ballots and found incumbent Mardi Wormhoudt leading challenger Mark Primack by 436 votes.

As for the fallout surrounding the ill-fated Committee for Better Local Government (Nuz, Nov. 13), Wormhoudt dubbed that "a case of instant karma."

"But I don't want to get into a spat," added Wormhoudt, before heading off on an ecological tour of the Amazon rain forest.

Meanwhile, Primack was on the East Coast, relocating his parents into assisted living, even as the Sentinel ran a front-page story in which Primack got to accuse the Senile of, gasp, incompetence, in handling coverage of the above-mentioned committee, which Primack says he knew existed.

"I knew what Paul Sanford was doing," says Primack, "but did I know that it was more than a few thousand dollars and a few ads? No."

As for Sanford, who Nüz last spoke to as he was buying galoshes for his kids during a visit to a washed-out Disneyland, given his committee's abysmal track record, we're tempted to make one of our typical jerk-ass cracks about going from one Mickey Mouse operation to another. But hey, aren't we all a little tired of media cynicism right now?

Changing of the Guard

With a new City Council set to be sworn in, are we all gonna be starved for wacky debates and weird scenes come Nov. 26? Outgoing Mayor Chris Krohn thinks not.

"I've learned that people look to Santa Cruz to set the direction on issues, be it the war on Iraq, medical marijuana, recycling [or] transportation. I'm sure the new council will continue to do that," said Krohn, dismissing with a laugh accusations that he single-handedly killed funding for an EIR on Highway 1 widening.

"I've been called a giant killer, when I'm barely swatting a fly. By not putting the widening issue on the ballot, we left the state asking, 'Why should we help you with this project when you don't have a funding mechanism in place?'" Krohn explained.

Reflecting on the past year, Krohn says, "It may look to people as if the council was spending a lot of time on the River Street Sign and the Peace Park, but really it was the Sentinel which spent a lot of time covering those issues, whereas we delivered 300 to 400 affordable units, which is what people told us they wanted."

Krohn hasn't given up hope for the Peace Park, which he believes was a casualty of post-Sept. 11 fears.

"This project is bigger than its detractors and would be such a compliment--such an attraction--to our city. Historically, the Town Clock is the place where people know to go in times of crisis and protest. But if there's no way to work it out--through a location or name change--I'm willing to eat my hat."

Krohn recently found himself agreeing with San Francisco Mayor Willie Brown on the subject of political power.

"The San Francisco Chronicle quoted Brown as saying something like, 'Get done what you're gonna do in your first year of office, because that's when you have the most political capital.'" Krohn pauses. "What Willie would say if his 'new' councilmembers were all former mayors is another matter."

Washington Bruce?

With rumors flying that state Sen. Bruce McPherson, who just lost his bid for lieutenant governor, now has his eye on U.S. Sen. Barbara Boxer's seat in 2004, Nüz called his press secretary, Adam Mendelsohn, to get the scoop.

"Bruce is currently spending time with his family and has made no immediate plans for the future," was all Mendelsohn would say.

But with McPherson termed out in 2004, to stay in politics he could either serve time in the state Assembly or make the jump to Washington--as a California Republican. ...

Junior High School Shuffle

A tie-wearing administrator shushed a pack of seventh-grade girls numerous times in the hall of DeLaveaga Elementary last week, as parents addressed school trustees about the city school district's financial plight. Why the commotion?

As trustees grappled with reconfiguring schools, closing two campuses and selling the district office's Mission Street headquarters, and parents and teachers advocated a middle-school model in which elementary schools end at fifth grade, Meisha Bernstein, Amy Hill, Tiffany Veronada and Briana Kranich--seventh-graders at Branciforte Middle School--were loudly lamenting the possibility of being crowded into elementary schools and losing junior high perks, like electives, lockers and class switching.

Said Kranich, "In elementary school, they teach you like kids. In junior high, they start to teach you to go into adulthood. If you go from elementary to adulthood, you just get freaked out."

The school district is facing a $2.5 million budget shortage--a crisis that had school Supe Roy Nelson proposing to eliminate both junior highs and to reconfigure elementary schools to accommodate seventh- and eighth-graders, until the plan's unpopularity found him backing down.

The union representing the city schools' custodians, bus drivers, cafeteria workers and clerical staff has suggested closing Branciforte Elementary and Natural Bridges Elementary because of declining enrollment, but sixth-grader Alejandra Flores, who attends Branciforte Elementary, said it would a shame to see her school go.

"They have really good programs, good math programs and spelling programs, and they have an orchestra that's really good, which I'm a part of," she said. "And the school just got remodeled, so they'd be wasting all that money."

"A lot of the people that live over here would have to send their kids to DeLaveaga, and that's far," said classmate Kevin Salguero.

Meanwhile, the students in Helayne Ballaban's sixth-grade class at Branciforte Elementary collectively suggested more bake sales as an alternative to closures, while Gabriella Little recommended a carnival or a car wash, and Gabe Hildeburn proposed cutting back on supplies.

"Kids can bring their own pencils," he said.

Trustees vote Nov. 20 on the middle-school model, and the board must implement reconfiguring and closing by fall 2003.
---
Nüz just loves juicy tips: Drop a line to 115 Cooper St, Santa Cruz, 95060, email us at , or call our hotline at 457.9000, ext 214.
---
[ Santa Cruz | Metroactive Central | Archives ]