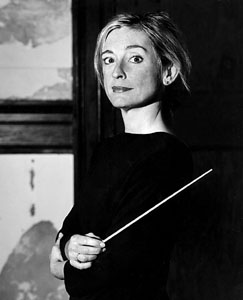 Paiement on Delivery: Nicole Paiement is a darling of classical culture both here and around the Bay Area.





Her Double Life

Multiple classical projects keep Nicole Paiement busy throughout the Bay Area

By Scott MacClelland

TO LOCAL classical fans, Nicole Paiement neatly fills the middle ground between the Santa Cruz Symphony and the new music presenters with skill and imagination. For the rest of the Paiement story, however, you must direct your ears to San Francisco, where things musical whiz by at breathtaking speed.

Unlike the Paiement of UCSC, where her job as Director of Ensembles would be a full-time commitment for most other music faculty, the Paiement in San Francisco has another full-time job. Under the auspices of the San Francisco Conservatory, she runs two projects, the Parallele Ensemble and the new Blueprint Festival.

To attend Paiement's recent program by the UCSC Orchestra was to savor surprisingly high technical standards among the players and uncommonly purposeful and clear podium leadership in Beethoven's Symphony no. 6 "Pastoral" and Schumann's Piano Concerto in A Minor. (The Schumann enjoyed a fine and distinctively personal solo performance by the well-remembered but now infrequent guest, Nohema Fernandez.)

But everything in Paiement's life speeds up in San Francisco. The Blueprint Festival--whose mission statement is "building new music for the city"--opened last month with two programs of Olivier Messiaen, composer of the stunningly successful Saint François d'Assise at the San Francisco Opera. Paiement saw the opportunity to launch Blueprint while everyone was talking about Messiaen by playing his amazing Oiseaux Exotiques (based entirely on bird songs) and works by several of his students and protégées.

For the latter program, Paiement engaged her Parallele Ensemble, which she created in 1994 with musicians from Santa Cruz and San Francisco. Affiliated now with the SF Conservatory, its players are mostly faculty and alumni of that institution. Parallele concentrates on "contemporary music and lesser-known works of all periods" and has made several CD recordings, including three works by Lou Harrison.

The Blueprint Festival this week did a concert of new music by five different composers, and will go on this season to perform five challenging programs throughout the city, including a symposium and concert of Darius Milhaud that joins Parallele with the UCSC Chamber Singers.

The Milhaud programs will be previewed at UCSC in February, and, at the end of May, Paiement will conduct four performances of Mozart's Marriage of Figaro at UCSC.

With classical music generally suffering turbulent times and an uncertain future, Santa Cruz enjoys a level of conducting quality and urgency in the likes of Marin Alsop, Larry Granger and Nicole Paiement that many large cities around this country should envy. Alsop is of course a world-class conductor. But Paiement, like Granger, has the skill, discipline and talent to lead any orchestra in the land.
---
Nicole Paiement directs the Chamber Singers Friday, Nov. 22, and Saturday, Nov. 23, at 7:15pm, Holy Cross Church, 126 High St., Santa Cruz; tickets $10 general/$8 senior/$6 student; 831.459.2787.
---
[ Santa Cruz | Metroactive Central | Archives ]