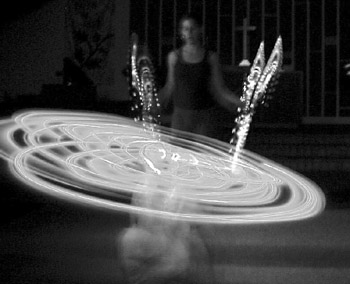 Light Entertainment: 'Nocturnal Sunshine' is one of the oddities offered up for your amusement at the Vaudeville Review.

Variété Pack

Local acts take the art of entertainment back from the Hollywood whores for the SC Vaudeville Review

By Mike Connor

IT'S MORE THAN likely that, whilst sitting in a saloon and slugging back shots of whiskey, Billy the Kid enjoyed a good vaudeville act now and again.

Taking a cue from the Variété shows in Paris, saloon owners of the wild, wild West started hiring performers to draw more patrons, calling the shows "vaudeville" to make them sound more exotic. The shows died out with the ascendance of "talkies," which began with Al Jolson's The Jazz Singer in 1925 and reached their peak with 1988's smash hit Young Guns.

Funny how everything comes full circle like that, no? Still, I'd bet my pea-shooter that Billy never saw a pug singing the falsetto part to "The Lion Sleeps Tonight."

Yes, we're talking about the Vaudeville Review coming up on Nov. 23 in Santa Cruz, a night of entertainment produced by the folks at the Otter Opry. The show includes a huge variety of acts, including singing pugs, hula dancing ukulele players, fire dancers, a Tuvan throat singer, the Great Morgani, a musical saw virtuoso, magic, juggling, rhythmic gymnastics, and more--all in one evening, all on one stage. It's a variety show in the classic sense, emceed by the ever-charming, if somewhat discombobulated Buxter Jake, a.k.a. Sven Davis.

But more about all that later--let's get back to the pug. It is undoubtedly the cutest breed of dog ever to walk the planet, a breed that Santa Cruz resident and pug enthusiast Joanna Reed rightly believes is cute enough to bring about world peace.

"Last October, my husband was deployed with the Army for one year to help with homeland security in Arizona," says Reed. "I stayed behind here in Santa Cruz. In an attempt to bring some humor to an otherwise unhappy situation, my brother and I started a running joke about developing a pug puppy parachute division to help bring peace to the Middle East. We thought it would be impossible to focus on fighting a war with hundreds of these sweet creatures running around begging for snacks and snuggling, and sprinting across an endless "beach" in the desert. Our motto is 'Finally, a peace movement with legs--4 of them.' So far, the members include myself, my brother and our pug Odie."

Besides being the cutest thing I've ever heard, Reed's idea sounds better than any strategy coming out of the Pentagon. Maurice Lieberman (son of Sam Lieberman, proprietor of waist-widening Marianne's Ice Cream) will spread some comedic puppy love with his singing pug, Oscar DeLaRenta Schindler.
---
The Vaudeville Review will be presented at the United Methodist Church, 250 California St., on Saturday, Nov. 23, at 7pm. Tickets are $10, kids under 12 get in free. Tickets can be purchased at Sylvan Music; 831.338.0618.
---
[ Santa Cruz | Metroactive Central | Archives ]