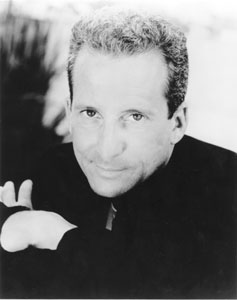 Stand and Deliver: The death penalty, romance, porn and sexism are just a few of Bobby Slayton's topics.





Raging Bully

Politically incorrect comic Bobby Slayton exhorts Santa Cruz to shed its tie-dye

By Sarah Phelan

REMEMBER THE Marlon Brando movie The Wild One, in which Brando's biker pulls into a little town and starts stirring things up? That is how Bobby Slayton, a.k.a. the "Pit Bull of Comedy," sees his Nov. 24 visit to Santa Cruz.

"People need me," says Slayton, 45, talking by phone in a raspy voice that's shades of Brooklyn transplanted to L.A.

And which people would that be? "The hippies, the lesbians, the college dropouts," replies Slayton, adding that he's visited Santa Cruz and knows that it's très PC.

"Yeah, it's amazing how people get their panties in a bunch over nothing," complains Slayton, who, after 21 years of what he calls "intense standup comedy," is still blown away at how uptight people are: "I mean, who cares who Gary Condit is nailing or whether Bill Clinton is screwing an empty potato head? It's incredible that people can't mind their own goddamn business."

Ladies and gentlemen, meet fast-talking, unwise-cracking Bobby Slayton, familiar from the movie Bandits, in which he plays Darren Head, the host of a tabloid TV show forced to report the exploits of two bank robbers (Bruce Willis and Billy Bob Thornton) after they break into his home.

Slayton, who is happiest speaking exactly what's on his mind, also has a regular role in the HBO series The Mind of the Married Man, which follows a trio of reporters at a Chicago newspaper who try to remain faithful to their wives.

Slayton, who assures me he's happily married in real life, just released his first comedy CD, Raging Bully--a one-hour live recording in which he gives his acerbic, fire-breathing take on the death penalty, romance, porn, sexism and other noncontroversial topics.

Variously described as "brazen" and "armed and dangerous," Slayton was voted Funniest Male Standup Comic of the Year by the American Comedy Awards. He played Joey Bishop in HBO's The Rat Pack and had what he describes as "scene-stealing roles" in Get Shorty and Wayne's World 2. He's also made TV appearances on The Tonight Show, Politically Incorrect and Home Improvement.

Slayton recently visited his hometown, New York, and says it was strange to see that empty space in the skyline, but adds, "I had no desire to see ground zero. It was horrible enough." Confessing that times are tough for performers post-Sept. 11, Slayton says, "One of the joys of being in a small town right now is you're not worrying about people blowing up bridges or spreading anthrax." He laughs. "But I was freaked out long before 9-11, what with all the gangs and helicopters, not to mention that I live in a fire zone."

Freaked out or not, Slayton is still one of the most energetic comedians on the road--and he doesn't want to scare people away from his show.

"Just put away your Birkenstocks and your peace signs and take off your tie-dyed T-shirts for the night. I'm gonna bring you the world," Slayton promises.

So who in Santa Cruz does he think should go to the show?

"Every guy who's ever had to celebrate an anniversary or Valentine's Day or go to a marriage counselor owes it to his manhood. And every woman who is still buying into that 'men are from Mars, women are from Venus' crap owes it to her man. And every hippie in Birkenstocks who thinks they're gonna change the world, should come. Even if you don't come, go out. Too many people have stayed home scared since 9-11."
---
Bobby Slayton headlines the Best of the San Francisco Comedy Competition show at the Rio Theatre, 8pm, on Saturday (Nov. 24). Also appearing are San Francisco comedian Jim Short and musical impressionist Leland 'Cotton' Brown. Tickets are $20 in advance, $25 at the door, available from Ticketweb.com and at the Book Loft, next door to the Rio Theatre, 1205 Soquel Ave., Santa Cruz.
---
[ Santa Cruz | Metroactive Central | Archives ]