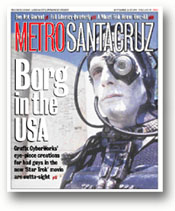 For the Week of
November 21-27
Cover: Borg in the USA
Grafix CyberWorks' eye-piece creations for bad guys in the new 'Star Trek' movie are outta-sight.
Hometown:
The Bee Sting Guy
When Sarah Phelan found a splinter in her finger, a mysterious man in a park pulled out the biggest pair of tweezers she's ever seen. He's the Bee Sting Guy, and with the help of the bees, he's aiding M.S. sufferers one sting at a time.
Red Wine for Dummies: The inability to articulate the difference between a merlot and a meerkat is all you need to appreciate this low-tech wine guide.
Reimagining the Modern American West: History was never this easy to read.
The Rules: Looking for that Mr. Right stuff.
Santa Evita: The aftermath of Eva Peron's life is a bizarre stunner.
Take the Rich Off Welfare: The U.S. is giving big breaks to overcharging government contractors.
Accordion Crimes: Tunes of the victims of our melting pot myth?
The Unconsoled: Pianist provides panacea for village's woes.
Booked for the Holidays: Mockingbird Books stocks the best.



Notes From the Underground: NYC hardcore band H2O makes its mark.



Sundown at Riva: A traditional seafood-house menu and a scenic location make Riva an attraction for visitors to the Santa Cruz Municipal Wharf.