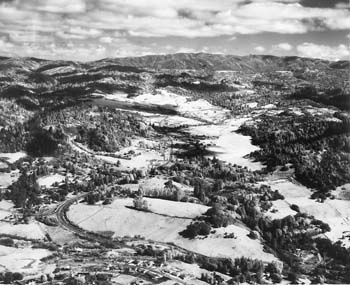 Photograph by Covello & Covello Historical Photo Collection

Scotts Valley, 1958: If they don't crop it out, you can see Camp Evers at the intersection of Scotts Valley Drive, Mount Hermon Road and the beginnings of Whispering Pines Drive sort of at the lower left corner. Look at all that vacant land--why, if we'd thought ahead, we could have created the world's first million-acre campus and leased it to Microsoft or Cisco or tomorrow's miracle business.

Bruce Bratton

SOMEWHERE NORTH OF PARADISE. I'm writing this at least 11 days before publication, and already I've been hearing about separation amongst factions in our almost-sworn-in Santa Cruz City Council. I won't mention which sides, but instead of there being a big mayor's party as usual, I've heard talk of "We're not going," "I'm not speaking to him" and "I just can't trust those people." This silliness has got to stop. We've had too many years of the council's internal bleeding, and it is costing our city progress--and progress (as in progressive) is supposed to be our middle name. We need the traditional mayor's party, and we can watch to see which, if any, elected officials don't attend. But beyond that, I really think--and have voiced the idea, although half-heartedly at first--it would be a good idea for our entire new City Council to go on some sort of Outward Bound adventure together, even though it's corny and probably too '80s or '90s. I'm not talking about a retreat up at Chaminade or the horse place or even a fishing trip to Mexico but an old-fashioned scale-the-tree, rappel-the-mountain, interdependent, help-each-other adventure. Let's face reality: these council members will be working together for two years. Let's put the old baggage aside, develop new trust and make progress. If I'm wrong and old wars start again, so be it, but at least an earnest effort would have been extended.

DARK PLEASURES. If you haven't already seen it, go for Billy Elliot. Yes, it's inspirational, but damn, it's one fine film. It's also full of surprises and some very gritty views of life. I just read an article about all the great Italian films being produced nowadays, but there are no distributors willing to take the risk on bringing them to America. Which reminds me, remember when I said Roberto Benigni (Life Is Beautiful) was a one-film wonder, and that that film was terrible? Well, I'll bet that even with that backup of Italian films, he's never made a good one. Red Planet with Val Kilmer is another very frustrating, trite, predictable science fiction film. The plot has more holes than an astronaut's space suit when he's trying to fix something out there.

OUR SYMPHONY AND THE CIVIC. The Santa Cruz Symphony concert of Nov. 11 was a genuine treat. Scott MacClelland has told you how nicely the orchestra played and how much in control conductor John Larry Granger was. What is truly amazing is the new sound wall that they can install for special concerts. The wall is a huge structure made of convex maple plywood sheets behind the orchestra; it allows for brilliant crisp sounds all over the auditorium. I spoke with Granger; he loves it. Bit by bit, the symphony and the Cabrillo Music Festival "are making that old barn into a swell theater." Granger has been doing an amazing job of developing the orchestra. If you ever went to symphony concerts in the past and weren't too happy with the sound, go again. Specifically, you should go on Jan. 6. They'll be playing Stravinsky and Mendelssohn, and David Tannenbaum will be the guest guitarist. Get all the details at www.santacruzsymphony.com and get tickets at the Santa Cruz Civic Box Office at 420.5260.

HOLIDAY ATTRACTIONS. If you didn't get a chance to see Shakespeare Santa Cruz's production of Cinderella last year, you'd better hurry and get tickets for this year's showing, which starts Nov. 25. Not to say that there are too many productions of The Nutcracker, but Cinderella is much more fun for everybody. Kate Hawley wrote the book and lyrics. The songs are funny, and the entire play contains just enough adult material as well as plenty for the kids. What's important is to give the children a live theater experience, which is too rare nowadays. Call the UCSC ticket office at 459.2159 Tuesday-Friday, noon-6pm, and Saturdays, 10am-4pm, or email [email protected] or see the website at www.shakespearesantacruz.org. ... There will be another rare local opportunity is to catch the Jazz Birds on Dec. 2 at the Capitola Theatre for the Performing Arts. They're part of Cabrilho's Distinguished Artists' Concert & Lecture Series. The Jazz Birds are four grande dames who swing and sing songs that the Boswell Sisters made famous. The Birds consist of Penny Hanna on clarinet and sax, Vicki Neville-Coffis on guitar, Gail Cruse on contra bass and Cher Petersen on cocktail drums. I've got every recording the Boswell sisters made, and believe me, the Jazz Birds know their stuff. They are also encouraging children and dancers and even suggesting that you come in costume. If you come in costume, Closet Capers will make you a deal on a rental. The show is at 8pm; call 462.3131 for tickets.

BODIES THAT ADVISE. Now that we are starting our new City Council, it's a perfectly great time for any city resident who cares to do more than just gripe to get appointed to an official city advisory board or commission or committee or task force. These are the groups that do the research, listening, considering and studying of issues and problems and then make recommendations to the City Council. To find out about where there are openings, go to the City Clerk's office on Center Street in the City Hall. I think at the moment (I'm still up at that mountain cabin) that there are seven openings on the Living Wage Advisory Committee, one on the Watershed Management Technical Advisory Task Force and one on the Public Art Committee. You can call the City Clerk's office at 420.5030. I've said before that this is where the bottom line of our city government is drawn. The meetings of these groups are where more citizens should go to hear of those supposed threats, like land-use issues in your backyard.

NEWS FROM HANOI. Veteran Carl Stancil emailed to tell us about an extraordinary event that happened in October. A United States veteran, George Mizo, Georges Doussin of France and Rosi Hohn-Mizo of Germany were officially acknowledged for humanitarian work in building the Vietnam Friendship Village near Hanoi. It was the first time a U.S. veteran was formerly acknowledged for humanitarian work for the people of Vietnam. Senior Vietnamese military official General Giap also thanked them in a private audience after the ceremony, and he surprised everybody by warmly hugging Mizo's son, Michael, and saying to him, "Never go to war."

THURSDAY GALLERY WALKS. Old-timers remember when we had a lot of art galleries and a lot of places displayed art. Now that's beginning to happen again. On the first of every month, our Museum of Art and History has a nice free party for everybody; now added to that are open houses at 11 establishments that show and sell art. They are in easy walking distance, ranging from the Corbin Gallery at the north end of the Mall (and including Larry Selman's Glass Gallery) down to Atelier Gallery at Cedar and Maple streets. With those pesky holidays coming up, this is our big chance to support local art and local art sources. They're also planning theater and music events at some of these locations. The next Night will be Dec. 7, and the locations will be open only till 7pm. I think it should be later, but it says 7pm. Call 429.9005.
---
Bruce critiques films every other Thursday on KUSP-FM (88.90 at 12:50pm. Reach Bruce at [email protected] or call 457-5814, ext.400.
---
[ Santa Cruz | MetroActive Central | Archives ]