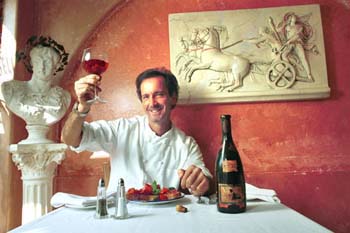 Photograph by George Sakkestad

Italian-Style Welcome: Bella Roma chef/owner Gaetano Balsamo.

Bella Capitola

In the heart of the village, Capitola's Bella Roma brings a warm touch of Italy to this fashionable seaside scene

By Christina Waters

APPETITES AT full throttle, Hanna and I came in from the cold last week to an Italian-style welcome at Bella Roma. An eclectic mix of old-world--long-stemmed red roses adorned the host station--and California casualness, Bella Roma seems thoroughly in synch with its Capitola Village neighborhood.

Tile floors and soft, Tuscan terra cotta walls lend authenticity to a cuisine of classics. Our smiling and flexible waitress was more than happy to let us chatter away, taking our time to peruse the menu of pastas, sea foods, luxurious sauces and, of course, myriad antipasti.

We chose two serviceable wines--a glass of Tessera Merlot ($6), another of Villa Mt. Eden Zinfandel ($5.50)--plus a big bottle of San Pellegrino, the thinking-woman's sparkling water--and finally stopped talking long enough to order our dinners.

Bella Roma is a warm restaurant, where couples can linger over their appetizers and huge parties can celebrate anything they want at the long tables in the center of the dining room. I liked the playful touch of bold, nonmatching dinnerware.

My appetizer of melanzane in balsamic and Gorgonzola sauce ($4.95) offered tender rounds of grilled eggplant arranged like lily pads in a creamy lagoon of Gorgonzola-spiked cream. Strewn with fresh parsley, a spiral curl of carrot and bits of tomato, it was a satisfying dish--the creamy Gorgonzola sauce would have been good on anything.

Hanna and I both wished that her mixed grilled vegetable antipasti ($5.25) hadn't arrived so thoroughly chilled. Had the generous and very attractive appetizer been served at room temperature, the nicely roasted slices of zucchini and eggplant would have developed more flavor. The selection included a crusty bruschetta, piled high with garlicky tomatoes--deliciosa--and a few mushrooms and carrots stridently saturated with vinegar.

My secondo, a freshly made dish of plush agnolotti stuffed with bay shrimp and roasted garlic, was a big, happy plate of pasta ($15.95). A generous portion of al dente, oversized cushions (like overgrown ravioli), the dish was bathed in a heady sauce of roasted garlic, tomatoes and white wine finished with a splash of cream. Absolute heaven, especially on a chilly evening--and with a nicely made glass of zin.

Again, I had the advantage of the two of us, since Hanna's abundant platter, featuring an entire breast of duck, proved to be overwhelmingly seasoned ($17.95). A lighter hand on the rosemary and balsamic would have allowed the nicely cooked duck breast to express its juicy flavors.

An accompanying portion of shell pasta tossed in tomato and cream belonged on a side dish, rather than on the too-crowded main platter. In addition to the pasta were several unnecessary roasted potatoes smothered in onions and an outstanding sauté of fresh chard.

The chard was so wonderful that it alone, together with a less highly seasoned duck, would have made a perfect entree. Less really is more. The kitchen might wish to rethink its overly zealous use of vinegar and intensely aromatic herbs.

Along with very strong espressos, we split a soft slab of the house tiramisu ($4.50) that was decidedly more fluffy than creamy. Those who crave cake and chocolate would doubtless enjoy this rustic creation topped with lots of chocolate powder and whipped cream, atop a latticework of chocolate syrup. I wished it were less sweet, and that the mascarpone interior were firmer. The merest hint of sambuca and espresso permeated the dessert and, in contrast with the entree seasonings, these could have been intensified.

Bella Roma clearly has a following enamored of its cafe ambience and excellent pastas. Service is genuine, and the location can't be beat. With more culinary consistency, it will please an even larger circle of admirers, but for that gorgeous agnolotti I would definitely return again and again.
---
Bella Roma Cafe
Address: 316 Capitola Ave., Capitola
Phone: 831.464.2608
Hours: Dinner from 5:30pm
Service: *** Friendly, helpful and unpretentious.
Ambience: ** 1/2 Gregarious trattoria atmosphere, designed to maximize a sense of family-style dining
Cuisine: ** Lovely pastas and generous, well-priced portions
Overall: Bella Roma does well filling the Mediterranean bill
---
[ Santa Cruz | MetroActive Central | Archives ]