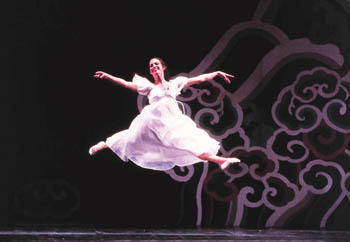 Photograph by John Markowski

Nut in Our Name: 'The New Nut' is another coup for local icon Tandy Beal, who first put this area on the 'Nutcracker' map 20 years ago.

That What Is Nut

Tandy Beal revolutionized 'The Nutcracker' 20 years ago--and now she's at it again with 'The New Nut!'

By Scott MacClelland

Anyone who saw Tandy Beal's The Nutcracker back in the 1980s will never forget it. Breaking all-new ground, this region's premiere dance iconoclast joyously assaulted the most iconic of all classical ballets and converted a whole generation of California dance fans in the process.

After its debut at UCSC Performing Arts Theater in 1982, Beal's Nutcracker went on the road to San Francisco, Los Angeles, Stanford, Chico and back again to Santa Cruz. Beal's new vision of the holidays unveiled something both contemporary and universal behind Tchaikovsky's immortal music. The Los Angeles Times praised it for its "great purity of heart and remarkable theatrical savvy." Other choreographers have followed Beal's lead, and now you're never quite sure what to expect from the century-old classic.

In fact, you're in for more surprises from Beal herself with her wholly reinvented holiday show, The New Nut!, scheduled for four performances this weekend at Watsonville's Mello center, Beal's preferred venue in Santa Cruz County over the last several years.

The first big surprise for Nutcracker fans is: No orchestra. Instead, an "orchestra" of voices will supply the music for this two-part extravaganza. Through an intense team effort, the award-winning West Coast vocal jazz band SoVoSo will return to the area to accompany a cast of 30 dancers and circus artists, many associated with Beal through her long-time partnership with the Pickle Family Circus. For Part II, SoVoSo has turned the famous Nutcracker dance suite into a vocal edition along the lines described in Helen Colijn's remarkable memoir, Song of Survival, in which women prisoners of war in the South Pacific constructed vocal arrangements of well-known orchestral music--from memory--as a way to preserve their morale.

While the concept of a vocal orchestra may have originated under duress in the jungles of Sumatra, it has evolved significantly since. In the early '60s, Ward Swingle's Swingle Singers introduced jazz-syncopated classical literature to a new generation, just as Franz Liszt's piano reductions of Beethoven symphonies had done a century earlier in Europe and America. SoVoSo reincarnated itself out of Bobby McFerrin's original Voicestra, founded in the '80s.

For SoVoSo, arranging Tchaikovsky proved not only a new venture but also no small challenge.

"I feared the vocal arrangements would lose too much of the original," says Beal. "How do you get the textural variety, depth and beauty? Really, it was a huge job." To approximate those sonorities and orchestral weight, SoVoSo have laid down some of their "tracks" ahead of time and will sing with them side by side.

Nutcracker aficionados should not expect another edition of Beal's earlier production. The familiar suite of character dances in Act 2 of the original--Russian, Arab, Spanish, Waltz of the Flowers, Sugar Plum Fairy, etc.--will be given a whole new look and feel (over and above the vocal arrangements) with hip-hop, Mexican folkorico and other vernacular-dance styles blended in. Beal promises a four-minute "madcap, wonderfully silly" video introduction to the second half of the program. She will reprise her own appearance as the Sugar Plum Fairy, newly costumed and accessorized after the 1980s version.

"With circus and dance and delight," Beal crows, "we're putting the nut back in Nutcracker!"

But the first half of The New Nut!, which is being presented by the Pajaro Valley Performing Arts Association in conjunction with UCSC Arts & Lectures, is entirely new, with SoVoSo's original material sprinkled with holiday favorites and an invitation for audience participation. Many of the costumes were created by Beaver Bauer for the Moscow Circus when it toured Japan. Special guest artists include Rock Lerum, Iman Lizarazu and fellow jugglers; folklorico dancers Esperanza del Valle; gymnastic dancer Saki with a team of young Santa Cruz gymnasts; and the national champion roller skating pair of Edrick Stewart and Meghan Burt. Longtime company dancers Ken Williams and David Popalisky, will be joined by hip-hop maestras Marissa Valera and Molly Heaster and their community colleagues.
---
Tandy Beal's New Nut! will be performed Friday, Nov. 28, at 7:30pm; Saturday, Nov. 29, at 2pm and 7:30pm; and Sunday, Nov. 30, at 2pm at the Henry J. Mello Center, 231 Union St.,Watsonville; 831.459.2159.
---
[ Santa Cruz | Metroactive Central | Archives ]