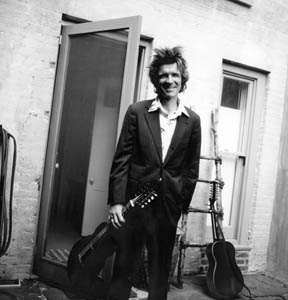 Photograph by Anna Williams

In Zanes Asylum: Dan Zanes has found creative refuge in the world of children's music.

The Kids Are All Right

Dan Zanes has given up the rocker life for children's music--and never looked back

By Meribeth Malone

Like most of us, Dan Zanes wanted to be a rock star when he grew up. But unlike most of us, his dream came true when he fronted the Boston-based Del Fuegos. This was a band that lived by the rocker's code: they stayed up the latest, drank the most and played the hardest.

In other words, Zanes didn't exactly seem like a prime candidate for a career in "children's music." And yet, suddenly, that's exactly what he has--in fact, he says he's found his calling.

It all started with the demise of the Del Fuegos. Despite a cult following, a tour with Tom Petty, a Miller beer commercial and even a minor hit with "Don't Run Wild," this band that was alt-country before the genre had a name fell apart. In 1995, Zanes released Cool Down Time, a brilliant solo project that was nevertheless ignored by all.

It was marriage and fatherhood that brought him back into the spotlight. Dismayed by the crap that was passed off as children's music, he recorded the irresistible and very successful Rocket Ship Beach in 2001. Sheryl Crow harmonizing on "Polly Wolly Doodle" or Rankin' Don a.k.a. Father Goose freshening up nursery rhymes Jamaican dancehall style? Of course it was successful--neither giant purple Barney nor red shag-carpet Elmo bellowing infantile sing-alongs could compete. Family Dance from the same year featured performances by Rosanne Cash and Loudon Wainwright III, while 2002's mellower Night Time! had a surprisingly tender take on "What a Wonderful World" by Lou Reed and contributions from Dar Williams, Aimee Mann and John Doe of X. Rocket Ship Beach and Night Time! collected Parents' Choice Gold Awards.

When I spoke with Zanes about his shift from ragin' rawk to music for moppets, his passion for his new direction was clear--the world of children's music has so inspired him that he refers to his new work as his "calling." He says he was "sick of writing songs about ex-girlfriends," a subject his new audience obviously doesn't give a poopy diaper about.

This preteen hootenanny master refused to comment on groupie action, but he did allow that his fans are extremely devoted. The chaos and craziness of the Del Fuego touring days still abound at each show, and his new fans, though shorter, are just as passionate about rocking out. And even Del Fuego fans didn't crash the stage for some impromptu drumming.

Zanes likes what he's doing so much, he says he simply can't go back to "adult" music. Because our schools have no money, and art and music education isn't a priority, parents have to own the fun and privilege of introducing children to music and art, and he's excited about the possibility of removing the corporate death-grip that movie and television tie-ins have on children's music.

Meanwhile, Zanes has also released Sea Music, which sounds more folk and less kid, and proves that he continues to be thoroughly immersed in old, traditional songs. And there's more of everything on his new House Party--more instruments, more guest artists and more foot-stomping kid rock. Co-stars include Deborah Harry, Angelique Kidjo, Bob Weir, Philip Glass, the Rubi Theater Company and Rankin' Don. Dan and Friends are touring in support of the release and Father Goose is coming to Santa Cruz with the man who outrocks Elmo.

As former Bad Example Ralph Covert explains "There's a lot less beer and less cigarettes, but there's more breast-feeding, so it's kind of a trade-off."
---
Dan Zanes and Friends perform on Tuesday, Dec. 2, at 7pm at the Rio Theatre, 1205 Soquel Ave., Santa Cruz. Tickets are $23, and $12 for ages 12 and under. Tickets are available from the UC Ticket Office at 459.2159.
---
[ Santa Cruz | Metroactive Central | Archives ]