Zen Trading Company, 825 41st Ave.

And Now, Your Moment of Zen

Even when you're shopping, you can find still life in Santa Cruz

Photographs by Stephen Laufer

A famous Zen Buddhist koan says, "If you meet the Buddha on the road, kill him." Certainly no one would put out a similar hit on Santa--but then, when the holidays hit their heights of shopping madness, who knows? Perhaps all those movie Santas getting punched in the face and kicked in the crotch are a sublimation of our deepest seasonal frustrations.

Around here, though, we believe in nonviolent resistance. And when we set out to put together our gift guide this year, we were frankly relieved to rediscover some of the stopping shops that offered us a moment of pause. As in, that cleansing, refreshing, wait-let-me-just-stay-
in-this-exact-spot-one-minute-longer kind of pause. We thought it might even be a kind of community service to provide some documentation of these quieter moments around town, from the perfect-pitch transcendental vibration of the Zen Trading Company to the creative energy just beginning to flow at the newly opened Vapor Gallery.

So now, with apologies to The Daily Show, your moment of Zen ...

Well Within, 417 Cedar St.

Homeless Garden Project Shop ,101 Washington St.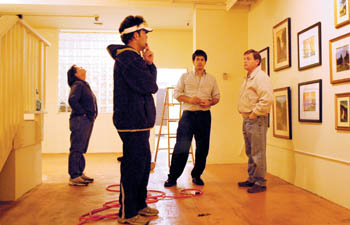 Vapor Gallery, 1319 Pacific Ave.

Art Forms, 1547-C Pacific Ave.

Rhythm Fusion, 1541-C Pacific Ave.
[ Santa Cruz | Metroactive Central | Archives ]