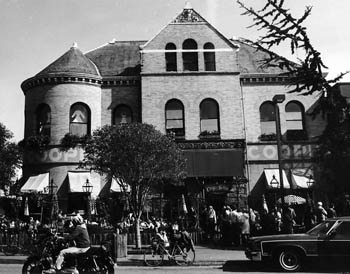 Photograph from columnist's private collection

The Real Cooperhouse: The Cooperhouse used to be a real focus for holiday times. Especially Christmas, when they had strolling musicians and Santa Clauses, and everybody met everybody else there. Newcomers should know that this stood at the corner of Pacific and Cooper streets. This building replaced the 1866 courthouse that was destroyed by the 1894 fire. Even though the Cooperhouse had been seismically refitted before the 1989 earthquake, greedy owners persuaded the city to allow its destruction soon after the earthquake hit to collect on the insurance.

Bruce Bratton

BUGABOO AND CHEFWORKS. The owners of both stores swear to me and everybody else that the rumors that they are going to close are definitely, definitely not true. And that's great news to me, and hopefully to the throngs of shoppers who'll be downtown looking for holiday gifts. Kai Shane, proprietrix of Bugaboo, told me that she's been hearing the same rumors for months, and has been frustrated trying to correct them at the source--I don't know where all of them come from, either, but some, like the ones I'd heard, came from downtown business neighbors. However, the rumors were untrue, our Pacific Avenue is really gearing up for the holidays and we need to support all those businesses.

TWO SANTA CRUZ BOOKS. For all the folks who've ever asked why I never did a book with all the historic photos I've used for years in this column, there's great news. Sheila O'Hare and Irene Berry, both locals who work at UCSC's McHenry Library, actually did do just that. It's called Images of America Santa Cruz California, published by Arcadia Publishing (ISBN 0-738-52081-0). There are probably more than 250 photos, and what makes their book different is they have all their dates right, and they did an enormous amount of research. Every local history enthusiast has to have this book, it'll be a reference tool for decades. The other brand new super Santa Cruz book is Sand Between Your Toes: A Watercolor Journey Through Santa Cruz County, created, painted and published by Sally Bookman (ISBN 0-9723101-0-X). Sally painted everything in the county that makes you love this place. What's odd is that both books include the offensive River Street sign. Let's hope the book last longer than the sign. You can get the books at all the usual independent book stores. Both are great gifts for present and former Santa Cruzans, needless to say.

BOB BOSSO FOR SUPERVISOR. Last week my editor in an attempt to clarify political matters added "Paul Sanford's Committee for Better Local Government and the money it spent on Primack's election bid" to what I was clarifying. I would never have called it Paul Sanford's committee, because I don't believe that Sanford had all that much to do with acquiring, handling and spending those last-minute campaign contributions. On another matter, a friend of mine has a theory and I agree, that the one name that's consistent throughout nearly every land use battle on the North Coast is attorney Bob Bosso's. When you look at the proposed development of Wilder Ranch in the early '70s, or the sale of the Swiss Dairy property around Davenport, or even Brian Sweeney's proposed development, somehow we see Bob Bosso's name attached to nearly everything promoting the developing of the North Coast. I propose we get Bob to run instead of staying partly in the background for the last 30 years. That way we'd find out who really wants to develop the North Coast. Of course that's only me and my friend's opinion, but why not? (Full disclosure: yep, Bob Bosso and the Hollywood Turf Club sued me and nine friends for $121,000,000 over the Wilder Ranch development--and yes, we won--but heck, that's in the past, right?)

KINGDOM OF SHADOWS. Luiz Guzman, William H. Macy and every actor in Welcome to Collinwood do great jobs, but the script and direction on the Big Deal on Madonna Street spinoff just aren't very funny or clever, but there are laughs. I laughed more at Santa Clause 2, there's some very believable humor in it and it's well done. The second Harry Potter film is much like the first, if you haven't read the books you won't know or care what's happening. For example, Lord of the Rings part 1 was a stand-alone film, and I'll bet part 2 will also be a fine experience. Like everyone says, James Bond 20 is a dull repeat of every other Bond film. Not one thing new or exciting enough to talk about. Skins is about life on the Oglala Sioux reservation or at least a few lives. It's a heavy-handed drama of drunkenness, poverty and hopelessness. I didn't like it. Two friends who must remain nameless said I should see Jackass: The Movie. They warned me it was a guilty pleasure, and that people should try not to let anyone see them attending. Jackass is gross, hilarious, stupid, tasteless, deranged and embarrassingly funny. Don't tell where you read this, and don't blame me if you don't like it, you're on your own.

KSCO PROGRAM CHANGE. Now that Steve Hartman's off the air (whew!!) KSCO is looking to replace him with rotating hosts from the left/progressive side of the talk spectrum. Station owner Michael Zwerling told me (yes, we speak) that they're attempting more community outreach, more diversification. He said that over the years Rush Limbaugh and Hartman had created a right-leaning image and that they want to change all that. They want to do all this by next Monday, so intelligent, verbal folks should call Rosemary Chalmers at 475.1080 and see what happens.

THANKSGIVING HUMOR. The nearly omniscient Simon Kelly once again weighs in with some funny stuff to share while the turkey's being sliced, thawed or passed around, whatever. Simon says there are new medications for women, they are: Buyagra ... injectable stimulant taken prior to shopping. Increases potency and duration of spending spree; St. Mom's Wort ... plant extract that treats Mom's depression by rendering preschoolers unconscious for up to six hours; Antiboyotics ... When administrated to teenage girls is highly effective in improving grades, freeing up phone lines and reducing money spent on makeup; Extra Strength Buy-Em-All ... when combined with Buyagra, can cause an indiscriminate buying frenzy so severe the victim may even come home with a Donnie Osmond CD or a book by Dr. Laura; and Damitol ... take 2 and the rest of the world can go to hell for up to 8 hours.
---
Bruce critiques films every other Thursday on KUSP-FM (88.9). Reach Bruce at [email protected]
---
[ Santa Cruz | Metroactive Central | Archives ]