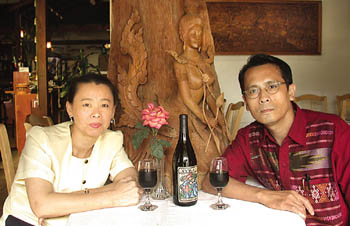 Spice Merchants: Nan and Wanlop Kachinthorn are the masterminds behind Sa-Tarng.

Thai Masters

Sa-Tarng's kitchen delivers Thai-style pyrotechnics in a cozy setting

By Christina Waters

Few cuisines can match the spicy stretch or the sensory sparkle of Thai cooking. And few grey days can stand up to the steamy offer made by jasmine rice topped by peppery galangal prawns and a squeeze of lime.

This is common wisdom at Sa-Tarng, a recent restaurant addition to the West Side's dining gold coast. In the space formerly housing Michael's, the new purveyor of electrifying flavors opened during the worst of Mission Street's construction chaos. Bucking the odds, noise and erratic street closures, the Thai dining room has settled into its modest quarters next door to the Mission Inn and now boasts a following devoted to the archetypal flavors of Southeast Asia.

Who can blame them? The hot and salty, sweet and bitter alchemy of Thai cooking packs a primal wallop. Throw in low prices and you're headed for success. Which is exactly what we savored last week on a night whose chill was instantly removed by Sa-Tarng's welcome. We sipped chilled, ultradry house sauvignon blanc ($4/glass) as we checked out choices.

"Large" would be the word for the menu. Alexis liked the sound of a red curry salmon special ($8.95) and I spotted something seductively called "basil plate," (pad kra pow) involving chicken sautéed with garlic chile sauce, green beans and handfuls of sweet basil ($6.95). We wanted to order everything, but being only two women we settled on four substantial dishes.

One Night in Bangkok

Ornate textile wall hangings, abundant plants and a colorful aquarium coax character into the two dining rooms. The aromas from the kitchen and the pleasant staff complete the appealing environment for Sa-Tarng's complex flavorcraft.

Transparent bean thread noodles formed the central altar of my appetizer salad ($6.95). Topped with prawns, peanuts and a sweet/hot lime sauce, the warm salad--sided by a wedge of crisp iceberg lettuce, for contrast--was stunning. Warmed by the steaming noodles, an accompanying branch of fresh mint perfumed every bite. Thai cooking is fundamentally about sensory appeal--almost no other cuisine offers such aroma of enchantment. Let me convince you. We moved to a soup course of the fabled hot and sour soup tom yum ($4.25), ladled at the table into small bowls--each spoonful a world of iridescent firepower supporting top notes of lemongrass, cilantro, mint and galangal. More prawns and those soft, supple straw mushrooms floated upon the rich, bright broth.

Entrees added more exhilarating flavors. The dish of basil-infused chicken was abundant enough for a next-day lunch. Fat slices of carrots, green beans, red peppers and crunchy zucchini filled in the rich basil sauce, which we spooned over our bowls of fragrant rice. Presented in a deep stoneware baking dish, thick filets of moist salmon took on the intricate flavors of coriander, garlic, red chiles, basil and sweet creamy coconut milk that form the heart of Thai red curry. Never too hot to enjoy, this entree nonetheless produced that desired state of heat that seems to form across the diner's forehead when Thai cooking has been done right.

Spicy foods require a sweet finish. The house version of fried bananas with coconut ice cream ($3) did the trick, providing one more delicious example of the seductive juxtaposition of opposites--cold ice cream, hot bananas--for which Thai cuisine is justly famed. If there is such a thing as magic realism in the realm of flavors, Thai cooking embodies it. Our dinner at Sa-Tarng deftly dispatched tropical heat, fresh preparation and beautifully balanced spice magic, at diner-friendly prices. Add this one to your short list.
---
Sa-Tarng Thai Cuisine
Address: 2238 Mission St., Santa Cruz
Phone: 831.425.1748
Hours: Lunch 11:30am-3pm daily; dinner 5-:30 Mon-Thu, till 10pm Fri-Sun
Ambience: **1/2 Making a lot out of a little, the restaurant feels cozy amid glittering ethnic touches.
Service: *** Pleasant, helpful and skilled
Cuisine: *** Compelling Thai standards are dispatched with seasoning flair and skill.
Overall: Fans of Thai cuisine's complex spicings will find fiery satisfaction at this little neighborhood gem.
---
[ Santa Cruz | Metroactive Central | Archives ]