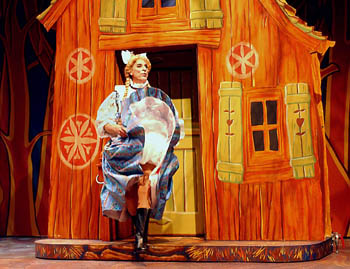 Sourpuss In Boots: Joseph Ribeiro plays the Evil Stepmonster.

Shake and Bake

'Gretel and Hansel' wins by being more grin than Grimm

By Sarah Phelan

First, let's get one thing straight. Gretel and Hansel isn't just a show for kids. It's a show for everyone that miraculously manages to cater to adults, too, sometimes to the point of being rather racy.

But that's OK, because Shakespeare Santa Cruz knows how to titillate audiences without going too far. The Glamour Pusses show enough leg to satisfy Dad, but not enough that Grandma is gonna throw a conniption. And just when the women in the audience wonder when they are going to get theirs, the Crows start wiggling their spandex-coated butts (though they could have gotten a little bit more up front and personal, methinks).

SSC has done up this tried-and-true fairy tale as a "panto," short for the English theater style of pantomime. In case you've never seen one before, pantos typically involve lots of interaction with the audience (watch out for the Super Soaker) and lots of crossdressing on the part of the male actors (a throwback no doubt to those dark days when women weren't allowed onstage).

And when it comes to crossdressing, Joseph Ribeiro totally rocks as Carbon Monoxide, Ivana B. Sweet (a.k.a. the Evil Stepmonster) and the Wicked Witch, three parts he brings to deliciously laugh-out-loud life by plumbing the stuff of nightmares.

Take the moment when Papa (Jonathan Spencer) arrives home at his humble cottage, where a starving Gretel (Lenne Klingaman) and a skeptical Hansel (Michael Irish) await Papa's promised "surprise."

Is it a big fat hen (Gretel's hunger-inspired fantasy)? A loyal little dog (which is what Hansel really longs for)? No, of course not. Papa's "surprise" is the fulfillment of his own adult fantasies--a new bride, played to the hilt by Ribiero.

Decked out in a grotesque wedding dress, wig and overly rouged cheeks, Ribeiro's stepmother is clearly an evil stepmonster, at least to the audience and Papa's kids alike. But accompanied by Pittypoo, her indispensable pit-bull-poodle-puppet-in-arms, she bewitches Papa with a striptease that leaves him besotted and willing to do anything--including abandoning his kids in the deep, deep forest.

"Surely that could never really happen, right?" kids anxiously ask at intermission, in between badgering their parents for a snack. "Oh yes, it could," think parents silently as they fork out for the cookies and milk.

Meow Mix

Ribiero's villainy of course has its counterpoint: the tuxedoed Tom Cat (Mike Ryan). Tom Cat is no saint when it comes to catting around the Glitter Box with the Glamour Pusses, but he's worth his velvety paws in gold when it comes to helping Gretel and Hansel. Of course, it is a bit of a disappointment for all the diehard singles when Tom Cat falls for Kitten Caboodle (Maura Murphy-Barosse), but hey, she does have an angelic singing voice.

And, yes, there is a lot of singing in this show, with a cast that primarily consists of UCSC students giving their all to the songs, which mostly work--with the exception of those cheesy interludes that need to be sent back to Broadway on the next bus out of town. The sound could use some tweaking, as the music sometimes drowns out the actors, but that's an easy enough fix.

Director Bruce Wallace Hostetler has added several classic touches to Kate Hawley's already brilliant makeover of this classic Grimm tale, so those of you who saw the show last year are still in for a surprise. And kudos to set designer Glynn Bartlett, lighting designer Evan Parker and sound designer Robby MacLean, whose combined artistry transforms a desert into an icebox or a sweet little Gingerbread House into a glowing Witch's Wonderland in nanoseconds.

In plumbing the nightmare, SSC has created a dream of a show. Surely, no parents could leave their children in the woods, but a theater troupe? Oh, yes, pretty please.
---
SSC's Gretel and Hansel plays through Dec. 15 at the UCSC Theater Arts Mainstage. For tickets and showtimes, call 831.459.2159 or visit www.shakespearesantacruz.org. Prices range from $10 to $32, including discounts for students, seniors, children and special performances.
---
[ Santa Cruz | Metroactive Central | Archives ]