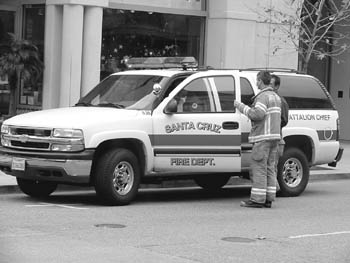 Taking a Powder: We're pretty freakin' relieved that the closest we've been to anthrax is still our 'Among the Living' CD.

Nüz

White Lines (Don't Do It)

When police arrived outside Metro Santa Cruz last Friday and began barricading us in with yellow and black crime scene tape, our first guilty thought was, "What did we do now?"

That was before we noticed the pile of white powder beneath a lamppost outside to the left of our door.

"Stay inside," we were told. "And if you do have to leave, turn right."

When we did venture out (holding our breath, just in case), we saw other piles of white powder scattered along Cooper Street in a Gretel and Hansel-style trail. Next thing we knew, the whole street was blocked off, and bright red fire trucks arrived bearing some of City of the Santa Cruz Fire Department's cutest firefighters. (We spotted Mark Evans, Dave Gigliotti, Captain Russell Long, Jeff Staiger and Mark Latham.)

Then Rebecca Supplee of the county's Environmental Health Services appeared in a Scotts Valley Hazmat truck and proceeded to suit up on the deserted street, donning goggles and gloves, before performing an on-site test on a sample of the white stuff.

"Flour," Supplee said--and everyone thankfully exhaled.

Asked if the perpetrators of such a prank could be prosecuted, a mustachioed Latham said, "Well, you could stretch it out to littering."

So what was Supplee's final prognosis of the trail that apparently went all the way from the Sentinel across the river onto the levee and out toward East Cliff?

"We think it was a beer run, in which someone goes jogging, marking the path from bar to bar with flour."

We're certainly relieved that everything turned out all right, but seeing as how we have so much dirty laundry to deal with every week, we have to admit that Nüz was secretly hoping the mysterious white stuff would turn out to be detergent.

Busking It

Chances are that by the time you read this, Emily Reilly, who was vice mayor this past year, will have already been voted in as the next mayor of Santa Cruz.

Acknowledging last week that she is the odds-on favorite for the job, Reilly added, "But I'm not making any assumptions. I'd like to give it a shot, and I'm as ready to do it as I'll ever be. But I can tell you one thing: There will not be a fight about it."

If Reilly is mayor, one of her first tasks will be to shepherd the Case of the Unresolved Downtown Ordinances to a workable resolution--a task best likened to herding feral cats.

Not helping Reilly any is the fact that in the same week that the U.S. Senate passed the Homeland Security Bill, she and Ed Porter revealed that they were considering ID badges for street performers, a notion that has said performers on the warpath (hey, they've got the drums for it, that's for sure).

Confused by the ID issue--police stats suggest street performers account for only 5 percent of complaints--Nüz called Reilly to find out the thinking behind all this.

"Badges or permits could be a way to exempt performers from restrictions," said Reilly, adding that, "the reason for the downtown ordinances at all is the few people downtown who aren't gracious, who have no manners. We felt the ordinances would give the police a tool that they could use when people aren't being respectful."

Recalling how bubble man Tom Noddy created a set of voluntary street performers' guidelines in the 1980s--an act that dissuaded a relieved council from passing a drumming ordinance--Reilly said, "If that would happen again, that would be one thing, but Tom emailing suggestions from Germany is frustrating. We need a leader to step forward. Ed [Porter] and I have spent a lot of time on this, but I don't mind saying, 'This isn't working', and taking the heat. But I don't want to throw the baby out with the bath water. It's perfectly understandable that the street performers are individualistic, but I think we can find a way to work together with them and give the police something to use when we need them to."

But Bookshop Santa Cruz owner Neal Connerty questions the legality of any agreements that exempt some groups from an otherwise blanket policy, such as the ordinances.

"In trying to exempt street performers and political tablers, but not panhandlers, from the ordinances, you quickly run into problems of whether this is constitutional. All this is a big grey area, and maybe an attorney could argue the case, but the 14-foot restriction only leaves performers a sliver of space," he said, suggesting instead that the city rescind the new 14-foot ordinances, and return to the 10-foot rules, which were passed in 1994, when he himself was on the then City Council.

As for dealing with performers, Connerty recommends that merchants "go out, and throw a buck in their guitar case, or whatever, and then ask them a favor. A lot of business owners want to stay behind their windows and call the police. But the real problem isn't the performers but gangs, violence, drugs and harassment."

While he acknowledges that the problem with the voluntary street performers' guidelines is their voluntariness--"not everybody complies, the downtown hosts don't always have a copy, and sometimes there is disagreement over their interpretation"--Coonerty still feels these problems could be resolved through stakeholder input.

He and Reilly may get their wish.

A bunch of local street performers, headed by Coleen Douglas, have expressed interest in forming a Buskers' Guild to provide conflict resolution, develop a set of guidelines with input from all stakeholders and serve as a lobbying group. Interested? Email [email protected]

Film Threat

The numbers are in, and it looks like the Pacific Rim Film Fest was truly back with a vengeance this year. According to festival coordinator Drew Todd, 6,000 people attended the five-day festival, in which 12 films were shown, with one mainland premiere, several West Coast premieres, and 12 Santa Cruz premieres. Four directors attended, eight post-film discussions took place, 200 people were turned away at two screenings, and the opening-night screening of four films--Breaking The Silence, Lagaan, Dam/Age and Daughter From Danang--sold out.

Says Todd, "Crowds rarely dipped below 200 and usually were above 300. And the enthusiasm among our audiences was palpable."

And Nüz apparently wasn't the only one impressed with the festival itself. "One 90-something-year-old woman clutched Morton Marcus' arm as she walked out of the theater after the discussion following Daughter From Danang and said, 'I'm glad I lived to see this film,'" says Todd.

Apparently, the fest is now getting record numbers of people offering to volunteer next year, and donations continue to pour in. Call 425.4782 or send donations to P.O. Box 8220, Santa Cruz, 95061.
---
Nüz just loves juicy tips: Drop a line to 115 Cooper St, Santa Cruz, 95060, email us at , or call our hotline at 457.9000, ext 214.
---
[ Santa Cruz | Metroactive Central | Archives ]