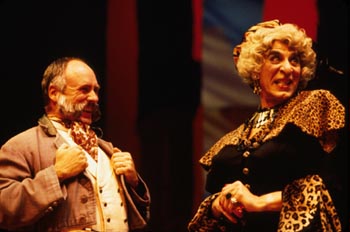 Photograph by R. R. Jones

The Parent Trap: Baron Hardup (Gary Armagnac, left) can't resist his own wife, Mrs. Badden-Rotten (Joseph Ribeiro).

Legends of The Ball

Shakespeare Santa Cruz' holiday production is not your mother's Cinderella

By Tai Moses

'CINDERELLA' is the most enduring of fairy tales. The centuries-old story has survived the Industrial Revolution, the Summer of Love and the Information Age, and its heroine is still around knocking slippers with the prince.

For the second year in a row, Shakespeare Santa Cruz brings this timeless tale to the stage in Cinderella: A New Telling of an Old Tale, an enormously entertaining and irreverent comedy that delights in crossing barriers, including the one between audience and actors.

The plot is familiar: the meddling Queen (the wonderful, effusive Michele Farr) decides to marry off her milquetoast son, Prince Charming (Nate Larson), by throwing him a ball. "You see he's depressed," the Queen crows, confiscating a book from the nerdy prince.

Meanwhile, back at the farm, Cinderella (a very able Elisabeth Cernadas) slaves away for her evil step-family. She looks both chaste and fetching in her tattered, earth-tone rags--sort of like a domesticated Barbarella. Her father, Baron Hardup (Gary Armagnac), is no help, since he's completely in thrall to his wicked wife, Mrs. Badden-Rotten. "She's so very attractive," he simpers.

The attractive dame in question is the real meat of the show. Brilliantly played by Joseph Ribeiro, Mrs. Badden-Rotten, in golden pumps and clashing jungle animal prints, is Dame Edna's evil, flashy twin. (Let's be honest: Is there anything funnier than a large, lumpy man in a dress?).

The hilarity factor goes off the charts when the Really Revolting Stepsisters (Liz Gordon and Jennifer Stukey) flounce onstage in eye-popping psychedelic candy-colored dresses and hairstyles right out of a Linda Barry cartoon.

VETERAN SHAKESPEARE Santa Cruz costume designer B. Modern has outdone herself with this production. These two bombastic belles of the ball look like victims of a hurricane at a Paris catwalk. The morning after the ball, the hungover stepsisters and stepmother appear dressed in poisonous tree-frog colors that reflect their inner toxic selves. They look like they're on their way to a Miami Mardi Gras.

Little Bo Peep makes an appearance as a consciousness-raising anti-monarchist who's always driving off her sheep with her political tirades. The sheep themselves are naughty nymphets who vamp and sashay around like woolly Rockettes.

There is a rotund and wonderfully expressive dancing bear (Beth Walker); Cinderella's best friend, Buttons (Mike Ryan); the prince's companion, Dandini (Ali El-Gasseir), who falls hard for Peep; and a Fairy Godmother who speaks only in verse and looks like a sensible maiden aunt with wings, a scepter and spindly attennae.

THIS IS A production that refuses to take itself seriously, and director Paul Whitworth has given it a rollicking pace that never lets up. The musical numbers, composed and arranged by Gregg Coffin, are seamlessly integrated into the comedy. Mrs. Badden-Rotten's big number, "There's Always Another One Waiting in the Wings," is a campy show-stopping burlesque that brought down the house on opening night.

Kate Hawley's book and song lyrics accomplish the challenging trick of entertaining children and adults alike. Her roaringly funny script has memorably zany characters and witty, literate language.

The audience participation elements are inspired: Not a child in the house could resist proffering his or her foot as the Prince, glass slipper in hand (size 5A: this is a fairy tale, after all), searched the crowd for his Cinderella.

Fairy tales are the literary equivalent of comfort food--there has to be a happy ending. In that quarter too, Shakespeare Santa Cruz does not disappoint. In this joyous, magical, musical holiday production, goodness triumphs, evil is banished from the Kingdom, the Prince gets his girl--and the girl gets her shoes.
---
Cinderella: A New Telling of an Old Tale plays 1pm and 6pm Saturday-Sunday at 1 and 6pm, and Tuesday-Friday at 7pm through Dec. 17. Theater Arts Mainstage, UCSC. Tickets are $14-$26. (459.2159)
---
[ Santa Cruz | MetroActive Central | Archives ]