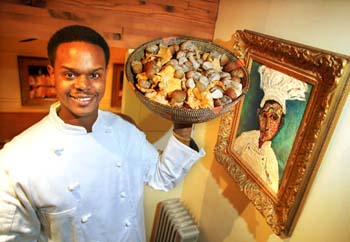 Photograph by George Sakkestad

Mushrooms With a View: Chef Damani Thomas of Oswald displays one of his signature mushroom dishes.

Oswald Hits New Heights

Downtown Santa Cruz' gem of a bistro reinvents the taste of the seasons with all-star menus and fresh inspiration

By Christina Waters

SOME MEALS make a convincing case for the equation of art and cuisine. On this score, Oswald is downright eloquent. Chef Damani Thomas' kitchen gathers the freshest ideas of the season--this autumn, local porcinis and chanterelles join persimmons and pumpkin on the menu--and spins them into the stratosphere. Here, ideas and flavors form a more perfect union.

Tucked into the corner of this tiny dining room, we exhibit not one bit of restraint concerning the fragrant trio of breads brought swiftly to table along with lavish European unsalted butter. From a short but sexy listing, we choose glasses of Highfield Sauvignon Blanc 1999 ($6.50) and Clos le Coutale Cahors 1998 ($6) to greet a series of singular appetizers.

An arugula salad offers a bittersweet pungency, layered with thin slices of pear and generous shaves of Parmagiano Reggiano ($7.75), while across the table something miraculous arrives in the form of persimmon and squash soup ($6.50). A pale ochre pool of liquid velvet tastes exactly like autumn: creamy and comforting yet spare. A float of paprika-infused walnut oil enriches each sip. We are enchanted by what is easily this season's top soup. A plate of deep crimson carpaccio overwhelms expectations with a balanced abundance of fine olive oil, lemon, capers and thick curls of parmesan ($7.75).

On another evening, a starter of crispy grilled quail arrives, hot and surprisingly meaty on a throne of arugula studded with house-made potato chips ($11). Incredible textural contrasts play the tour-de-force chips against a topping of sweet and sour balsamic-intensive sautéed onions.

Yet it is another appetizer that sums up the current genius in the kitchen. Something modestly called "Chicory Salad" is presented on a square plate ($8). On it are arranged endive leaves dotted with chèvre and drizzles of viscous, magenta pomegranate sauce. The endive spears, along with a healthy fluff of frisée, perch on a field of diced roast pumpkin. Primal earthiness erupts in every bite. Juxtaposing the creamy chèvre, earthy pumpkin, intense pomegranate--it is a flawless dish.

My companion Kathleen orders the evening special of fresh mahi mahi in which the kitchen opts for comfort and restraint ($19). Comfort comes in the form of buttery Yukon Gold potatoes, perfumed by slices of roasted fennel. Restraint comes in the simple grilled square of exceptional mahi mahi--prepared to allow its own intensely sweet flavors to excel.

On another evening, Jack orders seared ahi tuna, which arrives rare and pepper-crusted on a brilliant sweet potato and leek hash ($21). My entree that evening is a cold-weather classic. Moist pork tenderloin slices fanned across a bed of tender micro Spaetzle and sautéed red cabbage ($17.50). The satisfying collaboration of flavors is crowned by a rich fig confit. Not a single false move in all four dishes.

During our evening at Oswald, Kathleen and I manage to save room for some of pastry chef Lacage Lecage's handiwork. Two scoops of tangerine sorbet--separated by a paper-thin almond cookie--sat in a pool of crème anglaise, like an upscale 50/50 bar. The plate is lightly misted with powdered sugar. Another dessert makes me rejoice to have taste buds and involves a napoleon of warm Meyer lemon custard laced with bits of orange. This ecstatic presence is accompanied by a small, confident crème fraîche soufflé studded with pistachios. Luxury made cozy filled each bite of these amazing desserts.

If anything, a turban of warm braised quince slices atop a round of shortbread, sided with crème fraîche ice cream and a drizzle of caramel, is even more appealing ($8 each). "There was a time when drizzle referred to weather," Kathleen observes, licking her fork. At Oswald it refers to the inventive application of flavor accents--some fresh pomegranate here, a hint of orange there. Delicious surprises. All wonderful.
---
Oswald
Address: 1547 E. Pacific Ave., Santa Cruz
Phone: 831.423.7427
Hours: Dinner Tue-Sun from 5:30pm
Chef: Damani Thomas
Ambience: ***1/2 Ultra-cozy, warmly chic bistro setting
Service: ***1/2 On target attention, knowledgeable about wines and preparation, loquacious and intelligent
Cuisine: ***1/2 This local treasure continues to astonish with its intention and seasonal savvy. One of the top culinary sensations in Santa Cruz.
---
[ Santa Cruz | MetroActive Central | Archives ]