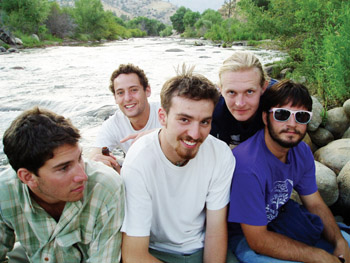 Kind of Blue: The Blue Lady Quintet demonstrate their unusual approach to the genre on the first day of the Brookdale Bluegrass Festival, Dec. 3.

Blue Lady Down

Local favorites in Blue Lady Quintet embrace a hip, eclectic approach to bluegrass while reclaiming the spirit that once gave country music its cred

By Peter Koht

David Wurzburg has good news and bad news about the state of country music. First, the bad news: "Faith Hill blows."

Then, the upside: "I think that one of the reasons that old-time country music is having such resurgence across the country," he says, "is a reaction to modern country music, which started to suck in the mid-'80s."

It's true: With the gradual move away from grizzled voices and an increasing reliance on electronics, reverb and rock guitar, Nashville has pushed away from its roots and left many lamenting the choice, including Wurzburg.

"There is no more grit anymore, no more twang," he says. "Not that we are all that gritty, but I do have tattoos."

While country radio blares away and forsakes the gospel, blues and bluegrass that created the genre, many younger musicians have congregated to form new and interesting country-based hybrids.

Severing ties with the young country movement and playing good old-fashioned backwoods bluegrass has been a positive way for many players and fans to reconnect with a musical heritage while having a hell of a good time.

So it is with the Blue Lady Quintet. Based mostly around the bluegrass tradition, the group has quietly amassed quite a following on the local shitkicking circuit with a curious mixture of bluegrass, country and ballads. Now after two years of playing and one phenomenal record under their belt, the boys in the Blue Lady are ready to truly break out of the bluegrass basement.

They have created a group of songs that had one foot in bluegrass and the other firmly planted in the now.

"While everything we do is in someway related back to bluegrass, mostly we try to do something that have has nothing to do with it, other than the fact that there is a banjo and a mandolin in the band," he says. "We try to avoid stereotypes. This is a college town, so we can call ourselves postmodern, I guess."

"Basically, we play American music," says Paul Fuller, the band's banjo player. "Even though our drummer is imported--but he's Australian, which is what? I mean, he's basically American. He's trying."

The product of all this effort will be hitting the stage of the Brookdale Lodge, when the quintet headlines the first night of the Brookdale Bluegrass Festival. Held annually at the Brookdale Lodge, the festival will haul in the finest in local bluegrass and will feature nearly 30 bands, including the Earl Brothers, Harmony Grits and the Lunatic Fringe.

The Blue Lady's path to Ben Lomond started in 2002, when mandolinist Wurzburg met Paul Fuller at the UCSC Trailer Park Bluegrass Festival. After having a few casual jams, Fuller brought his friend, guitarist Uri Bogler, to meet Wurzburg and the band was born.

According to Fuller, "Uri and I lived across the way from each other in Kresge and we would have these great jams playing just totally weird stuff. Uri finds ways to combine times that are super cool and hip. All our tunes that are in thirteen are his and they are beautiful. It's only hard when you try to bob your head to it. He writes with an ear for the tune, rather than with an ear for the rhythm. It has given us a lot of things to work on."

All discussions about rhythmic theory aside, this band is mostly concerned with having a good time on stage. "Ultimately," Fuller says, "we are trying to be fun to listen to. That's what we are aiming for. It's a noble quest. Sometimes we make it."
---
The Blue Lady Quintet perform Friday, Dec. 3, at the fifth annual Brookdale Bluegrass Festival, which continues Dec. 4 and 5. All shows are at the Brookdale Lodge. One-day tickets $20, two-day $35, three-day $45. See www.brookdalebluegrass.com.
---
[ Santa Cruz | Metroactive Central | Archives ]