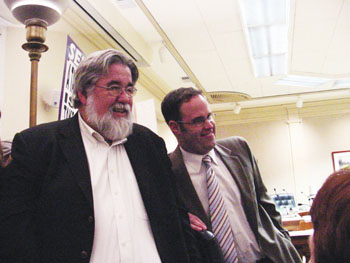 Tall Tale: The Coonertys--Neal and Ryan--size each other up.

Nüz

The Name's Robert

You probably know him as UMBRELLA MAN or THE SLOW WALKER or SMILEY, but Nüz has it on authority that he prefers to be known as ROBERT. That's the word from the guy who's given a whole new meaning to the phrase "walking the walk" since developing what's come to be a twice daily ritual of stepping along Pacific Avenue at a snail's pace, dressed in a brightly colored shirt, and smiling from beneath a gaily patterned umbrella.

Like it or not, Robert inspired one of this year's best Halloween costumes, with five Umbrella Men slow-walking in a row amid the throngs at one point--a look that was half a year in the making.

"I started walking at a normal pace, about six months ago. Then I thought it would be fun to walk at a slow pace," explains Robert, who soon found out that slow-walking can lead to sunburn. Hence the umbrella, which he purchased on eBay, and which has a rain forest scene on the outside and a silver reflective lining that's made of mylar, which is what they use to make helium balloons.

Asked what people's response to "Umbrella Man" has been, Robert, who can move at a normal pace and not smile when he's not on his walk, says, "All over the place. When I first started, people called the police, because I was walking so slowly. But it's getting more and more positive, as people realize that I'm not there to be a threat. And children are the most fun. They tend to be more up front with their curiosity, and aren't judging the situations based on norms. They compare me, I guess, to what they see in cartoons."

Asked how long we can expect to enjoy his presence on the mall, Robert said he'll keep walking until he find something that's more fun.

"I really enjoy being in the public eye, so I imagine whatever I do next will also involve meeting people and talking to them," he says.

As for how he makes ends meet, given that he spends half his day walking up and down the street, Robert says he doesn't answer questions about his financial and medical background,

"I will say I'm not a millionaire. I think that should be self-evident, but my finances are currently secure," he explains, adding that he doesn't turn down donations.

"Not that they occur," he adds, noting that in the last six months he's been given a grand total of $8.

Told that some people find his presence "uplifting," Robert smiles.

"Since I've been walking, people have told me about Buddhist monks that walk slowly," he says, recalling a scene from The Man Who Would Be King in which monks cause a battle to stop when they walk slowly and with their eyes closed into the middle of a battlefield.

" I don't remember if they had umbrellas, though," he says.

Young Blood

Nüz can't recall seeing the City Council chambers as crowded as they were at last week's swearing-in of the new council. Maybe the heavy turnout was in anticipation of a new dawn of men's fashion, thanks to RYAN COONERTY and TONY MADRIGAL, the two suit-favoring young tykes who've just come on board. As outgoing Mayor SCOTT KENNEDY's elder son PETER commented, "Tonight may have been bad for Dad, but it's great for Men's Wearhouse!"

Or maybe it was just their collective political fan clubs. Either way, it was fun to see Bookshop Santa Cruz owner NEAL COONERTY and his daughter CASEY cheering on prodigal son Ryan from the front rows, while Madrigal's posse of purple sign-waving SEIU members packed the aisles. And statistically speaking, over half the crowd must have been supporters of incumbent EMILY REILLY, since she got re-elected with a whopping 18, 475 votes of 32,119 ballots cast--a victory CYNTHIA MATHEWS jokingly described as "overconsumption." (Nüz is majorly impressed at our city's 82.6 percent voter turnout. Would that the rest of the nation would follow our lead, including our choice for prez.)

Anyway, the übersized crowd hooted and hollered when City Clerk LESLIE COOKE read the election results aloud, listened politely as MARK PRIMACK reminisced about deciding to run for council four years ago--"I didn't want to live in an exclusive city," he said--and gave the outgoing Kennedy a standing ovation when he said, "Serving the people has been a blessing and a privilege."

Fashion statements notwithstanding, the new boys on the block have their work cut out for them if they're also planning to best the incumbents on the joke front. Consider Reilly's swift response when a blue-suited Madrigal said of his and Coonerty's arrival, "A couple of young guys, huh?"

"The thing is, ' said Reilly, with her famously glowing smile, "the rest of us are 35 ... We looked like you four years ago!"

That didn't deter Coonerty from recalling that on the campaign trail people told him, "Hey, you look a lot taller in your photos" (a reference, perhaps to dad Neal, who's taller, and also sat on the council?).

"And I expect to be 3 feet shorter by the end of this council," continued Coonerty Jr., before Madrigal upped the ante with a bilingual acceptance speech that doubtless had the rest of the council wishing they'd tried a wee bit harder during those endless high school Spanish conversation classes.

"If anyone had told me, when I was picking peaches in the Central Valley 15 years ago, that one day I'd be picking the mayor and vice mayor because I was on the City Council, I'd have said 'Cool!'" said Madrigal, who helped the rest of the council look as if they understood what he was saying by making his speech in English first.

No one was a bit surprised when Mike Rotkin was elected mayor, nor when Mathews was voted in as vice.

"I believe this is a first," said Rotkin of becoming mayor for the fourth time. He subsequently turned to Coonerty and Madrigal, and said gleefully, "Your private life is over now! We've got you now."

The Hunger

Stuffed as you are from Thanksgiving, feel free to donate food--cans of powdered milk, jars of peanut butter, canned meals, cereal, fruit juices and tuna are especially needed--at the Metro Santa Cruz office, downtown at 115 Cooper St., where a SECOND HARVEST FOOD BANK barrel eagerly awaits. You can also donate via Cruzio's "Feed the Kitty" Holiday Food Drive, which matches cash contributions up to $2,000, and offers new or existing customers a raffle for free services for every bag of food or $25 contribution. 831.459.6301, ext. 247, or email: owesti@cruzio.com.
---
Nüz just loves juicy tips: Drop a line to 115 Cooper St, Santa Cruz, 95060, email us at , or call our hotline at 457.9000, ext 214.
---
[ Santa Cruz | Metroactive Central | Archives ]