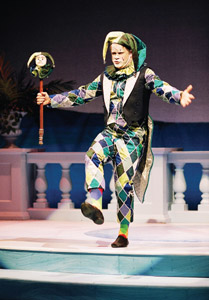 Photograph by R. R. Jones

Kiss Me, You Fool: Mike Ryan reserves a smooch and a half for yet another brilliant turn in SSC holiday show.

Sweet 'Pea'

Ted the Bear is yet another memorable animal act for SSC's holiday tradition in enchanting 'Princess'

By Sarah Phelan

Before saying anything about Shakespeare Santa Cruz's The Princess and the Pea, let it be known that I want Ted the Bear to come home with me once SSC's winter season is over. Seriously, once this year's holiday pantomime season comes to an end, that dancing bear (exquisitely played by Pearl Marill) is free to come over to my place any time s/he wants and cheer me up through these darkest of dark days of Dubya.

And then of course there are the five tap-dancing ducklings in their fuzzy little yellow and red suits, and the three delightfully fairy-dusted Stars, and the--but I'm getting way ahead of myself.

Suffice it to say that there's an enchantingly, well, enchanted quality about this year's production, beginning with the gorgeous set, whose attention to details--the pea-pod deco, the crown-shaped lighting system hung with wisteria and ivy, the twilight pinks and blues--speaks volumes about SSC's dedication, skill and talent at all levels.

And then there's the cast of unforgettable characters, beginning with the mischief-making Privy Counselor to the Queen, Ratatouille (pronounced "Rat-a-twee"), masterfully played by Joseph Ribeiro right down to the tip of his perfectly scurrilous rat's tail. There is Chester, the Court Jester, and his stick puppet, Bill, who Ratatouille unwisely dismisses as a "glorified chopstick." Yes, in some parallel-universe-proving way, both Chester and Bill are simultaneously played by the ever outrageously breathtaking Mike Ryan, still known to many as "Tom Cat" following his Puss in Boots masterpiece some years ago. Even Ducky, the mother duck (Suzanne Schrag), shines as she bunches up her tail feathers and coaxes her offspring--"I mean it, Beatrice!" -- to behave.

And we haven't even got to the princesses, yet, or those who are tested as such, by being made to sleep on a pea buried beneath 20 feather mattresses, all the better to weed out the rotten commoners among us, of course. I loved both Princess Pretencio (Elise Yousef) and Princess Balonio (Nicole Lorre) and their "kiss my foot!" attitudes.

My favorite princess scene was the dueling bathtubs in which bubble-only-clad princesses magically manage to fight each other in the "nude," but without revealing more than is kiddie-appropriate.

Thumbs up to director Paul Whitworth, playwright and lyricist Kate Hawley, choreographer Terry J. Bato, costume mistress B. Modern, composer Adam Wernick, musical director Mickey McGushin, set designer Kate Edmunds, lighting designer Derek Duarte and the whole darn crew for making this plum of a panto an occasion that's totally worth dressing up for in your very Prince and Princess best.
---
The Princess and the Pea runs through Dec. 12. Call 831.459.2159 or visit www.shakespearesantacruz.org for information and tickets.
---
[ Santa Cruz | Metroactive Central | Archives ]